Nest Thermostat gives you the ability to control the temperature of your all rooms using a single application. It is a self-programmed device that learns at what times of the day you prefer your rooms to be warmer or cooler. After using it for a week, or two the Thermostat gets smart enough to choose your desired temperature. But all these functionally may drop when your Nest thermostat battery won't charge or is facing certain charging issues.
Also Read: Fix: NEST Thermostat Battery Keeps Draining Quickly
The Nest Thermostat system designed by Nest Labs lets you control your home's HVAC ( Heating, ventilation, and air conditioning ) using a single application. Thermostats require a constant power supply, and it can affect their battery life. After a long period, the Thermostat battery life can be degraded. As a result, you see a red light keep flashing on Thermostat that indicates a low battery, and if you didn't charge it right away, then you can face some issues in your Thermostat.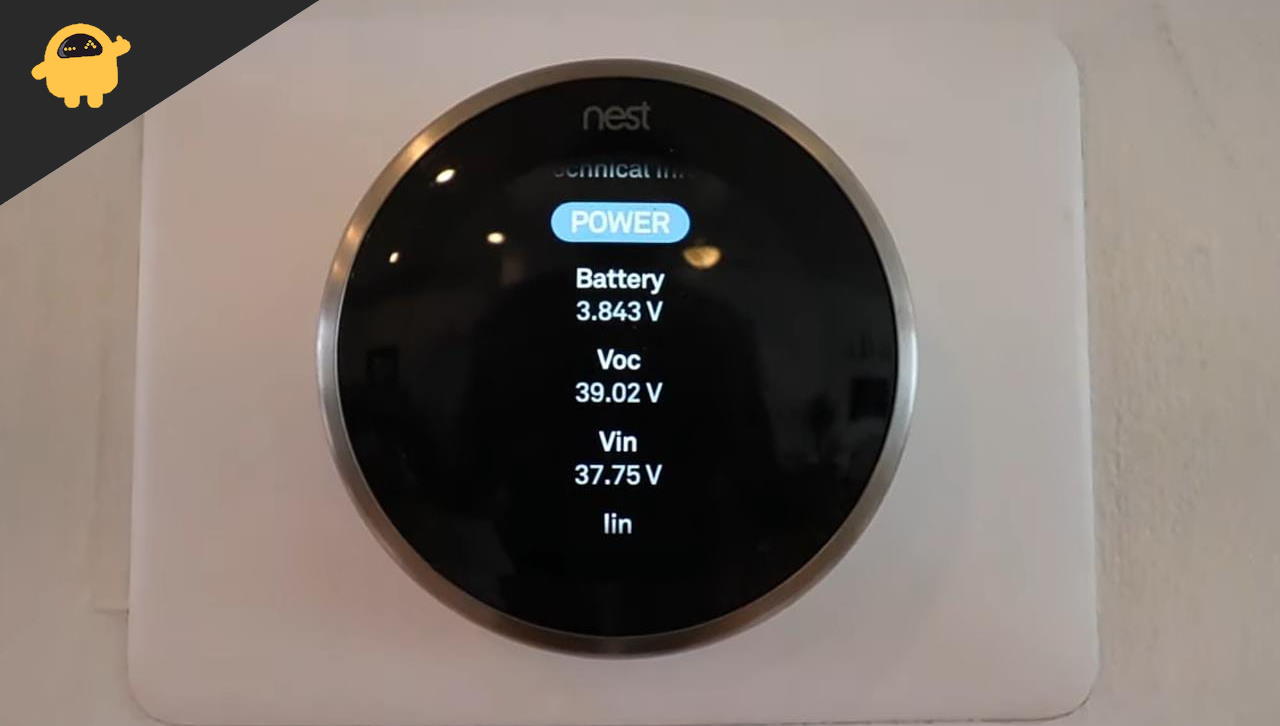 How To Fix Nest Thermostat Battery Won't Charge
Luckily some ways can fix this issue without taking the help of technicians, but first, we need to do some checkups of the Battery level and current level of the Thermostat.
Battery Level of Thermostat
To find out the Battery level of Your Thermostat, go to the settings menu and scroll over to the Technical Info section and click on Power. There you find your Battery Voltage, Charge Level, and other details.
If the Battery Voltage is Above 3.7 Volt and the line is above 20 mA, you are good to go, and if it is below 3.7, then you can face the battery issue in Thermostat.
After checking up the voltage and ampere level of the Thermostat, you can try these fixes that can help you to solve this issue.
Using An Micro USB Cable
Nest Thermostat gives you an external micro USB port to charge it. You can find this port in the back of the Thermostat.
Just remove your Thermostat from the wall and use an external micro USB charger to charge it up Properly. After 3-4 hours, check again the battery status of your Thermostat.
If it is above 3.7 volts and 20 mA, then you are good to go. Just Charge it up, and hopefully, you won't face a battery low issue again.
But if you have a problem with the power supply of your HVAC system, then you may face the low battery issue again because Thermostat charges itself through that supply, and if that doesn't work properly, it is obvious that a low battery can reappear.
Check C-Wire
The Nest Thermostat device comes with a common wire that connects it with HVAC. That helps the Thermostat battery to keep charging with the power supply.
But in some case, if the HVAC system got some problems or the Thermostat c-wire get loosed over time, then it can create some problems with power supply in the Thermostat.
If that is the case then you should check the c-wire in the Thermostat, or you can use an external common wire and properly connect it with your HVAC system.
Getting Replacement
While facing a battery issue or any other issue, you should check that if your Thermostat is in warranty period or not.
And make sure it is not opened before, and its warranty sticker is not pilled of. In that case, you can ask for a replacement for your Thermostat from its vendor.
Nest Thermostat Batteries are in-built they cannot be replaced, so you are left with only one option to replace the whole unit.
Conclusion
If all the above fixes do not help you, then you should consider getting help from Technicians. You can contact vendor customer support for help. If that is not possible, then you should re-check all your wiring and power supply of your HVAC system from any local technician. Nest Thermostat has a built-in menu for troubleshooting. You can take help from that too but eventually, this Low Battery or Not charging Issue is mainly caused either by battery degradation or improper power supply in your HVAC system.