Most of the prominent Android apps come with a beta testing feature. Interested users can sign up as a beta tester and get early access to a few features that the developers are testing on the app. These features will not be available to everyone. The public rollout can happen once beta users confirm that the features have no bugs. There is a limit on how many beta users can enroll. Of course, everyone cannot be a beta user. At one point the app developers stop taking beta testers on board.
Currently, the same is happening with Netflix. Its beta program is full. However, there are many enthusiasts who wish to be a part of the beta community. So, what can they do.? Well, there is a fix for that. In this guide, I will tell you how to gain access to the Netflix Beta program even though the program is full. Rest assured that you do not have to carry out any rocket science. You have to make use of a dedicated installer app to sideload a certain build of Netflix APK.
Related | How to Lock Netflix Profile Using PIN Code
How to Install Netflix Beta on Android
There are mostly two steps to carry out. First, you need to install the installer from APK Mirror. Then download the Netflix beta build suitable for your mobile device and install it via the installer. Sounds confusing.? I bet it's pretty easy.
Disclaimer
GetDroidTips will not be responsible for any possible incidental hardware or software issues with your device if you choose to download applications from unofficial sources. Beta applications are known to have bugs. So, you may face a buggy user experience.
Downloading the Installer
Here is the download link for the APKMirror Installer.
[googleplay url="https://play.google.com/store/apps/details?id=com.apkmirror.helper.prod"]
Download Netflix Beta
The next step is to grab the beta APK of Netflix. Always download the APK which is uploaded latest. I mean the one which you see in the top of the list of APKs. As of my writing here is the list of Netflix beta APKs available on APKMirror.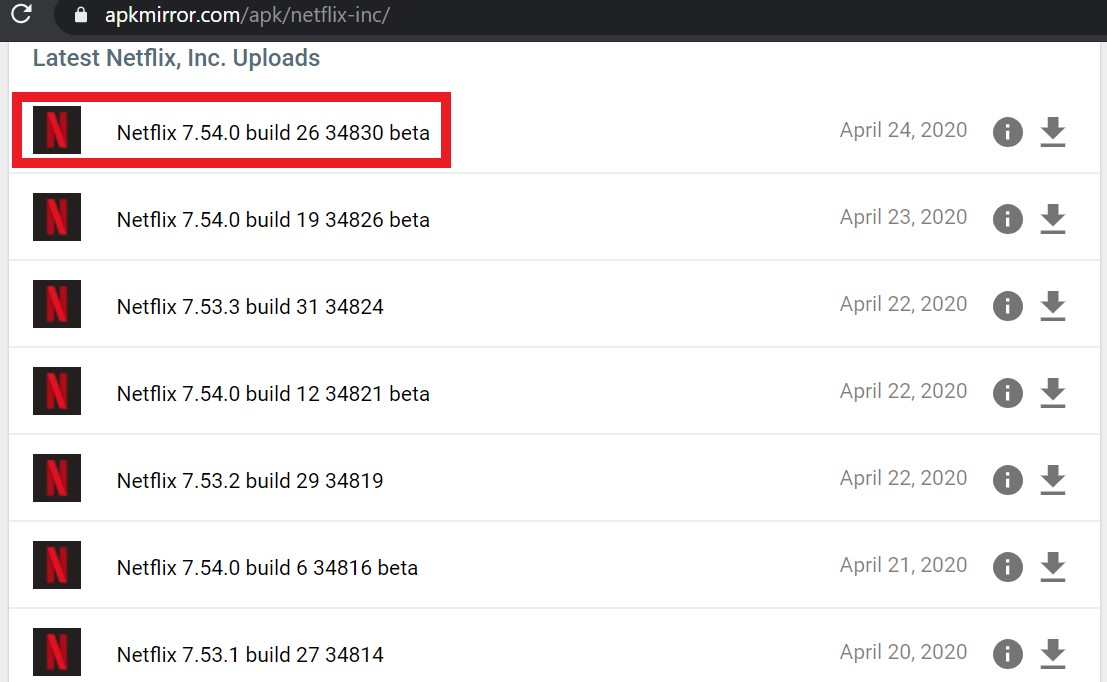 Click/tap on the first available APK link
In the next screen, you should see a button See Available APKs and Bundles. Click on it.

The screen will shift to a list(sometimes a single build also) of available APK build with Architecture info, supported Android OS version, and Screen DPI. Refer to the screenshot below.

Click on Bundle 34380. You will be redirected to download the APK bundle consisting of the base APK and 5 other split apps.

Check it Out | How to Watch Netflix and Chat With Your Friends Simultaneously
Installing the APK
Make sure that you have allowed permission to install apps from unknown sources with the source being APK Mirror Installer. Here is how you enable permission.
Go to Settings > Apps & Notifications > Special Apps Access > Install Unknown Apps
Tap on APK Mirror Installer > tap on the toggle Allow from this Source

Now open the APK Mirror Installer app
Tap on Browse Files
You should see a list of APK files that you have downloaded from unofficial sources.
Look for Netflix beta app you downloaded above
When found tap on it
Then tap on Install Package
Then the files will be loaded
You will see an option Watch Ad and Install App


As the app makes its earnings from ad revenue, you have to watch the ad before installing the package.
The Ad will be of 12 seconds. After the ad ends you have to tap on X to close the advertisement window.
Then you will be redirected to the Installation Prompt. Tap on Install.

So, that's it. Now you have successfully installed the latest Netflix Beta app on your smartphone. Enjoy the beta features.
You May Also Like,