Netflix has a vast library of movies and shows stored on its well-maintained servers. The streaming platform works smoothly across a range of devices, including iPhones. However, like any other video streaming platform, Netflix too can experience occasional problems. If Netflix won't play videos or has stopped working on your iPhone 15, stick to this article as we'll uncover effective solutions. You can apply them to fix Netflix streaming issues and binge-watch your favorite shows.
Netflix is one of the best streaming services in the world. One of the primary reasons is that they spend a lot of money on creating original content. In 2022, the company spent close to $17 billion on original content, more than its competitors. Netflix keeps investing money in technology and content to stay ahead of its competitors like Prime Video, Disney+, and Hulu.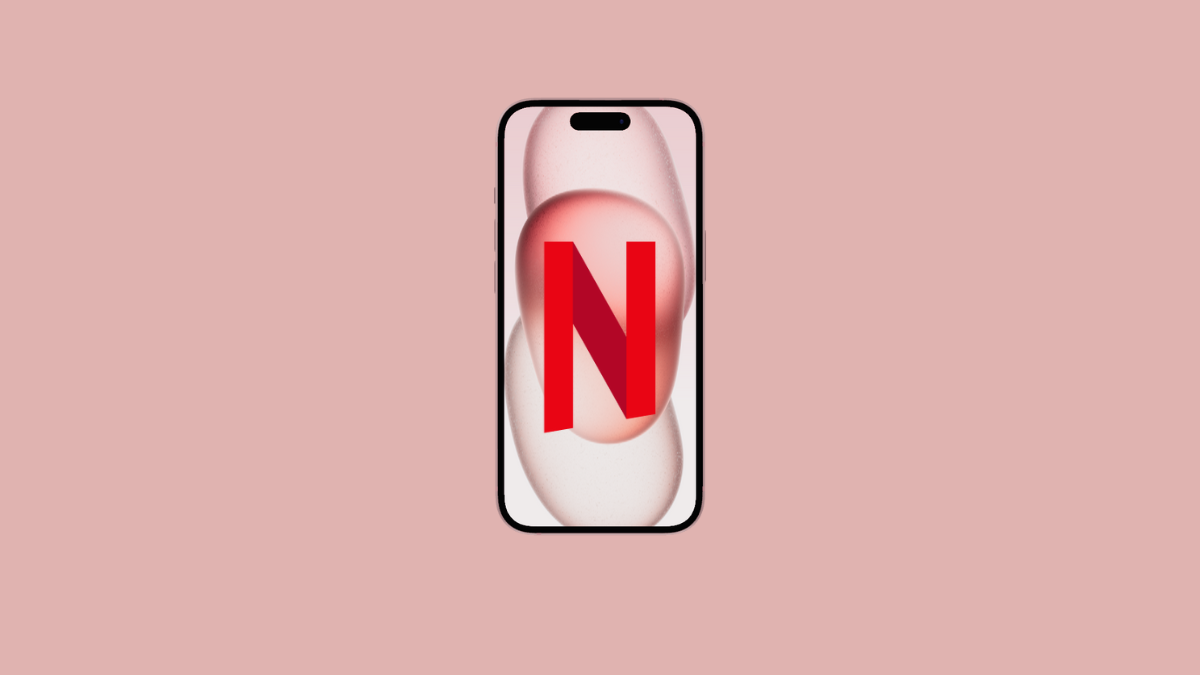 Why Won't Netflix Play Videos on iPhone 15?
While Netflix always strives to improve the platform for its users, there may be interruptions in service due to glitches and server outages. If you have an iPhone 15 series model that can't stream Netflix videos, check if your internet connection is the culprit. You require a high-speed and stable connection to stream Netflix videos; otherwise, the video may keep buffering or won't load at all.
Netflix streaming issues can also occur if its servers are facing technical glitches. Or, they may be upgrading the servers. You must ensure that the app is up-to-date, as outdated apps are likely to have bugs that can cause streaming problems.
It's not always Netflix's fault; incorrect network settings on your iPhone 15 or problems with your router can also cause issues with Netflix. Now that you have an overview of potential problems causing the Netflix app not to work or play videos, it's time to troubleshoot them.
How to Fix If Netflix Won't Play Videos or Not Working on iPhone 15/15 Pro Series?
If you can't stream your favorite Netflix shows on your iPhone, try these solutions one by one. By the end of this guide, you should have a working Netflix app. So, let's begin our troubleshooting.
1. Check If Netflix Has Server Issues
Netflix has powerful servers spread worldwide for interrupted experience, but unexpected server problems can occasionally disrupt the viewer's experience. During server maintenance, the streaming platform can also become inaccessible as it won't be able to connect to the servers.
You must check if Netflix servers are down. If they are, the video may not load, or the app may not work.
To check Netflix service status, our first source is Netflix itself. Go to the Netflix help center page to check if everything is sorted. You must also check X (formerly Twitter). Since Netflix is so popular, many people took to a platform like X (formerly Twitter) to complain about it wherever there's an issue. Hence, go to Twitter.com and search "Netflix down". If other users are also facing issues, Netflix may have technical problems.
You can also use third-party websites, such as Downdetector.com, to check if Netflix is down.
After all the checks, if you conclude that Netflix has technical problems, there's nothing you can do to fix it. Only engineers can resolve it. So, you must wait for a few hours while the issue is being taken care off.
However, if nothing is wrong with Netflix, but still, if you can't play videos, you should be able to fix it after applying the solutions mentioned below.
2. Force Close the App Restart It
If you have not tried restarting the app, do it now. It removes the application from the memory and loads it again. It will resolve minor bugs and glitches that could be triggering issues with the Netflix app on your iPhone.
If a minor glitch is causing the problem, restarting the app is often all that's needed to fix it.
Here are the required steps:
Swipe up from the bottom of your iPhone screen and pause in the middle to open App Switcher. You can now see a preview of all apps running on the device.
Swipe up Netflix to close the app.
Wait for 10-15 seconds.
Launch the Netflix app to check if the problem has been sorted.
3. Restart Your iPhone
Restarting your device removes temporary glitches and conflicts that could trigger Netflix problems.
How to restart your iPhone 15:
Press and hold the power button until the slider appears.
Drag the slider to turn off the device.
Wait for 2-3 minutes.
Press and hold the power button until the Apple logo shows up on your screen.
After the device boots up, connect it to the internet and stream your favorite shows on Netflix. However, if the problem persists, you'd want to try other solutions as well.
4. Check Your Internet Connection
If the above solutions do not help, your internet connection might very well be the cause of Netflix problems. Unless you've downloaded shows or movies, Netflix requires a stable and high-speed connection to play videos without interruptions.
You must ensure a stable connection before opening the Netflix app.
Test your connection by running multiple speed tests via speedtest.net or fast.com. If you get a similar result in all tests, it verifies that the connection is stable. However, inconsistencies in results mean a stable connection.
You can power cycle the router to improve your connection.
Steps to reboot your router:
Unplug the router from the power source.
Wait for 2-3 minutes.
Plug the cable back into the source.
Now, connect your device to your Wi-Fi and launch the Netflix app to check if the problem is solved.
5. Check Your iPhone Date & Time
Another reason your iPhone 15 can't play Netflix videos could be an incorrect date and time. If your iPhone has a wrong date or time, Netflix might be unable to connect to its servers.
How to check date & time on your iPhone:
Launch the Settings app on your iPhone.
Scroll down to General and tap on it.
Click Date & Time.
Toggle the Set Automatically switch to enable it.
Your iPhone will automatically set the correct date and time based on your iPhone location. Launch the Netflix app to check if you can play your shows or movies.
6. Update the Netflix App
If you haven't updated Netflix in a while, you might be missing out on many improvements. The latest update generally includes improvements and fixes to known issues and occasionally some new features.
For the best experience, Netflix recommends keeping the app up-to-date. It can probably fix the issues you're currently dealing with.
How to update the Netflix app on iPhone:
Close Netflix, if opened.
Launch the App Store on your iPhone.
Tap on your Apple profile.
Click Update All to install all pending app updates. If you only want to update the Netflix app, click the Update button next to Netflix.
7. Check for Screen Time Restrictions
If your iPhone has the Content & Privacy Restrictions option turned on, it can restrict certain apps and content types. To ensure it's not blocking the Netflix app, disable this option.
Launch the Settings app on your iPhone.
Tap on Screen Time and choose Content & Privacy Restrictions.
Toggle off the switch for Content & Privacy Restrictions.
After disabling Content & Privacy Restrictions, launch the Netflix app to see if you can stream content.
8. Reset Network Settings on Your iPhone
If updating the app didn't help, your iPhone may have incorrect network settings, causing issues with the Netflix app. Rather than going through all network-related settings, you can reset the network settings to ensure it's not causing the problem.
Before I tell you the steps, remember that resetting network settings will delete saved Wi-Fi networks and Bluetooth devices and restore all Network settings to default.
Open up Settings on your iPhone.
Go to General and tap on Transfer or Reset iPhone.
Click Reset and choose Reset Network Settings.
Confirm your lock screen pin or password.
Tap on Reset Network Settings again.
Connect your device to the internet and stream your favorite shows on Netflix.
9. Check for iOS Updates
The above solutions should be enough to resolve Netflix videos not playing issues. However, if the problem persists, you can update your iPhone to resolve any potential bugs conflicting with the Netflix app.
In addition to bug fixing, the update may also include improvements and new features.
To update your iPhone, launch the Settings app, tap on General, and click Software Update. Download and install pending updates (if available).
If there are no updates for your iPhone, skip to the next solution.
10. Uninstall and Reinstall Netflix
Reinstalling the Netflix app ensures that the device has no corrupted files. If your iPhone has a corrupted Netflix installation, it can lead to multiple issues, such as app launch failure and videos not playing, among other problems.
Reinstalling the app will remove the existing installation, along with corrupted files that could be triggering the error, with a fresh installation.
Here are the required steps:
Tap and hold the Netflix icon on the home screen.
Choose Remove App from the quick menu options.
Click Delete App to remove the app from your iPhone.
Launch the App Store and then search for the Netflix app.
Click Get to install the app.
Wrapping It Up
Not being able to watch your favorite shows or movies on Netflix can be frustrating. But don't worry; you can troubleshoot this issue by following the solutions I've just shared with you.
Start by checking the status of Netflix servers. If everything appears to be fine on their end, begin troubleshooting by assessing the reliability of your internet connection. If your internet is working well, proceed with other potential fixes, such as restarting your iPhone, resetting network settings, or reinstalling the app.
We hope this guide has been helpful to you. Feel free to let us know in the comments below which solution worked best for you.