Hello Games has done an excellent job by releasing 'No Man's Sky' as an action-adventure open-world survival video game that offers a breathtaking gaming experience. Though the title has received plenty of positive reviews on Steam, the chances are high that your game isn't working well in some scenarios even with better GPUs. If so, you can check the No Man's Sky Best Graphics Settings for 3070, 3080, 3090, 1060, 1070, 2060, 2080, and More here.
Well, achieving better graphics quality with the optimal frame rates is always expected from a game when you use Nvidia GTX and RTX series graphics cards on the PC. But that doesn't mean each and every game will work exceptionally well out of the box without any in-game graphics settings. Obviously, there are some graphics settings that need to be adjusted and some workarounds are also required to be performed on the system to avoid lags or stutters.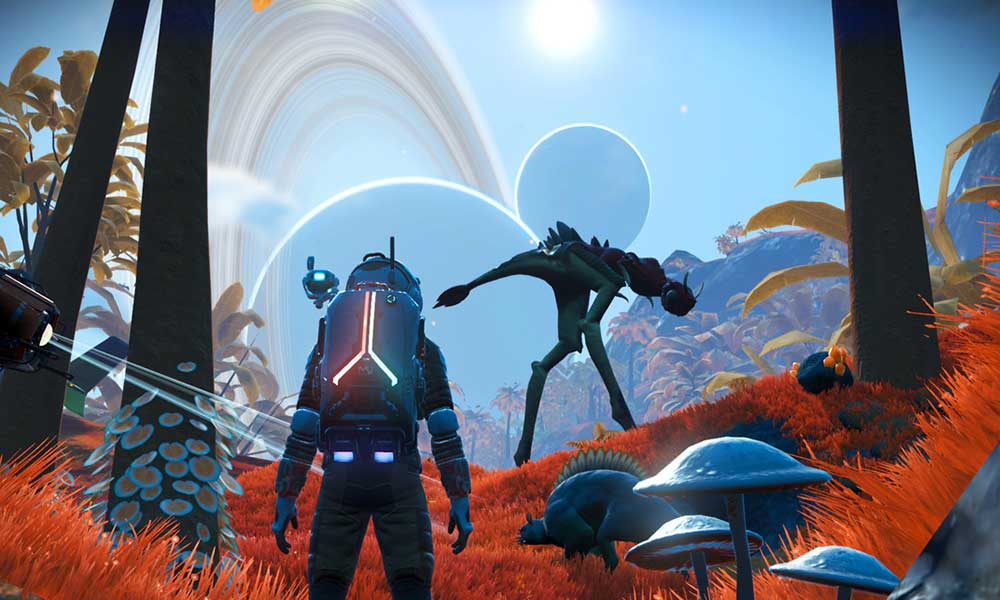 No Man's Sky Best Graphics Settings for 3070, 3080, 3090, 1060, 1070, 2060, 2080, and More
Though players require a higher FPS count and a smoother gameplay experience, it's not that easy for the CPU, RAM, and GPU to handle all major tasks so well. So, optimization always comes in handy by tweaking the in-game graphics settings, and the system optimization methods. Standard smooth gameplay can be achieved if the game runs consistently on 60 FPS. The more FPS will go up the more you'll get a smoother experience while gaming.
Though you have an Nvidia GTX 1060/1070 or mid-range graphics cards like RTX 2060/2080 or even flagship level RTX 3090, 3080, 3070, etc, some settings may greatly improve the gaming experience. Here we've shared a couple of workarounds and in-game graphics settings adjustments for you that might help a lot. So, without wasting any more time, let's jump into it.
1. Check System Requirements
Before jumping into any other workarounds or settings adjustments, you should ensure that your PC specification is compatible enough or not. We've mentioned the system requirements below that you can check out.
Minimum:
Requires a 64-bit processor and operating system
OS: Windows 10/11 (64-bit versions)
Processor: Intel Core i3
Memory: 8 GB RAM
Graphics: Nvidia GTX 1060 3GB, AMD RX 470 4GB, Intel UHD graphics 630
Storage: 15 GB of available space
As mentioned in the requirements, you'll require at least Nvidia GTX 1060 (3GB) or AMD RX 470 (4GB) graphics card to become eligible to run the game. However, the higher graphics card model and the higher memory size will definitely increase the experience if you want a respectable graphics quality.
2. Get a Minimum of 60 FPS with Optimal Graphics Settings
By reducing the display resolution quality and tweaking some in-game graphics settings, you can get optimal gaming with your entry-level graphics card. Whereas the mid-range and high-end graphics cards will be able to increase more FPS with 2K or 4K resolution which is a big deal as a gamer. In the lower graphics quality, you may feel some reduction in far-field object or shadow or grass-level quality but that might not affect your gaming.
But turning off or lowering down some settings might increase up to 10 FPS count which will add a lag-free gaming experience. Just launch the game and head over to the graphics settings menu to perform adjustments.
Anisotropic Filtering – 8
Anti-aliasing – TAA
Display Mode – Full-screen
HBAO – Off
Light Shafts – Off
Max FPS – Between 60 – 90
Reflection Quality – Medium
Resolution – 1920 x 1080
Shadow Medium – Medium
Texture Detail – High
V-Sync (Vertical Sync) – Off
DLSS-Balanced – Normal / Enhanced
3. Adjustments for Nvidia Control Panel
V-Sync – OFF
Tripple buffering – ON
Maximum pre-rendered frames – 1
Please Note: Even if your GPU card model isn't listed here then don't worry. There are plenty of graphics card models compatible with the No Man's Sky game. Make sure to adjust in-game graphics settings before expecting stunning graphics and smoother gameplay at the same time.
4. Update Graphics Drivers
You should try checking for the graphics driver update on your Windows PC and installing the latest version to ensure no update is pending at your end. An outdated or missing graphics driver can trigger issues with properly functioning graphics-intensive programs. To do that:
Right-click on the Start Menu to open up the Quick Access Menu.
Click on Device Manager from the list to open the interface.
Now, you'll need to double-click on Display adapters to expand it.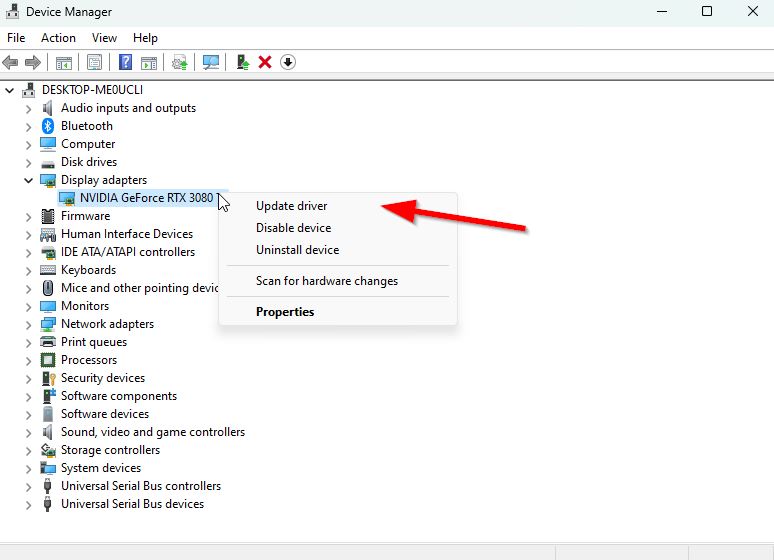 Then right-click on the dedicated graphics card name you're using to bring the context menu.
Next, click on Update driver > Choose Search automatically for drivers.
The system will automatically check for the available update.
If an update is available, it'll automatically download and install the latest version.
Once done, make sure to restart your PC to apply the changes.
If you cannot find any update, then make sure to head over to the official graphics card website and search manually for the latest update. If a new version is available, just download the file on your PC and install it. Whatever Nvidia graphics card you use, jump to the link below as per the manufacturer.
5. Switch to Dedicated GPU
Sometimes the game may run with the integrated HD graphics on the PC that comes with the processors to handle minimal graphics tasks. But if you're using an external Nvidia graphics card then make sure to switch the No Man's Sky game to the dedicated GPU by following the steps below.
Right-click on the desktop screen to open the context menu.
Now, click on Nvidia Control Panel to open it.
Head over to 3D Settings > Select Manage 3D Settings.
Open the Program Settings tab > Choose No Man's Sky from the drop-down menu.
Next, select the preferred graphics processor for this program from another drop-down menu.
Finally, your Nvidia GPU should show as High-Performance Nvidia Processor.
Save the changes and reboot the PC.
6. Verify and Repair Game Files
The chances are high that somehow your game files are missing or corrupted on the PC which eventually conflicts with the game running properly. You may not receive errors or warning messages that's why you won't understand what's going on. It's better to perform repairing game files on the PC. To do so:
Launch the Steam client > Click on Library.
Right-click on No Man's Sky from the list of installed games.
Now, click on Properties > Go to Local Files.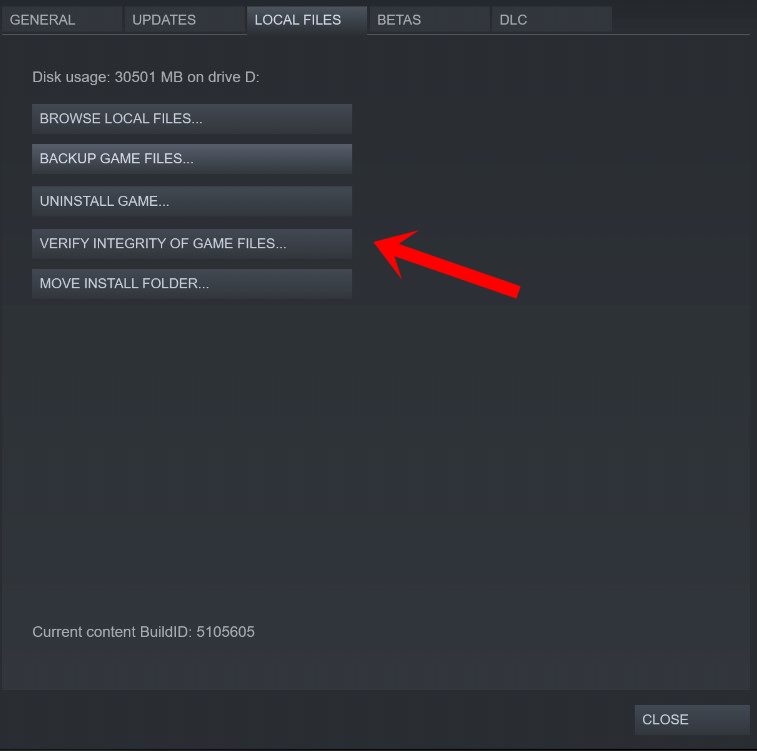 Click on Verify Integrity of Game Files.
You'll have to wait for the process until it gets completed.
Once done, just restart your computer.
7. Try Disabling Overlay Apps
Sometimes a couple of applications may come with an additional overlay app that basically helps the streamers or gamers a lot. However, these overlay apps can eventually conflict with the game files to run smoothly and may cause several issues like FPS drops, black screen issues, lags, glitches, etc. You should try disabling the overlay apps manually before launching the game again to cross-check if the game is running with higher FPS or not. To do so:
Disable Discord Overlay:
Launch the Discord app > Click on the gear icon at the bottom.
Select Overlay under App Settings > Turn on the Enable in-game overlay.
Click on the Games tab > Select No Man's Sky.
Finally, Turn Off the Enable in-game overlay toggle.
Make sure to reboot your PC to apply changes.
Disable Xbox Game Bar:
Press the Windows + I keys to open Windows Settings.
Click on Gaming > Go to Game Bar > Turn off Record game clips, screenshots, and broadcast using the Game bar option.
Disable Nvidia GeForce Experience Overlay:
Launch the Nvidia GeForce Experience app > Head over to Settings.
Click on the General tab > Disable the In-Game Overlay option.
Finally, restart the PC to apply changes, and launch the game again.
Disable Steam Overlay:
Open the Steam client on the PC > Click on Library.
Right-click on No Man's Sky from the left pane > Select Properties.
Now, click on General > Turn OFF the 'Enable the Steam Overlay while in-game' option.
There are some other overlay apps that can cause trouble for you something as MSI Afterburner, Rivatuner, RGB software, etc. You should turn them off as well.
8. Update No Man's Sky
Mostly an outdated game patch version may trigger multiple potential issues with the game running as well as smoother gameplay. You should install the latest update to make the game compatible with fewer bugs whatsoever. To do that:
Open the Steam client > Go to Library.
Click on No Man's Sky from the list of installed games on the left pane.
Now, the client will automatically search for the available update.
If there is an update available, you'll see the Update option.
Just click on it and wait for a couple of minutes until the game update completes. [Depends on the storage space and internet connectivity]
Once done, make sure to close the Steam client.
Finally, reboot your PC to apply changes
Bonus: If you don't want to mess with the in-game graphics settings, make sure to open the Nvidia GeForce Experience app > Click on 'Optimize' to instantly get the optimized No Man's Sky Settings without trying other adjustments.
That's it, guys. We assume this guide was helpful to you. For further queries, you can comment below.