This post is being updated continuously…
Update as of November 6: An upcoming Nokia G50 has been seen on Geekbench running on Android 12 out-of-the-box. The update comes pre-loaded with Android 12 and probably the first device to arrive with the update.
Update as of October 5: There's a good news for Nokia users as Google has finally announced the Android 12 AOSP. Turns out this gives Nokia a green signal to work on a stable Android 12 build for its smartphones and release sometime later this year. [Source]
---
Nokia made a comeback to the smartphone market after their downfall with the end of the feature phones. Initially, they handed control over to Microsoft, which led to several Windows smartphones. But windows smartphones were never received well by the audience due to their limited functionality. But Nokia turned it around by launching Android-powered Nokia smartphones now. Yes, they don't have the popularity they once had in terms of phones, but they are there for those who still love the company. Many current Nokia smartphone users are Nokia users from the previous time, and they have decided to show their trust in this company again. And Nokia is holding up to these expectations in the best they can.
Yes, Nokia did not have cutting-edge technology when they made a comeback, but what they had was a promise. They promised to deliver timely Android updates by putting each of their smartphones under the Android One program. This meant Nokia's phones would receive timely updates from Google, and Nokia won't change anything about the UI. Like many other manufacturers, they won't put a skin on top and let users experience Android in its pure form. So how is this update program from Nokia fairing up? And which of the Nokia smartphones are eligible for the Android 12 update? Let's take a look at it in this article.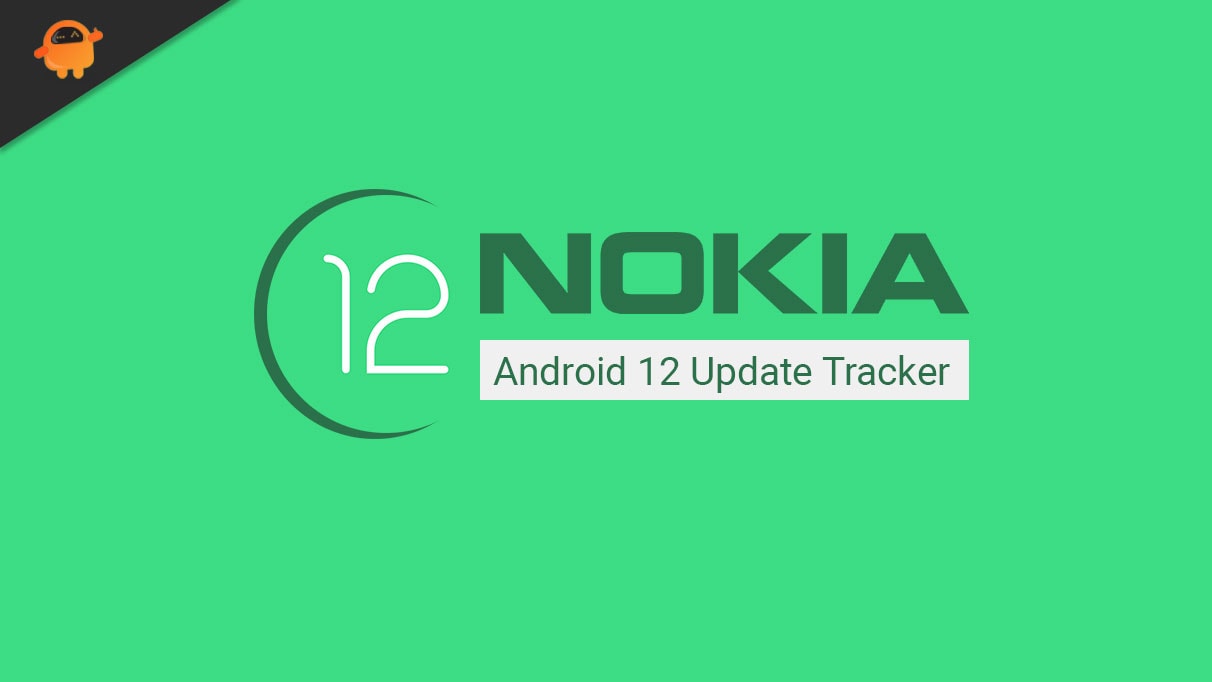 Nokia Android 12 Update Tracker:
Last year, Nokia did not join in on the Android beta program. As a result, they were slow with their Android 11 update, much slower than Chinese companies like Xiaomi, Oppo, and more. People expected better from Nokia, but they missed their chance with Android 11 last year. But this year we see a change. Nokia has officially entered the Android 12 program with the recently launched Nokia X20. And it is scheduled to receive the update in Q3 or Q4 of 2021.
So compared to last year, we can definitely expect something better this time around. Nokia has reflected on what they could have done better last year around, and this time we can expect some positive changes.
Last year even though it was late, several Nokia smartphones did receive the Android 11 eventually. So even if we don't get a beta update of Android 12 on multiple Nokia devices this time, we will eventually get the stable build.
Device List:
Since the Nokia smartphones come under the Android One program, the Android OS update is definite. The Android One program ensures two major OS updates. So that means any Nokia smartphone that came with Android 10 or Android 11 out of the box will definitely receive the Android 12 update. The ones that came out recently with Android 11 out of the box will be the first to receive the Android 12 update. And then, the other older Nokia smartphones that have already received one major OS update in the form of Android 11 will receive the Android 12 update.
The list of eligible smartphones is listed below based on this information.
Nokia XR20
Update as of January 31: The Android 12 build for Nokia XR20 has been certified by Google. This means that the Android 12 for the XR20 is on the way although the dates aren't confirmed just yet.
Nokia G50
Update as of December 31: Nokia G50 is reported getting its share of Android 12 upgrade albeit the rollout is slower than usual. The incoming update comes with a November 2021 security patch and a 1.99GB size. You can manually download the firmware and install it on your device from right here.
Nokia G100
The Nokia G100 is paired with a 6.5-inch HD+ panel with Snapdragon 615 SoC, a 5000 mAh battery with triple rear camera. There's Android 12 out-of-the-box on Nokia G100 launched alongside G400 5G at CES 2022.
Nokia G400 5G
The 5G powered affordable smartphone in the G-series, the G400 5G packs in a Snapdragon 480 SpC with 120Hz 6.5-inch panel, 6GB RAM, 128GB of storage with 48MP tripler rear camera. There's Android 12 and 5G on-board Nokia G400 5G.
Nokia C100
The Nokia C100 is a budget-friendly smartphone with 32GB storage, 3GB RAM, Helio A22 SoC, with a 4000 mAh battery and a 6.1-inch HD+ panel. The best thing about this phone is that it has Android 12 out-of-the-box.
Nokia C200
Another budget-friendly smartphone is the Nokia C200 with Helio A22 SoC, 3GB RAM, 32GB storage, 4000 mAh battery with a 6.1-inch HD+ panel and the devices runs on Android 12.
Nokia X20
Update as of September 1: Good news for Nokia X20 as the device has now entered Android 12 Developer Preview phase with the first beta build already available at the time of writing this. Interested users will have to apply for the beta build which is of course unstable. To get your hands on the update, go for Settings >> My Phone and check for "Android Developer Preview" to get your hands on the update.
Update as of December 25: The Nokia X20 5G is receiving Android 12 stable updates in UK O2, Slovenia, Poland, Ireland, Germany, Colombia, Bulgaria, Brazil, and Australia.
Nokia X10 5G
Update as of September 20: According to a latest update, Nokia X10 5G has been spotted on Geekbench running on Android 12. Accordingly, Nokia has reportedly kickstarted Android 12 development and it is in no mood to delay the rollout with X20 5G getting the first piece followed by X10 5G. Perhaps, Android 12 on top offerings from Nokia this year will not have to wait for the update for longer.
Update as of December 24: The Nokia X10 is picking up Android 12-powered update starting in the first week of January 2022. Following are the countries where the users will get the said update. Albania, Austria, Belgium, Bahrain, Croatia, France, Finland, Egypt, Denmark, Italy, Iraq, Iran, Iceland, Hungary, Jordan, Lebanon, Lithuania, Luxembourg, Latvia, Montenegro, Norway, Macedonia, Moldova, Netherlands, Oman, Portugal, Romania, Qatar, Saudi Arabia, Serbia, UAE, Sweden, Spain, and Slovakia. [Read more]
Nokia 8.3 5G
Status will be updated soon…
Nokia 8 V 5G UW (Verizon Wireless)
Status will be updated soon…
Nokia 5.4
Status will be updated soon…
Nokia 5.3
Status will be updated soon…
Nokia 3.4
Status will be updated soon…
Nokia 2.4
Status will be updated soon…
Nokia 1.3
Status will be updated soon…
If you own one of these devices and you have not yet received the Android 11 update, then you will have to be a bit patient. First, you will receive the Android 11 update, followed by the Android 12 update next year.
This is not an official list, though. We have compiled this list based on the Android One program, and if nothing goes wrong, this should be accurate.
Release Date:
As mentioned above, we already have the latest Nokia X20 scheduled to receive the Android 12 update in the latter half of 2021. Much like the Nokia X20, other mentioned Nokia devices would also receive the Android 12 update. Some of them might receive it in the end phase of 2021, while the others will get the update next year.
If you have any questions or queries about this article, then comment below, and we will get back to you. Also, be sure to check out our other articles on iPhone tips and tricks, Android tips and tricks, PC tips and tricks, and much more for more useful information.