AirPods are quite famous among iPhone users as they are easy-to-use Bluetooth accessories. With the initial launch of AirPods back in 2016, users have been facing numerous issues where one of the AirPods mysteriously stops working. The issues regarding one AirPod not working only arises after using the AirPod for at least 2-3 months. After this, the issue may arise anytime.
Now there can be multiple reasons behind why this is happening. This includes common reasons like battery issues, dirty AirPods speaker grill, mono-channel sound, or even Bluetooth pairing glitches. In this article, we aim to troubleshoot this problem for all AirPods and AirPods Pro devices. We will also share some methods to fix this issue from the comfort of your home.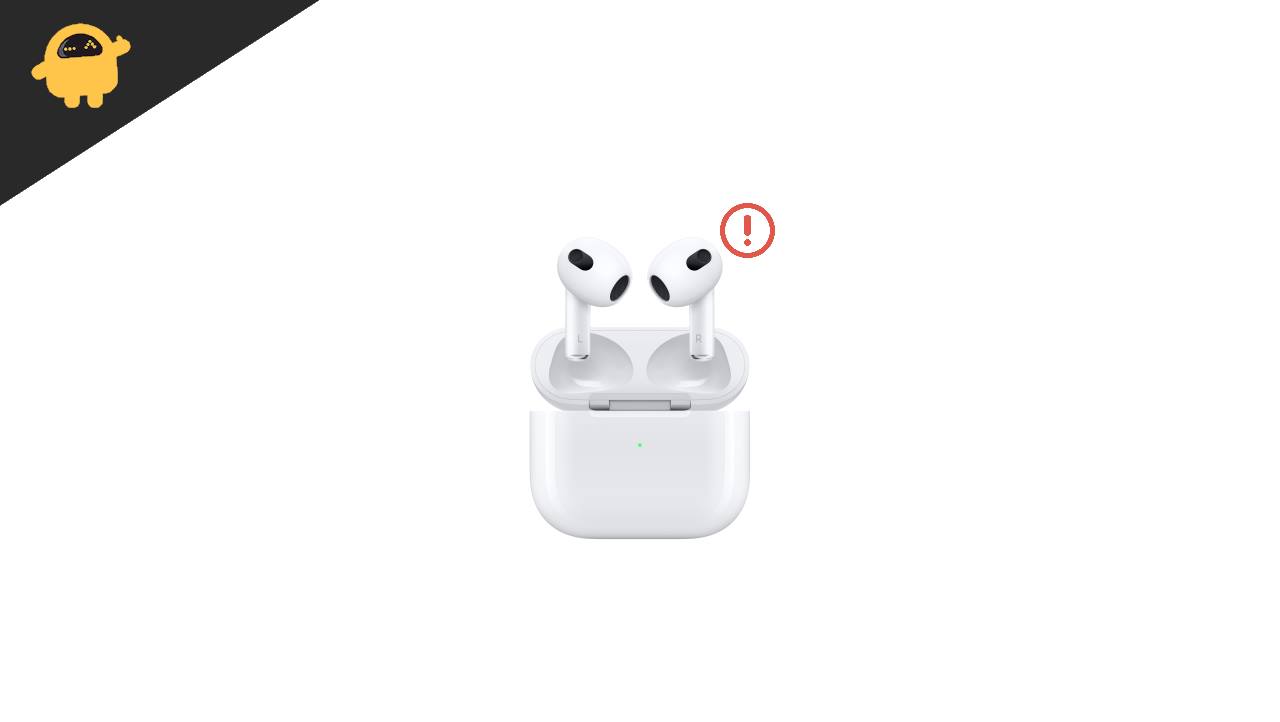 How to Fix If One AirPod Not Working Issue
The number one feature of AirPods is their ability to connect to your iPhone instantly whenever you open the case. But once you plug them in your ears, there are chances that one of them might not work. Down below are some troubleshooting methods to check and fix this issue.
Method 1: AirPod Audio Test
Before you move to any of the methods below, do an audio test to be sure. As often, you might be reading with any audio/video containing a mono sound channel, so one of your AirPod will function.
We recommend you plug in both your AirPods and watch the above sound test video to confirm. If you are not able to listen from both in a 3D space, then it means there is some issue that we can fix below.
Method 2: Clear Charging Case Pins
AirPods are very small, and so does their charging case. And in special circumstances, your AirPods charging case might collect dust and debris, which disables the charging functionality. And without charging, your AirPod might not work.
So take your time and clean the charging case. Make sure you clean up the charging connector pins on both AirPods and the charging case.
Method 3: Charge AirPods
AirPods only have 2-3 hours of charge, and both pieces have batteries. Sometimes, one AirPod battery can discharge quickly, resulting in no sound. So make sure you charge your AirPods and then use them.
Method 4: Restart Bluetooth
Sometimes the issue of One AirPod Not Working is due to a technical glitch and can be fixed by simply restarting Bluetooth. First, go to the settings app and go to Bluetooth. Here disable the Bluetooth option. After waiting 1-2 minutes, enable it again and see if it helps.
Method 5: Unpair and Re-pair AirPods
Due to a bug in Apple AirPods, one might stop working or will not pair to your device. This can have the effect of one AirPod not working, which is the case for many users.
only one AirPod working (and I've tried the reset and Forget-the-device thing) from airpods
In such cases, you have to unpair your AirPods and then pair them again to your device. To do this, go to Bluetooth devices and remove any existing connected AirPods. Then, pair them again to see if it helps.
Method 6: Check Stereo Balance
Apple devices come with a special radio feature where you can balance the sound to one side ear. This is essentially done to help any people with a hearing aid or medical condition. But it is quite possible that you might have turned this feature on by mistake. So here is how you can configure it to default settings:
Open Settings and navigate to Accessibility > Audio/ Visual option.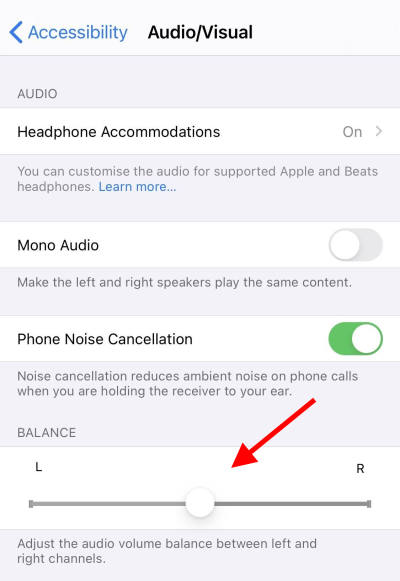 Here go to the balance slider, and make sure it is set in the middle.
Once done, restart your iPhone and see if it helps.
Method 7: AirPod Hardware Issue
If none of the above methods helps you, then a hardware fault, usually the battery, might be the case. Since AirPods are quite small, their battery is also small, and they discharge quickly.
So if there is any hardware fault, you might have to connect with the Apple care centre and ask for a replacement if they are covered in the warranty period.
Conclusion
This brings us to the end of this guide for fixing one AirPod not working issue. AirPods are great but they dont ways work perfectly for everyone. The above methods shall help you to fix the issue. If not, we recommend you get them checked from the nearest Apple store as there might be some hardware damage as well, where you might need expert technician help.