OnePlus has gained a reputation for offering top of the line features at an affordable price point compared to other brands within its category. With humble beginnings as a small bootstrap company its now become a global brand that provides quality products accessible to all. However even the best devices can face issues from time to time and some users of the OnePlus 11 devices have reported facing problems with their SIM cards not being detected. Software bugs and glitches are typically responsible for causing this annoyance.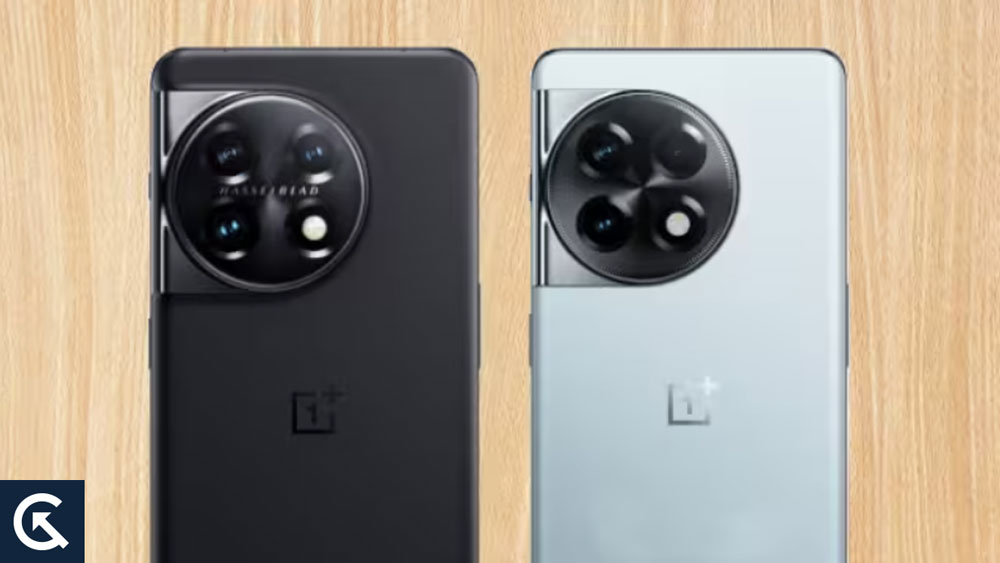 What Causes the OnePlus 11 5G and 11R 5G SIM Card Not Detected?
There are multiple reasons why your OnePlus device may fail at detecting your SIM cards, such as network service provider issues or poor network coverage in your area, before trying any other troubleshooting strategies it's essential to check the network strength in your area first.
Your OnePlus 11 or 11R device may sometimes encounter difficulties detecting the SIM card.
This could be because of faulty or damaged SIM cards, poor insertion, as well as problems with the antenna and radio hardware that affect network connectivity. However, there are solutions available that can help you get past these issues. Here are some fixes for cases where your phone shows "No SIM Card Detected":
How to Fix OnePlus 11 and 11R Sim Card Not Detected
So, here are some fixes to resolve the OnePlus 11 and 11R SIM Card not detected issue. Therefore, let's check them out:
Fix 1: Restart Your Device
To begin with try restarting your phone since it can help clear out temporary glitches that might have caused connectivity issues. Restarting or rebooting a device is often a simple way to troubleshoot connectivity issues related to SIM cards – just select that option from the menu and wait for a few minutes while your phone turns off then back on again before checking if connection strength has improved.
Fix 2: Enable & Disable Airplane Mode
During travel, the airplane mode disconnects all network services. You can use this mode to resolve most SIM Card-related issues. There is no guarantee that Airplane mode will solve your issue, but you can try it. It will not harm your device in any way. Once this is completed, the Internet connection to your Phone will also be cut off. Here's how it might be done:
Open your Phone's notification panel.

Tap the icon to enable Airplane mode.

You can disable the mode by tapping the icon again once it has been enabled.
Fix 3: Change the Carrier
Finally if these methods don't work then consider switching carriers as an alternative solution when experiencing persistently poor connectivity across different devices. Switching to a new carrier can be made easier with the porting option, which allows you to keep your phone number when changing providers. Additionally new providers often offer enticing promotions and deals. If you're experiencing network or signal issues consider switching from 5G to a 4G network. Heres how:
Access the Settings menu on your device and select WiFi and Network. Click on SIM and Network then go to Preferred Network Type. Choose 4G/3G/2G from the list of options.
Navigate to Additional Settings in your device's Settings menu. Select Backup & Reset and then click Reset Phone at the bottom of the screen. Confirm the Reset Network Settings option to remove temporary networks from your device.
Fix 4: Re-insert the SIM Card
If you don't have any signal on your OnePlus 11 or 11R 5G device, it might be because your SIM card is corrupted or improper. If the sim card not detected issue is resolved, you will need to re-insert your SIM card. Check if the issue is resolved by removing the SIM card from your device and re-inserting it properly.
Fix 5: Check Your SIM Card for Any Damaged
In case you inserted the SIM card again and still have an issue with your SIM Card on your OnePlus device, check the SIM Card for any hardware damage. Your device won't recognize a cracked or damaged SIM card, and you won't be able to connect to any network. You need to replace the SIM card with the same number if this is the case.
Fix 6: Choose The Correct Network Type
OnePlus 10 Pro users may also experience this problem because the 5G network is still unstable. In this regard, switching from the current 5G network to a 4G network is a wise decision. Here's how you might go about it:
In Settings, click on WiFi and Network, then click on SIM and Network.
Go to Preferred Network Type.
From the list, choose 4G/3G/2G.
Fix 7: Reset Network Settings
If you reset your OnePlus device's network settings, you will be able to remove temporary networks from the device, which will assist in resolving network or signal issues. Here's what you can do when your device's network isn't working:
Navigate to Settings > Additional Settings.
Click Backup & Reset > Reset Phone at the bottom of the screen.
Lastly, confirm the Reset Network Settings option.
Fix 8: Verify Your IMEI Number
Having an IMEI number is crucial for accessing carrier services on your phone. Follow these simple steps to verify your IMEI number:
Without needing any additional apps check your IMEI number directly from your device. Your phones ability to connect seamlessly on its network is crucial when it comes to daily usage of all its features. If you're having issues with a OnePlus 11 or 11R 5G devices SIM card not working correctly then some troubleshooting might help resolve it. To start off with finding out crucial information about your phone such as its IMEI number – head over towards the Settings app tap on About Phone followed up by Status. Alternatively this can also be achieved through using the dial pad feature; simply punch in *#06#.
Fix 9: Reset the Access Point Name (APN)
Another option would be resetting APN settings if issues persist even after trying the above methods – navigate towards Settings > WiFi & Network > SIM & Network and select Access Point Name; reset it back as default.
Fix 10: Contact OnePlus Support Team
If none of these options yield positive results then contact OnePlus support team who will assist you further! When it comes to resolving issues with your OnePlus phone not detecting your sim card seeking assistance from the manufacturers support team is highly recommended. They are equipped with knowledge and expertise on how best to troubleshoot this type of problem and suggest effective solutions that work quickly and reliably. Contacting them is easy – just visit their official website or send an email inquiry today! We hope this guide has been informative for you and helped shed some light on what steps need taking next time such an issue arises in future use. If you require more information feel free to leave a comment below and let us know.