It's just been a few days that we put a full stop to the back-fence talk regarding the launching date of the all-new Oppo F7. Oppo is all set to roll out its latest flagship smartphone on March 26. As per the latest news, Oppo is all to set for a debut launch in India later this month. Just a day or two after the launching news, the company has revealed the key specifications and features of Oppo F7.
The new flagship phone from the company, Oppo F7 is all set for its official launch in India and it will be launched by three-star Indian cricketers – Rohit Sharma, Hardik Pandya, and Ravichandran Aswin as a move ahead of the Indian Premier League (IPL) this year which is scheduled to be begin from April 4. The new device is expected to be a successor to the Oppo F5 that got launched last year and comes with an iPhone X like notch at the top portion of the display. The new version of Oppo will be coming with a new highlight of beautification feature for the selfie camera which will be powered by artificial intelligence (AI). This will also be an addition to the company's "Selfie Expert" series with features like Artificial Intelligence (AI) Selfie, Augmented Reality (AR) stickers, and Covershot.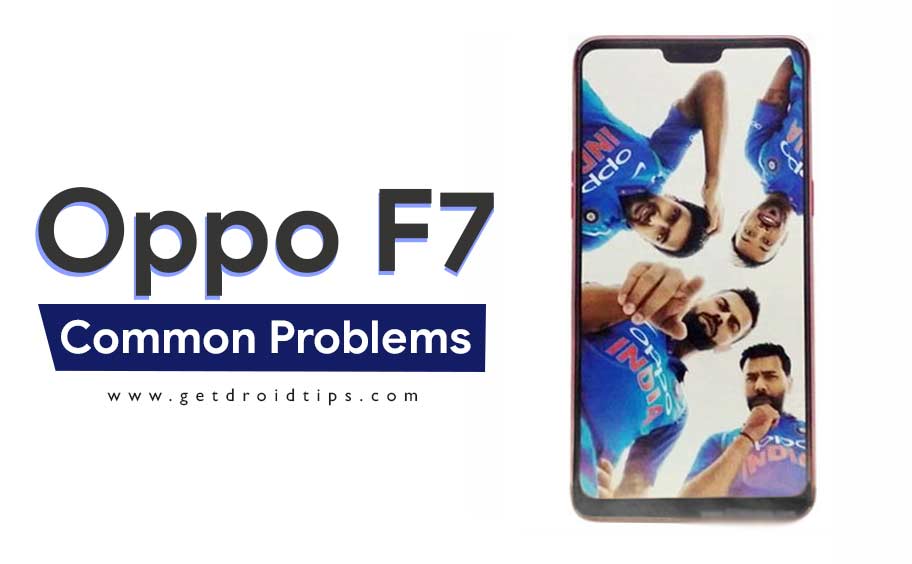 When talking about the camera features of Oppo F7, it will be sported with a 25 MP selfie camera with real-time HDR technology. The display screen will be of 6.2-inch full HD+ with Full View display along with a resolution of 2280 × 1080 pixels and an aspect ratio of 19:9. The device is expected to sport with an iPhone X like notch at the top of the display and the notch assistant will give users an access to features to swiftly navigate between the apps.
Oppo F7 is going to be the first Android Phone to launch in India that has an iPhone X like a notch. The device will be shipped with App-in-App features that let the users take a call and play a game simultaneously with a split screen that shows the feed from both the apps.
More details on the phone's specifications regarding the dimensions and pricing details will be available only after the launch but still, we have some news about the other features. The Oppo F7 will be powered by Android 8.0 Oreo update. The rear side will be having a dual camera of both with 16MP and an LED flash. It is a dual SIM phone in which nano SIMs are supported and networks of 2G/3G/4G can be accessed with a dual standby mode. Two RAM options of 6GB and 8GB with an internal storage of 32/64GB and 128 GB is made available in the device along with a microSD slot with which the storage can be expanded up to 256 GB. Connectivity options like Wi-Fi, Bluetooth, GPS, USB port 2.0 and an On-The-Go USB port are available.
A rear-mounted fingerprint sensor, accelerometer, and proximity sensor are the sensor options. The device is powered by a 3400 mAh non-removable battery and the device comes with 3 colour options of Gold, Black, and Red.
As all are eagerly expecting the launch of Huawei P20 series later this month, we are here with solutions for some possible complaints it may face. So let's now deal with the common possible Huawei P20 problems and their fixes.
Common problems of Oppo F7 and their fixes.
The solutions to the common expected problems of Oppo F7 that we are going to mention in this post can be trusted. But still, it's always really good to remember that we won't be held responsible for the risks that can be caused to your phone due to the possible negligence that can happen while you follow these tips.
Connectivity issues
For a good number of times, you might have faced with this problem related to connectivity in your smartphones. We may not be aware of the type of issues and their causes. Each phone's problem might be different from the other's. In regard to this, it is always better to know some of the methods or solutions to sort out the problems and get them eliminated from your mobile. It should be always there in your mind that the connectivity related issue can be caused due to either low data network or weak internet connection too. The common connectivity issues like Bluetooth connectivity issues and Wi-Fi connectivity issues for which we are presented with a set of solutions are discussed below.
Bluetooth connectivity issues
Wait let me tell you something very important. Before you try to do some more advanced fixes for the connectivity issues, it is always advisable that you try for a device reboot.
Give a short break to the "Bluetooth". You should try to toggle the Bluetooth connectivity option. For this, you just need to simply tap on the Bluetooth to turn off only to tap again to turn on the Bluetooth icon at least after a small break of 15-20 seconds. Now try again to connect the Bluetooth devices available.
Make sure that you are entering the correct password on the other device which is case-sensitive. So whenever you see to add a password in the Bluetooth feature on your screen, enter the correct password and get connected.
If your device is connected to other devices through Bluetooth, kindly ignore them as multi-connections can hinder the performance. Confirm that your device is just not connected to any other device. If its connected ignore them all and try to connect to the new Bluetooth connection.
Always clear the history of recently connected devices. As I mentioned earlier, it is always better to remove the history of recently connected device In order to connect to the new one.
Check and confirm that there are no restrictions made by you on the Bluetooth feature connection.
Also, it is always better to check whether you have turned on the Power Saving mode. The power saving app may disable those apps which consume a hell lot of power. Bluetooth is also a power consuming app and the power saving mode might have disabled your Bluetooth connection
Wi-Fi connectivity issues
It is always better to check whether you have exceeded the bandwidth limit of Wi-Fi whenever you face with the connectivity issue.
Try to Toggle your Wi-Fi by simply turning off the router only to turn on after 15-20 seconds.
You should be very careful that you enter the correct password as the Wi-Fi passwords are case sensitive.
If your device's Wi-Fi antenna is not working it might end up with Wi-Fi connectivity issue. So Check whether your device Wi-Fi antenna is working properly. Or else consider changing it.
If other data exchange apps such as Shareit is running in the background, the default Wi-Fi connection won't work out.
If the router is recently installed, make sure that the cable connection also is perfect.
Here also erase the previous Wi-Fi connection device history only to add it again.
If it's not updated, then consider the update of the device Wi-Fi driver.
Bad camera quality
It is not that much strenuous effort to deal with the poor camera quality. When you follow some basic troubleshooting problems regarding the camera quality, it can be corrected. Let's have a deep look on to the problems that cause poor camera quality and their fixes.
Do not try to capture the photos using installed camera apps other than the stock Camera. Try to do the same with the default camera in your device.
You can always get the best output from the default camera in your device.
Update your device's default camera.
Ne sure that you have removed the transparent cover attached to the screen of your device for better clarity.
Consider cleaning the camera lens properly before you snap your photos
Always try to focus on the object before capturing the snap so that you can avoid the blurring of your photos.
Try to use your device flash before capturing the snap.
You should have some free space in the device default memory in order to save your photos.
Always clear the cache memory of your default camera app.
Oppo F7 not recognizing Windows.
Yiu should pay a close attention to eliminate any of the possible barriers to creating the successful working connection between your device and PC. We here to provide you with some tips for the smooth connection of your device with the PC by eliminating the possible barriers which can give you a reliable data transfer experience.
A genuine connecting cable that comes along with the device should be used always while connecting your device to PC.
Confirm that you change the USB configuration to MTP.
You should be very sure that the USB drivers are installed and updated.
Try to gently clean the connecting port.
If you are still losing the connection between the PC, then make use of a parallel port on the laptop.
Once you create the connection, don't forget to reboot your device.
Check whether you have set the restriction on the device connection settings for the device security.
Be sure that you don't transfer any corrupted data.
Quick battery draining and Slow charging issue.
All the smartphones that are on the market now are capable to offer at least a full day back up when it is completely charged. So is the matter about Oppo F7 too. Howbeit if you are still facing any fast battery draining issue or slow charging issue in your Oppo device, the following tips might be helpful.
You should close all the apps once you are done with it. Clear the apps that are running in the background.
Tth to turn off your Wi-Fi hotspot from sharing it with other devices. This can cause a quick battery drain.
Make sure that you don't download bulk files simultaneously.
Do not install too many apps on your device.
You can disable the app notifications (if you receive them a lot) which you don't need currently because this can actually consume a lot of power from the battery.
Try to set your device screen brightness to a comfortable level for your eyes without keeping it too high or too low.
Never install any apps from an untrusted source.
Be sure that you use only authorized accessories that are coming with your phone.
Be conscious that you charge your phone only when the battery level goes down 30% as 30-80% battery is the ideal charge for a battery.
Never overcharge the battery by plugging it overnight.
Never use the device while plugged in.
Check and confirm that there are no chances of using a faulty charger/battery/connecting cable/ power socket etc.
Overheating problems.
It's always not that much easy to deal with the overheating problems of the devices. But if you have a good knowledge on how to eliminate the possible cause for overheating and their fixes, it is easy to deal with the overheating problem of Oppo F7.
Always use a genuine power bank with a similar power rating to your phone while you are often charging with the help of a power bank.
Never forget to do the update of the device firmware.
Keep your RAM free by closing the background apps if any from running.
Never do download multiple files simultaneously.
Check for any recent apps downloaded
After which you encountered the overheating issue. You can check it by using the device in the safe mode. If any such apps detected consider uninstalling the same.
Use a genuine charger ( preferably the charger coming along with the device).
Keep your screen brightness to eyes' confirm level.
Unresponsive Touchscreen
Oppo F7 comes with a 6.2-inch screen which enables the users to get the best experience of the device. If you are experiencing any problem with your touchscreen you can try doing the following tips.
Try to reboot your phone to solve the issue.
If you are a person who used to wear gloves, remove it before you touch the screen.
If the screen is too soiled with oil/ dust or any other particles that can obstruct the clear vision from your touchscreen, you should definitely clean the screen and then only try to use the touchscreen.
Never use or touch your touchscreen with wet hands.
Check and confirm that there is no power short circuit that might damage your touchscreen.
If there is a physical damage, even a minor, try to fix it as soon as possible, as they can cause issues with the touchscreen.
If you have installed an app to protect your screen, consider uninstalling the screen protector installed on the screen.
Always concentrate to update your firmware to the latest.
Better performance of the device is always a quality where the users are really ready to pay high to the manufacturers. But sometimes, even with the top-notch smartphones, we are facing the issues regarding the performance. But when you know well to tackle this issue, it will be quite easy to overcome that.
When your device is already engaged in multitasking consider not to use your device.
Update all the apps on your device.
The presence of virus in your device may affect your device performance. So rule out the presence.
Update or remove the apps that show some unexpected behavior in your device.
Clear the memory timely and don't fill it completely with data.
Try for a hard factory reset if none of the above tips works for you.
The device regardless of its high quality will be actually useless when you have a SIM card that is not performing well. You can follow the tips and simply solve the issues related to the SIM card.
Try to remove and re-insert your SIM card to solve the SIM undetected issue.
Before trying anything you can perform a basic rebooting.
Be sure and confirm that the SIM tray is not damaged and if so think about replacing it.
Make sure that you have a SIM which actually works.
Confirm that the SIM frequency is same as to the device frequency.
Check that your SIM is not facing any network issue.
Confirm that you have not disabled your SIM in your SIM settings.
Try to do a manual search for the network.
Consider replacing the SIM if none of the other methods could solve the issue.
Earpiece and sound quality issues of Oppo F7.
It's always a very cynic situation when you experience a robotic sound from your phone and of course, we need a good sound quality. So if you experience any of quality sound issue, you can pay attention to the following Methods.
Try to use a genuine earpiece always.
Use another earpiece to check the sound quality and even to detect whether the problem is with the current earpiece.
Update the sound driver.
Try to perform a hard reset when all these tips fail.
GPS issues
GPS issues are Most most common nowadays and most of the GPS related issues are in connection with the poor network. We are here to guide you with some of the best available fixes for the GPS problem in your Oppo F7.
If your mobile data is turned on, turn off the data.
Try to be in a place where you get a good signal strength.
Always be sure that your maps and navigation apps are updated.
Never be late to update your device to the latest firmware.
SD card not detected
Everybody wants a smartphone which has more storage capacity as well as the more expandable memory with the help of microSD. It is because when you have more storage space you can enjoy the internet and entertainment sections even more and with a fast pace. Although Oppo F7 is having a RAM of 8GB and an internal storage of 128GB which can be expanded up to 256GB with a microSD, some users may still face some memory shortage issues either with the phone memory or with the microSD. So this is some tips for those who face the storage issues in their Oppo F7.
Never fill up your microSD and always free up some space on your SD card.
So many microSD cards are available in the market and always use an SD card that is compatible with your device.
Do not go behind a cheap microSD and should always buy a good quality one.
If you are inserting your microSD card after a long time into your phone, consider formatting the SD card before inserting it.
Check for any physical damage to the SD card.
So these are the common issues and their fixes that you might face with the all-new flagship smartphone Oppo F7. Hope you find this article helpful to solve the common problems with Oppo F7. If you face any other problem that is not mentioned in this article, feel free to inquire us about the same via our page.