Oppo has been known to have a quiet run in the market. It releases a bunch of phones throughout the year and always tries to stay in the headlines. Oppo has some of the decent mid-range smartphones in the market and in the smartphone market like India, where customers want good value for their money, Oppo has established itself, more or less like a brand that provides good value for money paid.
Oppo F9 is such a phone which was launched back in 2018 and it packs some decent specs for the price asked. In this post, we will give you a dedicated software update tracker for the Oppo F9, that will keep you informed about the latest update whenever Oppo rolls out for the phone. This post will be a one-stop-shop for your if you own an Oppo F9 phone to get all the latest information about the latest update. So, with that being said, let us get straight into the article itself: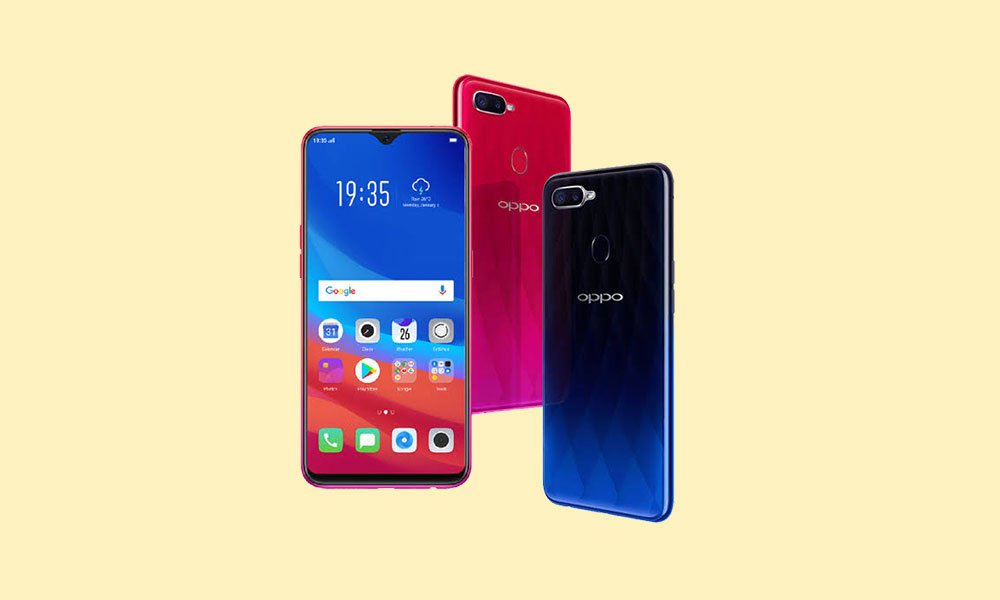 Oppo F9 – Device Overview
The display on the Oppo F9 is 6.3-inches TFT with 2340 by 1080 pixels resolution. Under the hood, the phone is powered by a MediaTek Helio P60 processor coupled with 4/6 GB of RAM. The phone is juiced by a 3500 mAh battery and it supports Fast Charging 20W which the company calls VOOC Charging. The Oppo F9 offers up to 64GB of onboard storage which can be expanded using the dedicated microSD card slot.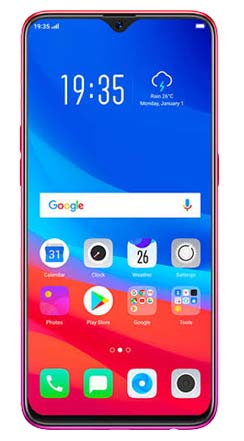 Talking about the cameras, the rear camera has a dual-lens setup with a 16MP and 2MP shooters. For selfies, there is a 25 MP wide lens. Both the rear and the front camera is capable of recording [email protected] Moreover, the phone has all the necessary sensors and the fingerprint scanner is located on the back of the phone.
Software Update Tracker
Here you will get all the information about the latest updates pushed for the Oppo F9 smartphone. Note that the latest updates will be added to the bottom of this table. So, keep checking back often to keep your phone up to date with the latest update.
Software Version
Changelog
CPH1823EX_11_A.05
CPH1823EX_11_A.11
CPH1823EX_11_A.13

Update Log:

Updates with Android security patches
Enhances system stability
Enhances the system security

CPH1823EX_11_A.14
CPH1823EX_11_A.17

Changelog:
Security
• New Integrated Android 2019-06 security patch to enhance system stability
Apps
• New Oppo Game Center, with the massive game all in it (Only for partial areas)
• New OPPO App Store, Bring you a secure and fast app Download experience (Only for partial areas)
• New OPPO Service, Provide you with more convenient and efficient after-sales service (Only for partial areas )
• Optimization OPPO Theme Store, with more beautiful Visual design, interactive interface and richer theme resources

CPH1823EX_11_A.20

Changelog:
Security
• New Integrated Android 2019-11 security patch to enhance system stability

CPH1823EX_11_C.16

Visuals

Redesigned the UI to suit the bezel-less screen. Blank spaces and color gradients are carefully harnessed to interpret aesthetics, grace, and youth.

Hyper Boost

Added Game Boost 2.0 (which integrates Frame Boost and Touch Boost), reducing game lags.
Added System Boost: Optimized the whole system through improved compatibility between bottom-layer hardware platforms.
Added App Boost: Optimized platform-level heavy-weight apps.

System

Added a button to hide unimportant notifications with just a tap.
Added swipe gestures on both sides to go back, allowing for easier navigation.
Added custom "Do Not Disturb" scenarios. Different time ranges can be set according to the scenario.

Game Space

Game Space: new visuals, avatar game console, landscape, and portrait screen orientations.
My Games Moments: screenshots and screen recordings of games can be collected here and be viewed independently.
You can reduce image quality to save power in Low Power Mode.

Home Screen

Added default wallpapers with the aesthetics and modern feeling.
Added drawer mode on Home screen.
Added live wallpapers to satisfy different users.
Added batch icon management on Home Screen.

Tools

Calculator: Result in each step is immediately displayed.

Camera

Optimized Portrait mode.
Optimized UI.

Photos

Optimized UI.
Added Favorites function: Photos and albums can be added to Favorites.

Communication

Added block rule: Block calls and messages from numbers that start with certain prefixes.
You can connect to two Bluetooth devices at the same time, allowing a quick switch between them.

Settings

Added a setting option to adjust the animation speed upon app launch.
Added Screen Colour Mode: screen display effects can be changed.
Added Riding Mode (applies to partial regions).
Added Low-Brightness Flicker-Free Eye Care
November 2019 security patch

CPH1823EX_11.C.18

Changelog:
Security
• New Integrated Android 2020-02 security patch to enhance system stability

CPH1823EX_11_C.19

「Security」·Added the March 2020 Android security patch to enhance system security

「System」·Optimized System performance and stability

·Newly Add Face Beautification Feature For Video of WeChat

「Game」·Fix Issue for Game Space Without Competition Mode

CPH1823EX_11_C.20

Security
Android security patch: May 2020
System
Fixed some general bugs, and improved system stability

CPH1823EX_11_F.09

Updates:[Visuals]
• Brand new borderless design makes visuals more attractive and operation more efficient.
• Added OPPO Sans as the default font. The new font delivers a refreshing feel and fits well with OPPO's pursuit of blending beauty and technology.

[Smart Sidebar]
• Optimised user interfaces and improved one-handed operation.
• Drag an app out of Smart Sidebar to open it in Split-screen mode.
• Added two settings: Assistive Ball Opacity and Hide Assistive Ball on Fullscreen App.
• Optimised the Floating Window feature for more apps.
• Added a bubble: A bubble is displayed when you open an app in a floating window from the Smart Sidebar. Tap the bubble to collapse and open the app.

[Screenshot]
• Optimised 3-Finger Screenshot: Use 3 fingers to touch and hold the screen and swipe your fingers to adjust the screenshot size. Use 3 fingers to touch and hold the screen and swipe your fingers outwards to capture a long screenshot.
• Added screenshot settings: You can adjust the position of the screenshot preview floating window and set the screenshot sound.
• Optimised screenshot preview floating window: After taking a screenshot, drag it up and release to share it, or drag it down and release to take a long screenshot.

[Navigation Gestures 3.0]
• New gesture: Swipe inward from both sides of the screen and then hold to switch to the previous app.
• Optimised gestures: All gestures are supported in landscape mode.

[System]
• Added Dark Mode: Protects your eyes while reducing power consumption.
• Added Focus Mode: Shields you from outside distractions when you are learning or working.
• Added all new charging animation.
• Optimised the Quick Settings user interface for easier one-handed operation.
• Swipe left or right to ignore banner notifications.
• Added a pause function for screen recording.
• Added a floating window and settings for screen recording.
• New sounds added for file deletion, calculator key touches, and compass pointer.
• Optimised system pre-loaded ringtones.
• Added TalkBack floating prompts for Accessibility.
• Colour Accessibility Mode added to improve the user experience for visually impaired users.
• New management function for recent tasks: You can view memory information about recent tasks and lock apps.

[Games]
• Optimised visual interaction for Game Space.
• Optimised the startup animation for Game Space.

[Home Screen]
• More live wallpapers.
• Added Art+ static wallpapers.
• Customise whether to open Global Search or the notification drawer when swiping down on the Home screen.
• Customise the size, shape, and style of app icons on the Home screen.
• Swipe up on the Lock screen to switch unlock methods.
• Optimised the graphic design of password unlocks to facilitate one-handed operations.
• Supported live wallpapers on the Lock screen.
• More screen-off clock styles.
• Added a simple Home screen mode, featuring larger fonts and icons and a clearer layout.

[Security]
• Connect your phone to Wi-Fi networks using a random MAC address to avoid targeted ads and protect your privacy.

[Tools]
• In Quick Settings or Smart Sidebar, you can open Calculator in a floating
• Added the trim feature in Recordings.
• Added the Weather (dynamic) ringtone, which automatically adapts to the current weather.
• Added weather-adaptive animations in Weather.

[Camera]
• Optimised the Camera UI for a better user experience.
• Optimised the Timer UI and sound.

[Photos]
• Optimised the Album UI for a clear hierarchy and quick lookup of photos.
• Added Album Recommendations that recognizes more than 80 different scenes.

[Communications]
• OPPO Share now supports sharing files with Vivo and Xiaomi devices.
• Optimised the Contacts UI for a more efficient experience.

[Settings]
• Search Settings now supports a fuzzy match and contains a search history.

[Applications]
• Soloop Video Editor: Create your video with one tap.
• Added DocVault, an app for easy management and use of your digital ID cards (available only on phones sold in India).

CPH1823EX_11_F.10

Security
Android security patch: June 2020
System
– Fixed some general bugs, and improved system stability
– Fixed an issue where the screen would flash when you swiped up from the bottom of the screen to switch between recently-opened apps

CPH1823EX_11_F.11

System
– Added the July 2020 Android security patch to enhance system security.
– Improved system stability.
– Added the "Rotate the guide bars with screen" switch for "Swipe-up gestures". When this switch is on and your screen is in landscape mode, you need to swipe inwards from the longer edge of the screen to exit the current screen. When this switch is off and your screen is in landscape mode, you need to swipe inwards from the shorter edge of the screen to exit the current screen. (This switch is on by default. You can turn it off by going to "Settings – Convenience tools Navigation buttons – Swipe-up gestures".)

CPH1823EX_11_F.13

Security
Added the August 2020 Android security patches to enhance system security.
Communications
Improved network quality during phone calls for better user experience.
System
Fixed an issue where the phone would occasionally not power on and improved system stability.

CPH1823EX_11_F.14

Security update 2020-09
Fixes an issue with "Dual clock" were tapping with weather information for your current location would redirect you to the wrong weather.
How To Check For Software Update In Oppo F9?
Oppo, like other OEMs, pushes new updates via OTA in batches. So, it will take some time in hitting all the units. However, you can always check out for the latest updates rolled over by the OEM for your phone by heading over to:
Go to Settings.
Tap on About Phone.
Then Software Update.
How To Manually Update Using A Firmware File?
There are basically, two methods via which you can update your Oppo F9 smartphone. Note that you need to have the correct firmware file on your phone in order to update your device. However, first of all make sure that you have backup the data on your phone and have at least 50% battery charged on your phone.
Update Locally
Firstly, download the firmware file from the update tracker given above.
Then paste the firmware file into the internal storage of the Oppo F9.
Go over to Settings.
Tap System Updates.

Click on the Gear icon found at the top right corner.
Select the downloaded firmware file.

The installation will begin and once it is done, your device will reboot.
That's it!
Update via Recovery
You need to go to the official website of Oppo.
Select your country or region.
Go to Support>>Software Updates.
Download and place the firmware file in the internal storage of your Oppo device.
Turn OFF your device.
You need to press and hold the Power and Volume Down buttons to enter Recovery Mode.
In the Recovery Mode, select Install from storage device>>From phone storage.

Locate the firmware and tap Yes.
The update will begin.
That's it!
Wrap Up!
So, there you have it from my side in this dedicated Oppo F9 software update tracker. Make sure to keep a check on this update tracker if you own an Oppo F9 smartphone in order to keep it up to date with the latest update. We will keep updating this post once a new update goes live for the smartphone. In the meantime, if you find this post awesome, then for more such coverage, you can head over to our check out our Windows Guides, Gaming Guides, Social Media Guides, iPhone, and Android Guides to read more. Make sure to subscribe to our YouTube Channel for awesome videos related to Android, iOS, Gaming, and much more. Until the next post…Cheers!