WiFi has become an indispensable part of our life as it lets you watch your favorite episode of Money Heist or Squid Game or play a session of PUBG. Noticing Wi-Fi is not connecting. Issue or WiFi is connected but not working or there's no internet access is disappointing. Turns on Oppo Reno6 and Reno6 Pro 5G users have reported a lot of these WiFi issues on many online forums We at GetDroidTips already list out troubleshooting guide on fixing various issues so we are here to guide on how to fix Oppo Reno6 and Reno6 Pro 5G WiFi Not Connecting or Working issue.
Check if you are connected to WiFi
Many times, people forget to turn on WIFi or it is possible that WiFi didn't turn on when you press the WiFi button at once. To verify if that's not the cause behind WiFi not connecting, drag down the notification panel and long-press on the WiFi icon. Once you have the WiFi settings on-screen, turn it ON and check if it connects to the network you have in range and want to connect to. The easiest way to check if you are connected to WiFi or not is to simply look out for the WiFi icon on the status bar. If it wasn't a problem, to begin with, follow the next troubleshooting method.
Toggle the WiFi
I have already mentioned it earlier but just to point it out, it is possible that when you tapped on the WiFi icon, it didn't turn on. Even if it did turn on, it was unable to look out for networks around failing to connect. Drag down the notification panel and tap on the WiFi icon twice effectively turning it OFF (if you started with ON position) and ON respectively. Do it a couple of times to make sure the wrinkles in the firmware are straightened out to allow WiFi to work properly.
Turn on Airplane Mode
Airplane mode on your Oppo Reno6 and Reno6 Pro 5G is a savior in many ways. Although it seems ironic since airplane mode cuts you off from any cellular or WiFi network (the latter can be manually turned on though), it helps fix network-related issues for sure. There's no rocket science on how to do it so here are the simplest instructions to follow.
Bring down the notification panel and tap on Airplane Mode or Flight Mode. This will cut you off from all types of networks.
Wait for a few seconds before disengaging it that should restore cellular and other networks.
Repeat the procedure a couple of times which should take more than 30 seconds and once you disengage airplane mode for the last time, check if the WiFi is working or not.
Are you in the WiFi range?
Your phone and the router you are trying to connect have a specific range beyond which, you won't be able to connect to WiFi whatsoever. Plus, walls in-between you and the router can halve the WiFi strength causing WiFi not connecting or slow internet issues, and so on. Walk close to the router, check how many walls the signals from the router have to travel to reach your device.
Try out different places in the house/office to find sweet spots where you get a decent amount of network strength. Google Play Store has many apps that create a map of where in your house gets the good WiFi network strength and where it doesn't. You can buy an amplifier from Amazon (or other stores) that will literally amplify the WiFi network from your router towards your device giving you a wider range than before. You can also try adjusting the antenna on the router to improve signal strength considerably.
Check for compatibility
Oppo Reno6 and Reno6 Pro 5G supports a dual-band WiFi network which means it supports both 2.4GHz and 5GHz. Compatibility issues arise when you have set the frequency on your device as 5GHz but the router you are trying to connect is 2.4GHz only. Configure both the devices currently to allow a seamless connection.
Disconnect and connect
This works when you are trying to connect to a WiFi network you already connected to earlier or if you know the password but it throws "Authentication Error". First up, disconnect the WiFi network and reconnect. Here's how you can do it.
First, go to Settings >> WiFi or long-press on the WiFi icon on the notification panel.
Long-press on the network you want/trying to connect or hit the 'cogwheel' or 'gear icon' and hit "Forget".
Wait for a few seconds and reconnect by going through Settings >> WiFi and connect to the network.
Reboot the phone
Answer to all network and software-related problems on any smartphone, rebooting the device fixes any sort of issue whatsoever. The WiFi on your device may not be working due to incorrect network settings or glitches in the software or even corrupted cache that prevents the phone from reaching its full potential on many fronts.
When you reboot the device, you are essentially forcing all the apps to shut down. This includes those in the foreground and background as well as processes. It shuts down resources allocated to different parts of the system. A quick reboot releases all the allocated resources and that is where the magic happens. When you try to turn on WiFi, there's a high probability that you will be able to access the internet via WiFi with ease. Although this won't fix all the WiFi-related issues, it will surely fix some of them so why not try it out.
Force restart
This method is useful when the system becomes unresponsive due to some XYZ reasons. Here, you can press the volume up and power button simultaneously for a few seconds until the phone vibrates and dozes off. Once the phone is winded down, you can press the power button to turn it on and check if the problem has been sorted or not.
Restart the router
Just as you would restart Oppo Reno6 or Reno6 Pro 5G smartphone (or any other model), try restarting the router as well. This should fix any impending temporary issues with the router's firmware and relieve it from the WiFi not working problem once for all.
Check for any intermittent issues
This is a common issue wherein you connect to the WiFi network and start browsing the internet only to realize there's no internet access. This happens if the ISP is facing any problem or if they are conducting maintenance causing either slow or no internet access. Dial-up to your ISP and check whether there are intermittent issues. If yes, there's nothing you can do to fix it unless the ISP fixes it for you. If possible, get a technician at your house to verify if there's a hardware issue on their end.
Clear cache
Cache on your device aids in faster retrieval of data, however, Android devices don't have a robust cache management system in most cases. Cache builds up and is overwritten and corrupted causing a myriad of issues and the Oppo Reno6 and Reno6 Pro 5G WiFi not working is one of them. Here's how you can clear the cache and check if it was indeed a problem.
First up, to go Settings >> App Management >> tap on Show System Process.
Proceed to Wireless Settings >> Storage Usage >> Clear Cache. And it is done.
Note that some ColorOS iterations require users to follow the procedure above with an additional step i.e. Settings >> Additional Settings >> App Management >> All> Wireless Settings >> Storage Usage >> Clear Cache.
This is one of the most recommended troubleshooting guides to fix Oppo Reno6 and Reno6 Pro 5G WiFi not working issue from Oppo and thus, I would recommend following it as well to check whether the problem is gone or not.
Reset Network Settings
Incorrect or faulty network settings can pause operations on WiFi as well. There's a simple fix i.e. to reset network settings. This restores the default settings and you are done. Here's how to do it.
Go to Settings >> System >> Reset Options.
Ext up, tap on 'Reset Wi-Fi, mobile & Bluetooth'.
Tap on 'Reset Settings' and it is done.
Reset phone system settings
This is another way to reset phone system settings to their default state. It helps if incorrect or faulty settings caused the Wifi issue in the first place. Here's how you can reset phone system settings.
Open Settings on your device and proceed to Additional Settings >> Backup and Reset.
Next is to proceed towards "Reset to Factory Settings >> Reset System Settings Only".
Check if this fixes the problem or not.
Update the firmware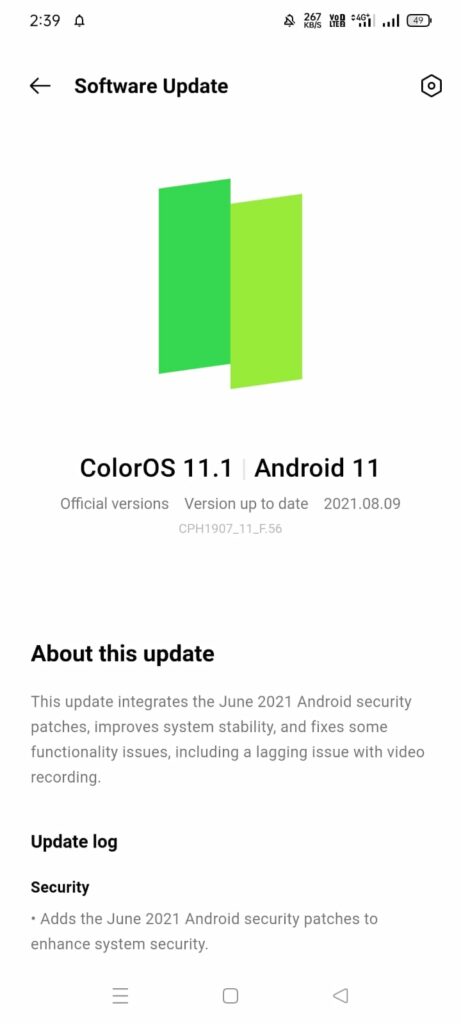 Since Reno6 series is fair, you shouldn't find it difficult to find firmware updates as Oppo sends out frequent updates for sure. Assuming that your Android 11-powered ColorOS 11.x isn't updated to the latest one, you will face issues such as the WiFi not connecting issues. Upgrading the software to the latest available one will resolve the problem for sure if at all borne out of outdated firmware. Here's how to do it.
First up, open Settings on your Oppo Reno6 or Reno6 Pro 5G smartphone.
Next up, go to Settings >> Software Updates.
Check for available updates, if any. Once you find it, download the same and it is done.
Reboot the phone for all the changes to take place and check if the Oppo Reno6 and Reno6 Pro 5G WiFi not working issue is fixed or not.
Restore Factory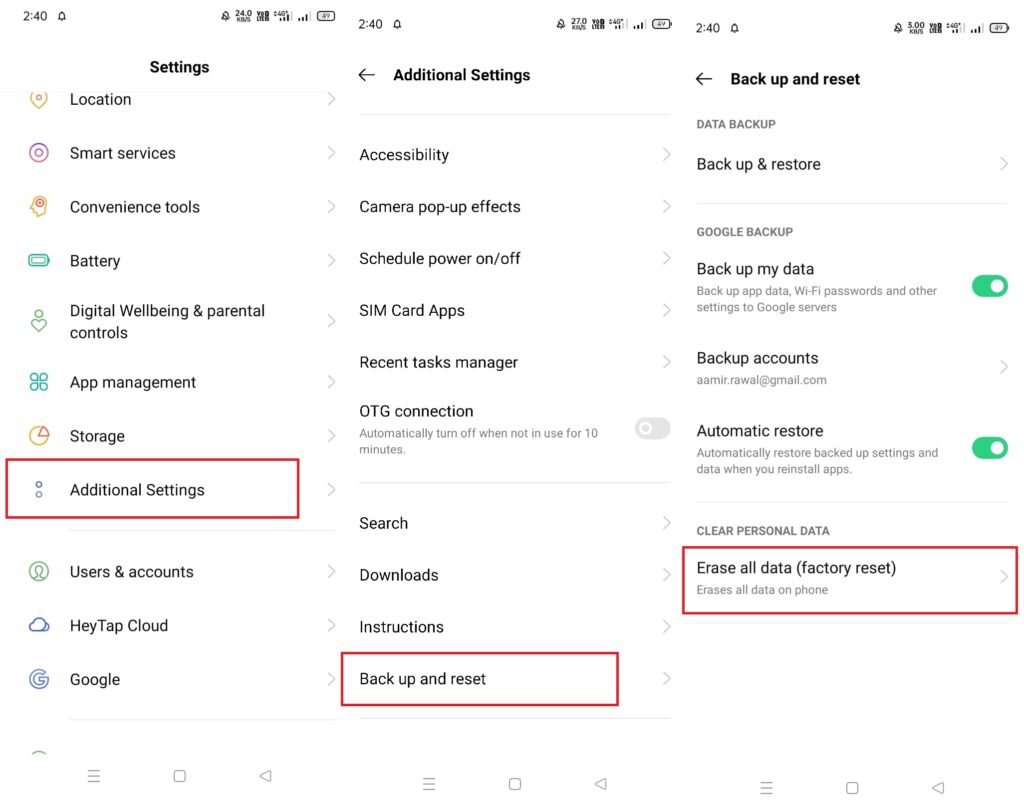 This is what you'd do if you want to end the said problem once and for all. Note that this works only when the impending issue is because of a software glitch or something it has to do with the network. Pulling a restore factory will reset all the data saved on your device and getting access to the deleted files will be unavailable whatsoever. Take a backup before performing a restore factory. Here's the easiest way how you can do a factory reset on Oppo Reno6 and Reno6 Pro 5G (or other models).
Tap to open the Settings app on your device.
Proceed to Additional Settings.
Scroll and tap on Backup and reset.
Tap on "Erase all data (factory reset)".
You will be prompted to confirm deleting all the user data post which, you will get a screen to enter PIN/Password.
Once you enter the password, confirm deleting all the data one last time and it is done.
When the phone reboots after the procedure, you will have to set it up just like the setup you did the first time you bought the phone.
Report it
At the end of the day, WiFi is indispensable if you are a heavy internet user. This means you will have to report the issue to a service center in case the WiFi antenna or any other component involved in the process is causing the problems with the WiFi connection. You have options between reporting the issue to a local service center. This involves paying lower repair costs but if your device is under warranty, a local service center repair will void it. On the other hand, reporting to an authorized service center means you can have the warranty coverage after repair, however, these are a bit pricey.
With that, I conclude our troubleshooting guide on how to fix Oppo Reno6 and Reno6 Pro 5G WiFi Not Connecting or Working Issue. Do let us know which method helped you fix the issue.