Origin is a platform for digital gaming. Fully backed up and developed by Electronics Art. Through Origin, users can buy their games, update them, repair them, and also uninstall or install them. It is an all in one type of package. Origin contains a lot of social features like adding friends, playing with them, chatting, and also supports streaming in some cases. Origin also allows playing live stream gaming over Twitch TV.
Now some of the users are complaining that their Origin is not working as it used to. The reason behind this will be discussed further. But let me tell you that mainly PC gamers are always in issues with Origin. They still have to suffer if there is a breakdown in the Origin servers. Origin also supports gaming on Xbox and Play Station consoles that allows cross-platform or crossplay between different platforms. And by 2019, OriginOrigin had more than 80 million online users. That made it the largest gaming platform in digital distributions.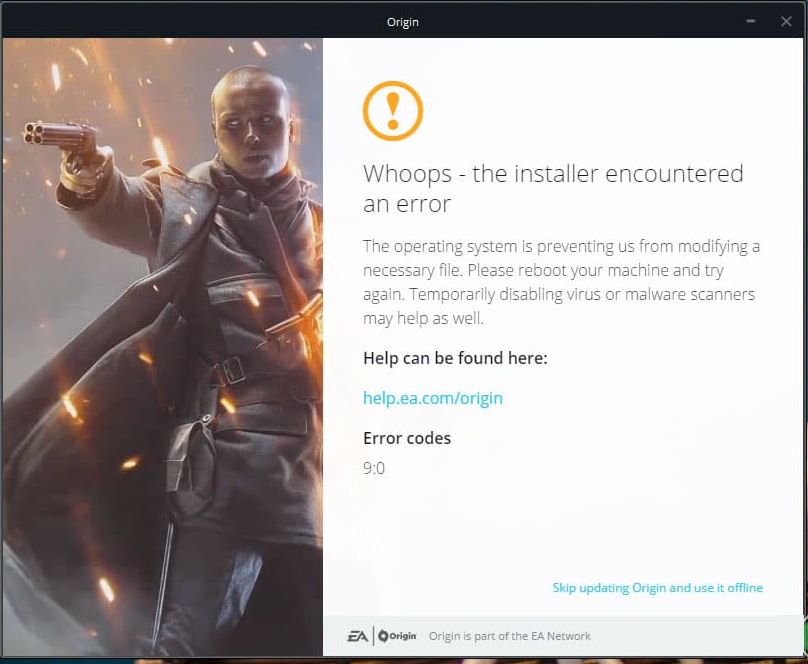 What is the Issue?
As you now know from the above description that Origin is one of the most prominent online gaming stores, and Electronics Art officially owns it. But users have to deal with a lot of problems and errors like the Origin Error Code 9:0. This error usually appears when you try installing or updating the tool. We first thought that it is a bug of the beta release users, but when we tried it ourselves, we understood that this happens with the regular client users as well. So we can take this as a major bug because without updating, you don't get the best content.
So what's exciting left out with the game? We then thought to bring out the fixes that will help out, and we did the same. But before that, we wanted the users to know the reason behind this Origin 9:0 error code. So let's now know the reasons behind this error code 9:0.
What is the Reason Behind Origin Error Code 9:0?
The primary reason behind this Origin Error Code 9:0 is Microsoft Net Framework that is somehow corrupted. The corruption in Net Framework not only causes this error. But it causes more errors in the computer system that are related to User Interface handing. Net Framework on an operating system is used to display visual contents that are not possible with this software. Actually this Framework is used as a flash tool that displays the flash content more or less the same. So now you know the reason behind Origin Error Code 9:0 and its cause. So its the ideal time to move to the solutions and fixes that will help you to get rid of this.
How to Fix Origin Error Code 9:0?
We will now discuss the best and the most natural ways by which you will be able to fix Origin Error Code 9:0. First of all, you need a stable internet connection. Then you need to follow our guide carefully and stepwise. We strongly recommend not to do anything extra than what we discuss here in the guide. So let's start.
Fix 1: Install the Latest Net Framework
Probably this is the best solution to the Origin Error Code 9:0. The error code 9:0 is actually due to Net Framework and installing that will completely solve those issues. And above, we have discussed the significance of Net Framework, so we need not do that again. Move down to the steps to install the latest Net Framework.
Double click to open you Web Browser to open
Then go to the link below
Download the installer
Install the program as directed by the installer
Then restart Origin. Most probably, you won't notice the 9:0 error code again. But somehow if you experience. Don't worry, and we have more solutions for you in the store.
Download Latest Net Framework
Fix 2: Disable Your Antivirus
Sometimes what happens is your Antivirus doesn't allow the Origin to interact with the server. This causes a major issue with the error code 9:0. So to solve this, you may need to turn off your Antivirus. Or simple turn off real-time protection. To do this, follow the steps below. You may have different antivirus Softwares installed on your PC, but we recommend using Windows Defender.
Click on the start button
Then in the search box, type defender
Then press enter when you see Windows Defender
In the Defender settings, click on "Virus and Threat Protection."
Later in the Virus and Threat protection window, toggle "Real-Time Protection to off
After doing this, restart your computer. Then open Origin with Administrator Privileges. This time you will not see any error code. But somehow, if you still experience hiccups. Move to our next fix.
Fix 3: Perform a Clean Install of Origin
If you are unable to solve the Error Code 9:0, then this method will probably solve all the issues. Uninstall the main Origin application, delete the cache and then install Origine from the official website. To do this, follow the steps below.
Click on file explorer to open it
In in the file explorer window, click on the computer tab at the left-most top corner
In the computer tab, click on "Uninstall or Change a Program."
Then look out for Origin and proceed with the uninstallation
After the uninstallation is complete, go to this location: "C:\ProgramData\Origin" simply copy this and paste it to the address bar in file explorer
Then in that folder, click on Ctrl+A, this will highlight all the folder and data
Then click on Shift+Delete button together, this will permanently delete them
After doing all this, download the installer from the official website and proceed with the installation. Now install your games in that and start playing. You won't see the error code 9:0 issue again. But still, if you see the error, there may be something with the Windows features. Our last bonus fix will help you with that.
Fix 4: Turn On Net Framework in Windows Feature
If you continue to see the error code 9:0 while starting Origin even after following all our fixes, then there is a problem with your Windows Feature. You need to turn on Net Framework in Windows Features to access all the features and programs that it offers. So to do that, follow the steps below.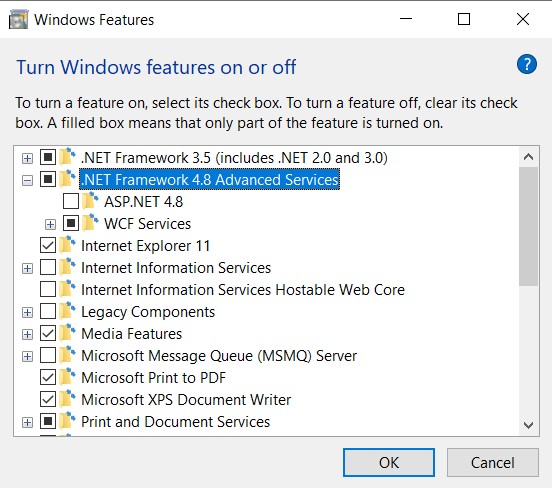 Click on the Start button
In the start search box, type control panel and press enter
Then in the control panel window, click on programs
Here, click on "Turn Windows Features On or Off" you will find this under "Programs and Features" heading
Then in the next pop up window, click on Net Framework
Then click on that to enable it
After you complete, windows will urge you to restart, then restart your PC and open Origin again. This will surely solve all your issues.
Wrap-Up
This guide was to help the users who were facing trouble with their Origin platform. Whenever they start Origin, they used to experience Error Code 9:0. After following our guide carefully, they won't meet this error code again. We hope this guide was helpful to you. If you have any queries or feedback, feel free to comment down below with your Name and E-mail ID. Likewise, check out our iPhone Tips and Tricks, PC tips and tricks, and Android Tips and Tricks for more such tips and tricks. Thank You.