Do you have Outlook PST files that get damaged or corrupted? If so, then you need a professional tool that will help you repair the corrupted PST file. However, many users made some mistakes while repairing the Outlook PST file as they did not choose the best tool for this work and ended up losing their important files. But, now nothing to worry about as we have one of the leading tools that will help you repair your Outlook PST files. Yes, you guessed it right. We are talking about the Stellar Repair for Outlook.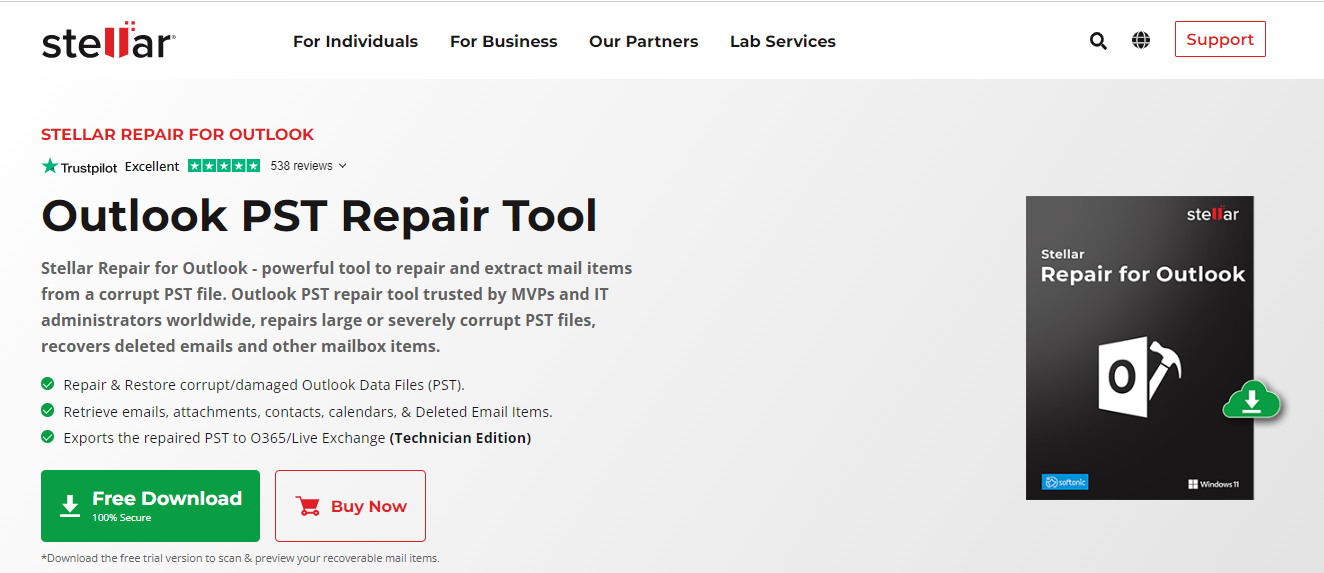 Stellar Repair for Outlook
Stellar Repair for Outlook can repair corrupted PST files and successfully restore emails back to readable PST files if you are looking for tools to repair or restore corrupted PST files. In addition to exporting data emails from Outlook Data files, this software also allows for importing them into Live Exchange and Office 365 mail accounts. However, you can export up to 20 emails per folder in the demo version without paying for it.
What Are The System Requirements for Running Outlook PST File Tool?
Processor: Intel-compatible (x86, x64)
Memory: 4 GB minimum (8 GB recommended)
Hard Disk: 250 MB for installation files
Operating System: Windows 11, 10, 8.1, 8, 7
What Are The Common Reasons That Outlook PST Files Get Damaged?
It is possible for Outlook PST files to become corrupt for a variety of reasons, resulting in the need to repair them. There are hardware- and software-related reasons for these problems. A few common reasons for the corruption of PST files prompt users to use the Outlook PST Repair Tool.
Abrupt Power Failure:

If there is a power outage while accessing PST files, the files may be corrupted.

Malicious Program or Virus:

When viruses or malicious programs adversely affect a computer, the PST file will become corrupted.

Improper Outlook Shutdown:

It is possible to cause PST corruption by abruptly terminating Outlook.

Oversized PST:

An oversized PST file can also corrupt the PST file. It is more likely that corrupted PST files will be oversized.

Failure of Data Storage Device:

A faulty hard drive or other storage devices that store PST files might cause corruption, leading to missing Outlook PST files.

Faulty Network Device:

You may find that your PST file is not accessible if you attempt to access it over a network link from another system. Whenever there is a breakdown in the network link, a fault occurs. If this occurs, then the PST file will be corrupted as well.
What Are The Best Features of Outlook PST Repair Tool?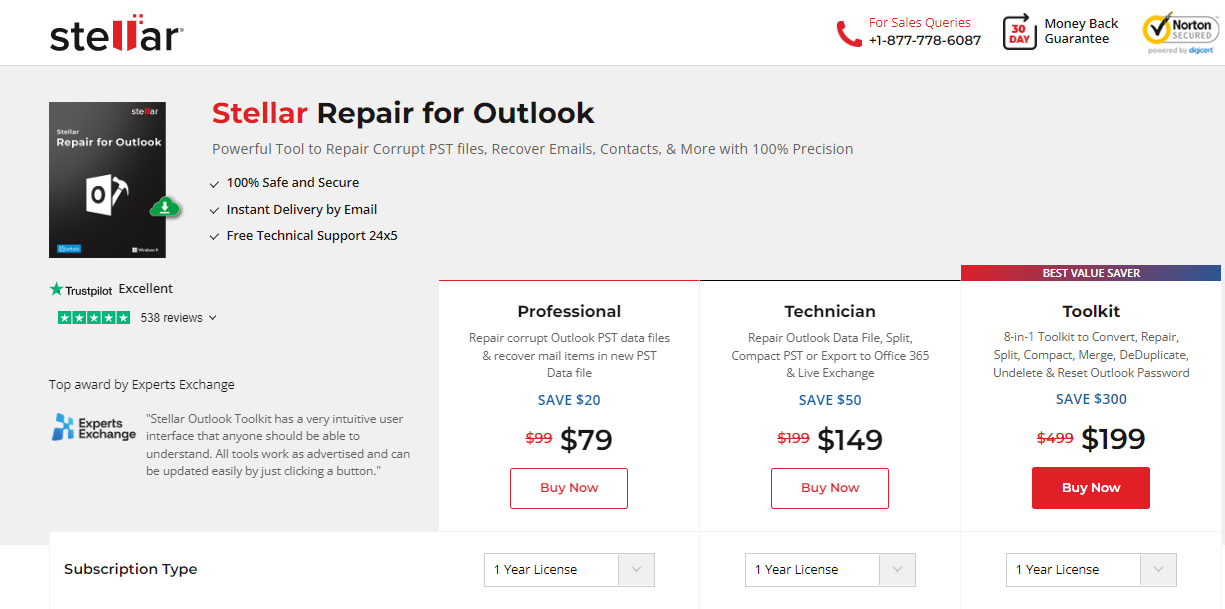 With Outlook PST Repair software, you can repair corruptions in corrupted PST files and recover emails as new PST files that are easily accessible in a mailbox in Outlook. This software can recover emails as new PST files from MS Outlook 2013/2016 and older versions.
It supports both ANSI and UNICODE PST files. With the Outlook PST Repair tool, users of Outlook email clients can also recover accidentally deleted emails from PST files. With this software, Outlook email users are able to recover their entire embedded email data items from a corrupt PST file, including emails, attachments, images, preserved email properties (like To, From, Subject, CC, BCC, and Date), etc. Therefore, let's check out some of the features of the Outlook PST Repair tool:
A corrupted PST file can be recovered quite easily.

GUI-based, so even non-technical users can understand it.

Exports corrupted PST files to Live Exchange and Office 365 mailboxes.

Restore emails efficiently from large PST files.

Deleted Outlook emails and embedded items can be recovered.

Recovery of emails, contacts, notes, journals, calendars, posts, folders, appointments, distribution lists, tasks, meetings, etc.

PST files can be restored as ANSI or UNICODE files.
The software includes all the features needed for users to restore emails from corrupt PST files and save them into existing/new PST files that can be accessed or used. If you want to save all items in a workable PST file, you must purchase the full version of the PST Recovery software. It is possible to test the demo version of the software to save 20 items per folder to a new PST file for free.
How Do You Recover Deleted Emails in Outlook Using Stellar Repair for Outlook
Are you worried that some important emails were accidentally deleted from your Outlook account? Those emails can simply be restored from the 'Deleted Items' or 'Trash' folder using the Stellar Repair for Outlook Tool:
Install and launch the Stellar Repair for Outlook program.

To select the PST file for Repair, click

'Choose Manually'

. Or, click on

'List Profiles'

button, and it will locate and list down all PST file from the selected drive automatically.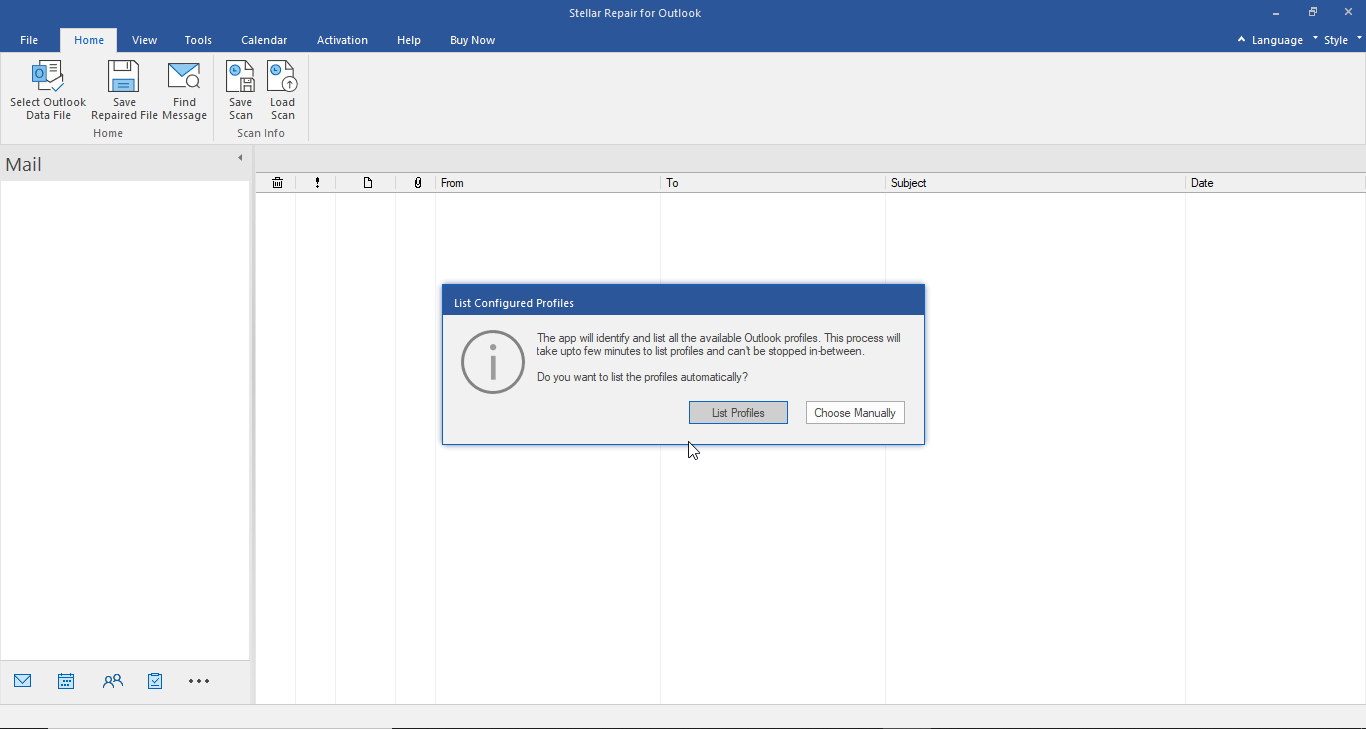 3.To begin the scanning process, click Repair. It will start scanning the PST file. Depending on the size of the file, it may take a while.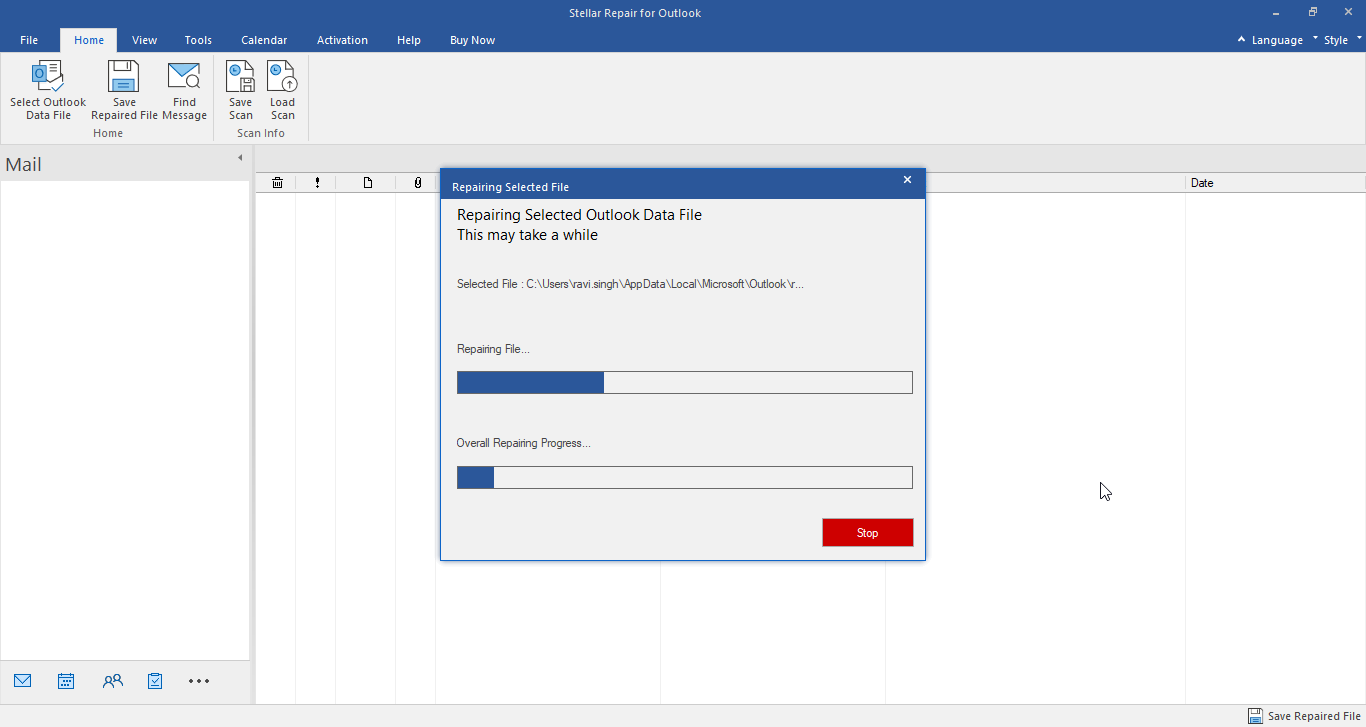 4.You will see a preview of all the items in your PST file once the program has finished its process. There will be a red outline around the deleted items.
5.Click on Save Repaired File on the Home menu to save the file. After selecting the location to save the PST, click OK. Uncheck the Do not recover deleted items checkbox if you wish to include the deleted mailbox contents.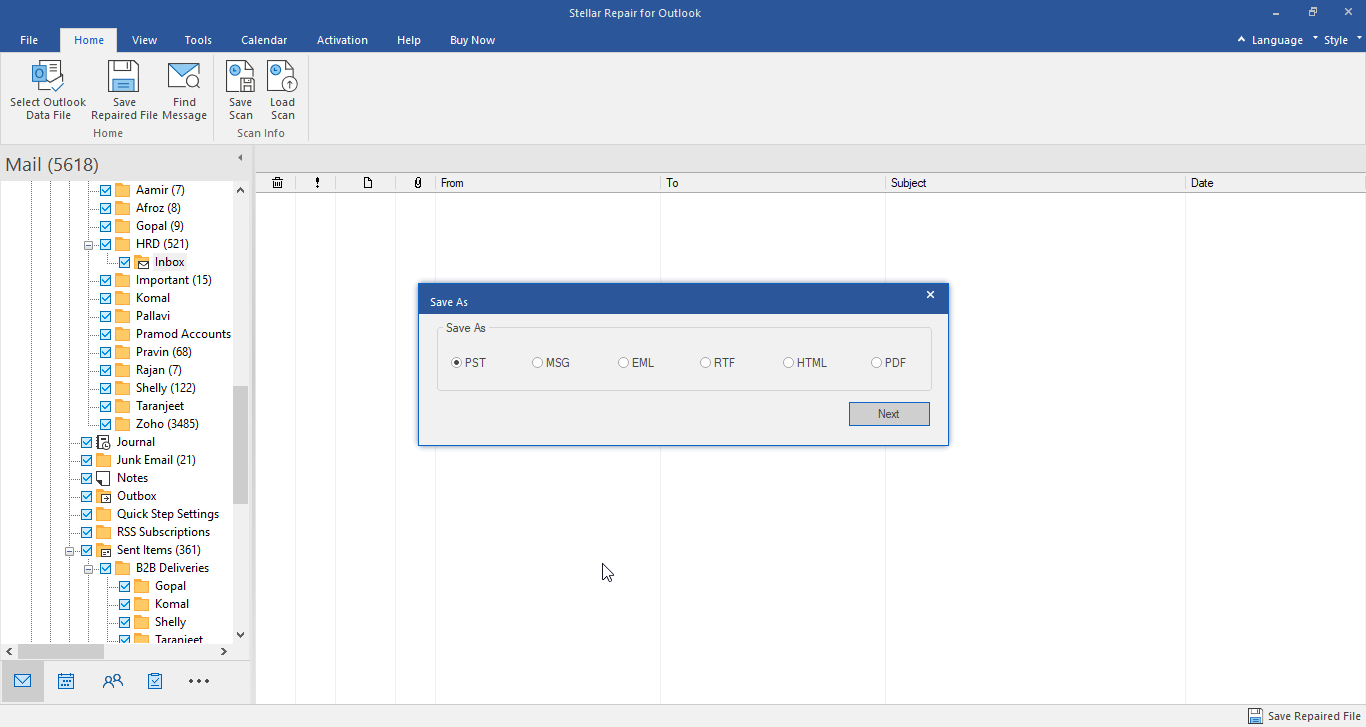 6.You can import the file into Microsoft Outlook once it has been saved. You can then view all the deleted emails.
How much time does the tool consume to recover PST files?
There is a direct connection between the recovery time and the size of the file or the severity of the corruption. Consequently, the heavier the corrupt file, the longer the recovery time.
What version of Windows OS and Microsoft Outlook does this tool work with?
The software is compatible with any version of Microsoft Windows OS and all versions of MS Outlook. PST files can be repaired using Stellar Repair for Outlook Tool without requiring any specific version. In order to determine whether it is compatible with Outlook, you can simply download the trial version of the Outlook repair tool.
How can I solve any problems or face any issues while using this tool?
Do not worry; their customer service is available 24 hours a day, 5 days a week, by telephone, by email, or by live chat. You will receive immediate assistance from Stellar experts in resolving the issue.