Do you want to experience this Football season on a big-screen TV and think that it is not possible at home? Well, you are wrong! You can use a laser projector in order to watch the FIFA World Cup on a bigger screen. A laser projector can be mounted directly on a screen or wall without requiring a great throwing distance.
A high-end product is on sale today, which brings a huge price drop. For the upcoming World Cup 2022 session with friends and family, you may want to consider the Paris Rhône Laser Projector.
So, I think you got an idea about why we are with this article, right? Of course, in this article, we will discuss about some of the best features that the Paris Rhone Laser Projector offers. So, let's get started with the guide.
Is Paris a Trustable Brand?
In Paris, a laser projector was developed and designed called the Paris Rhone laser projector. It was established in 1915 with the motto "Better Your Life." As early as 1925, they launched their first vacuum cleaner and have been devoted to the development of more convenient home appliances for people. With their laser projectors, you'll experience a new French way of life thanks to their century-old brand development.
What Paris Rhone?
During the early 20th century, Paris Rhône became a household name
It was established in Villeurbanne, France (Rhône, Auvergne-Rhône-Alpes). In the early 1925s, they invented the vacuum cleaner
The first vacuum cleaner was launched with graffiti design advertising, which was very innovative for the time, under the Aspiron brand of Paris Rhône. A total of 600 people were employed.
With Paris, France, as its main R&D and product design centre and China as its main manufacturing base, Paris Rhône implemented a globalisation strategy and began to sell its products online and offline in the 21st century. It is France's Paris Rhône brand that is today one of the world's leading household appliance brands, with its brand strategy centred in Europe and its sales centred in North America.
It has become one of the world's most promising household appliance brands, with more than 30 countries in Europe, North America, the Middle East, and Asia Pacific.
It is expected that the Paris Rhône brand, which has been around for a century, will introduce its three sub-brands: Evatronic, Aspiron, and Sympa, to create exceptional smart household appliances that add value to users around the world. Paris Rhône is a proud Parisian brand with a century of experience in pursuing meaningful innovation and industry-leading design.
What Are The Selling Points of Paris Laser Projector?
1) Massive Display from a Short Distance
A close distance of 5.4″ to 18.8″ from the wall is necessary for the Paris Rhône Projector to project 80″ to 150″ large screens.
2) Brilliant 4K UHD Resolution
The Paris Rhône Laser's 4K resolution with 8.3million pixels and HDR 10 deliver crisp, vibrant images that showcase rich details.
3) 2000 ASIN Lumen Brightness
Streaming your movies during the daytime, even during the day, is a breeze with its 2000 ANSI lumens brightness. You can replace your TV with this laser projector if you want to enjoy the best entertainment available.
4) Immerse Yourself in Stereo Sound
You can enjoy cinematic stereo sound that complements the stunning visuals of the Paris Rhône Laser TV thanks to its dual 25W powerful drivers.
5) Smoother audio and video entertainment experience
You will no longer have to deal with laggy or blurry images. With its MEMC technology, the Paris Rhône Laser provides a higher frame rate, which results in a fluid watching experience. However, a 60Hz refresh rate and 50ms input lag make gaming responsive and low-latency.
6) 25,000 Hours of Lamp Life
There is a 25,000-hour lamp life on the Paris Rhône Laser, which is 10 times longer than other common bulbs. With more than 12,000 movies (each lasting two hours), you can watch what you want when you want.
7) Smart Eye Protection
It is also best when it comes to eye protection which is one of the most important factor when it comes to projectors.
Why do We consider The Paris Rhone Laser Projector?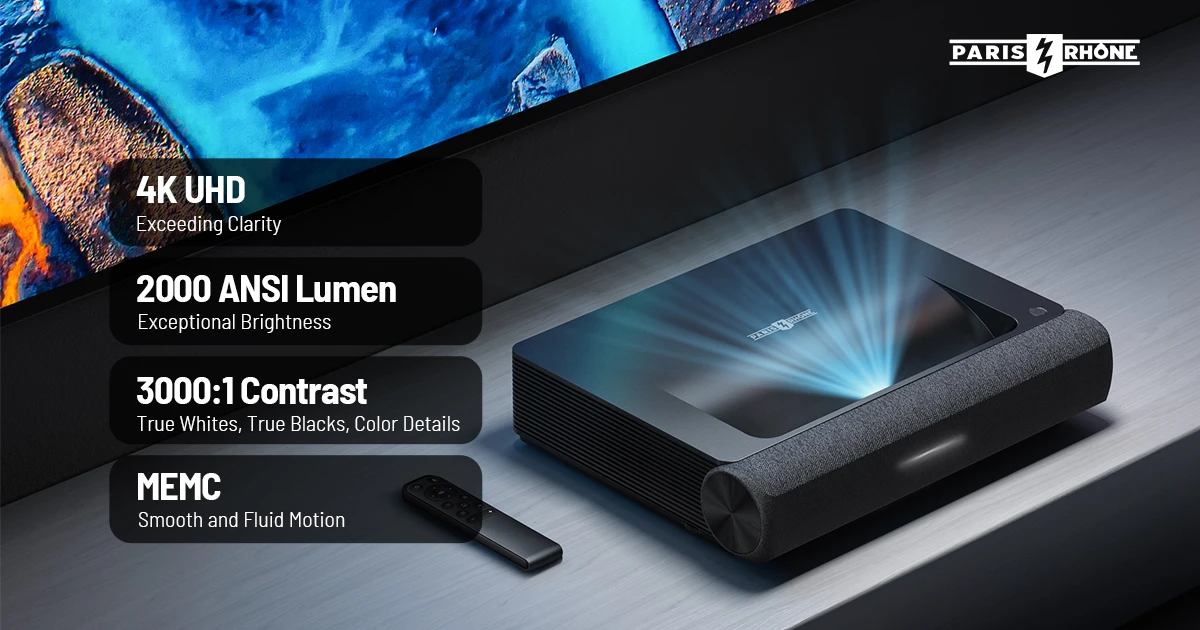 There is no doubt that this device is not lightweight. There are 4K UHD resolution and HDR10 support, along with a brightness of 2000 ANSI lumens or a contrast ratio of 3000:1. It is easy to build screens up to 80 inches wide by 150 inches long with just a distance of 5.8 inches starting from the edge.
In addition to gaming's low latency with up to 50ms input lag, even fast-paced sporting events will appear great with MEMC smoothing technology. There is no reason to expect disappointment when it comes to the audio. A newly designed laser projector from Paris Rhône comes with two 25W drivers and support for both Dolby Audio and DTS decoding.
A high selling point of the device is the Supreme lamp life of almost 25.000 hours. It can also be connected to virtually anything from your gadgets thanks to its versatile connectivity options, whether TVs, gaming consoles, computers, or TV boxes.
What Is The Price Of This Projector?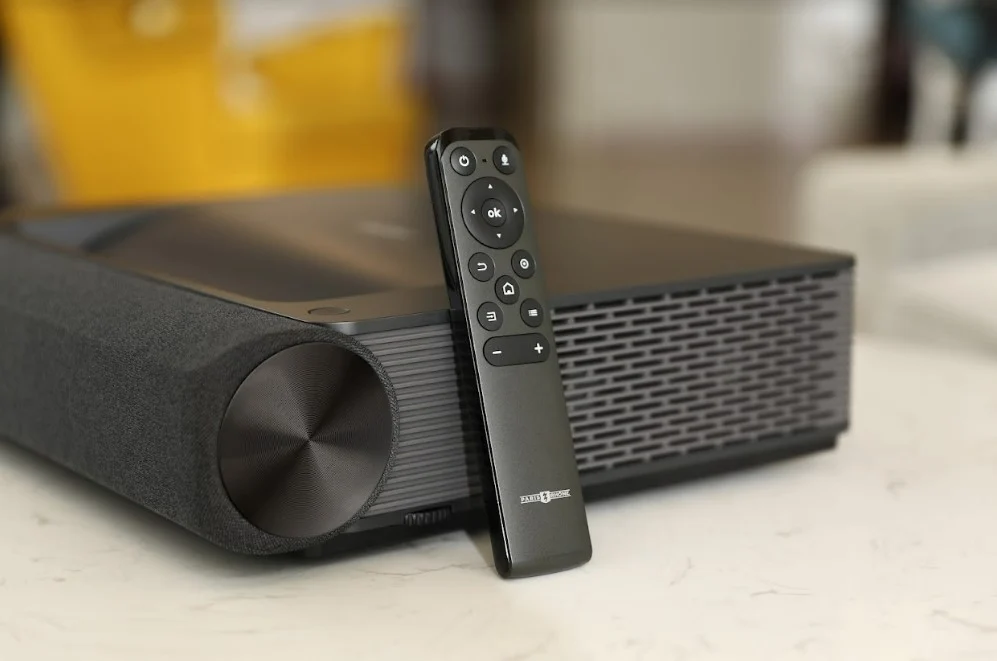 There is no doubt that high-end laser projectors cost a lot, but Paris Rhône Laser Projector's current promo is particularly tempting. You can now purchase it directly from Amazon or on the official website for just $1899, So there is a 900$ Offer. I think it is quite a steal for a device with so many features.
Is There Any FIFA WorldCup 2022 Activities Going On?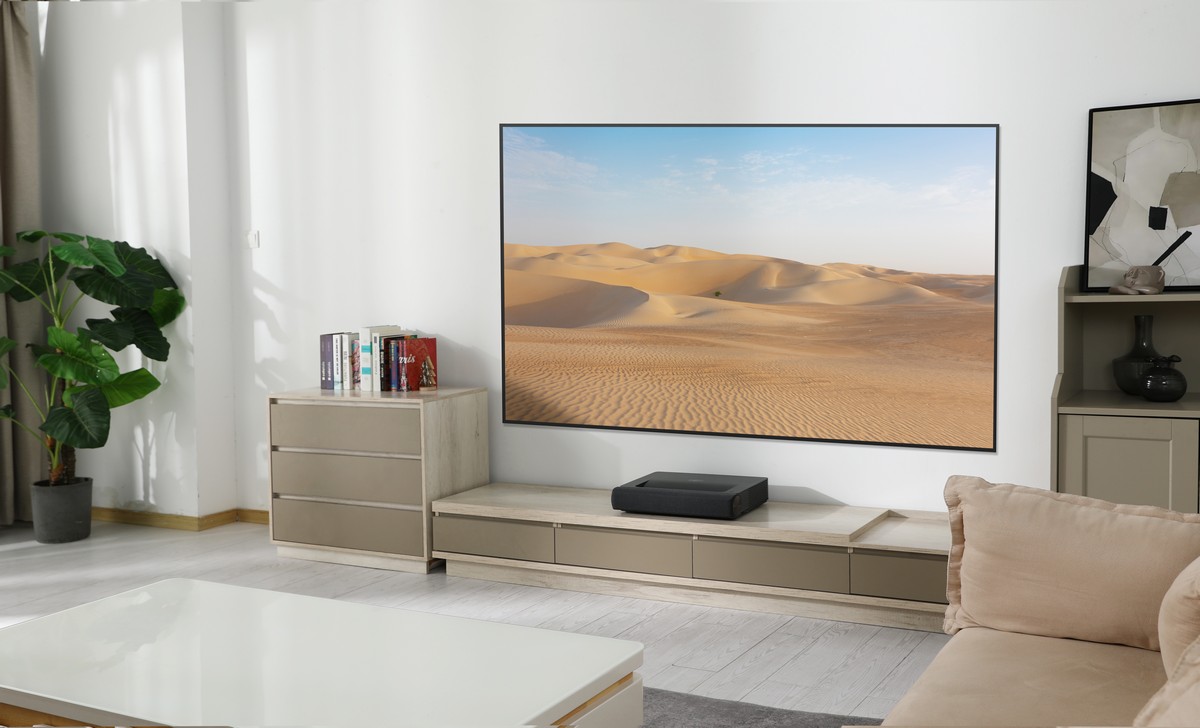 Paris Rhône is certainly entitled to be extra promotional with World Cup 2022 only a few months away. If you use an Emoji that best describes your #WorldCup2022 experience to date, you'll be entered to win a $50 gift card by commenting on Facebook and tagging three friends.
Tag the homepage @Parisrhone_Official as well when you share a picture of you watching the game. There will be no charge for this activity between November 19 and December 3.
Get a chance to win one of the 5.500 World Cup 2022 prizes by following the World Cup 2022 Kickoff on Instagram. What PE product(s) would improve your World Cup experience if you followed + commented, + tagged three friends? You'll receive gift cards and other products as prizes, so it's definitely worth looking into.
It is available between November 7 and December 3. Also, don't forget to Instagram @Parisrhone_Official your match viewing picture.
Buying Links:
US–https://s.zbanx.com/r/STwitWoGc8JG
EU–https://s.zbanx.com/r/tu0koWru0ihH
Conclusion
So, I hope you have decided whether you need this laser projector. But, in the end, the Paris Rhone Laser Projector is something that everyone must have in their living room to enjoy this football season. Therefore, if you are looking for a projector, you must go with this product.