When it comes to PC games, the only operating system which comes in mind is Windows OS. Windows 10 is the most preferred operating system not only in terms of gaming but various other things too. Microsoft acquires around 70% to 80% of the market share in terms of gaming PC. This is the reason most of the game developers focus on building their games, especially for the Windows platform.
Other than Windows, various other operating systems in the market may not be that much focused on gaming but can handle some of the games very easily. Apple's macOS mainly preferred for office task and editing works or professional purposes. There are some users who do play games on these systems.
But have you ever considered about playing PC games on Linux machine? It may sound crazy, but it is possible for some of the games. Most people think that Linux is only for those who are into technical stuff like programming, networking, etc. The Linux distros are mostly opensource and free to use.
How to Play PC Games on Linux
Before playing games on Linux, you have to keep this in mind that gaming on Linux cannot be that much great as in windows. And there may be few games that would be compatible with the platform. Let's see how to choose compatible games with Linux.
Finding Linux Compatible Games
Over the past few years, gaming on Linux has become something believable. Some of the well-known games are working on Linux. Their developers are also working on many repositories and packages to make Linux gaming experience better.
When you search for games on any platform or directly over the internet, then you should add "Linux based" or "Linux friendly" in the title to get the best results.
Also read: How We Can Install Linux on Android Smartphones
For example, if you are using Steam, then you can move to the store tab on the application. From there, click on the games dropdown menu and choose the SteamOS + Linux to get all the games that are supported on the Linux OS.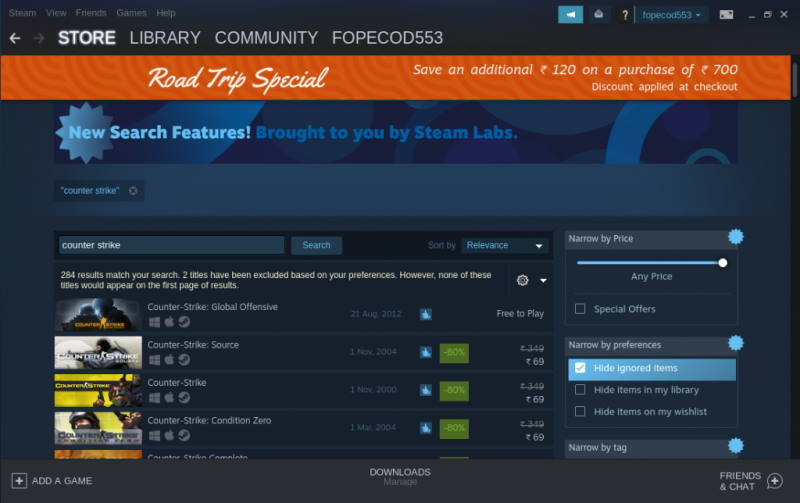 Other than this, you can also directly search for the game through its title and then check the compatible platforms. For finding it, you just need to check a Steam logo after the Windows logo, which tells you that it is compatible with SteamOS and Linux.
There are so many games which you will gonna find there. Some of the big names are Counter-Strike: Global Offensive, Civilization VI, and Shadow of the Tomb Raider.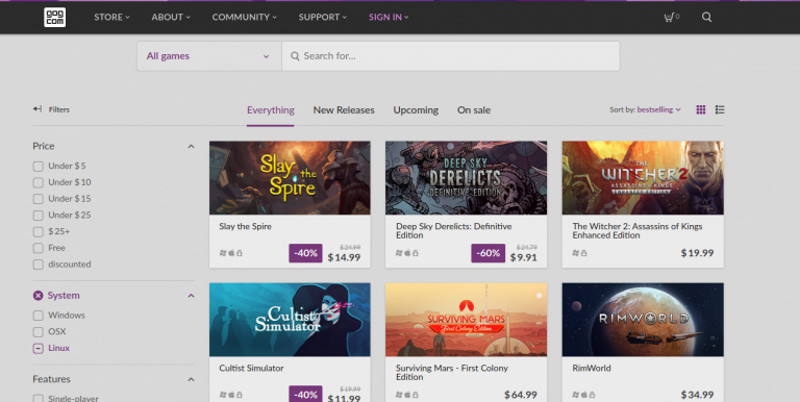 If you are using other gaming platforms like GOG.com and Humble Store, they also have some similar functions. For GOG, go to the store and then click on browse all games and click on All Games for Linux.
You can identify a game that is compatible with Linux or not through a penguin icon. On the Humble store, click on the browse option then filter the games which are compatible with Linux OS.
Using Lutris to Play PC Games on Linux
Lutris is an opensource platform for gaming on Linux. It works similarly to the Wine, Retro-Arch program. Here, you just have to choose the game you want to play, and after that, everything that requires to run that game will be downloaded and set up on your system.
Games like League of Legends, Warframe, overmatch, and many more games are supported on this platform. It also has the ability to detect previously installed Linux applications which then later adds to the launcher.
How to install Lutris
For downloading and installing the Lutris, you can check out there an official website where they have put all the detailed instructions for the installation of the Lutris on different Linux distributions.
Download Lutris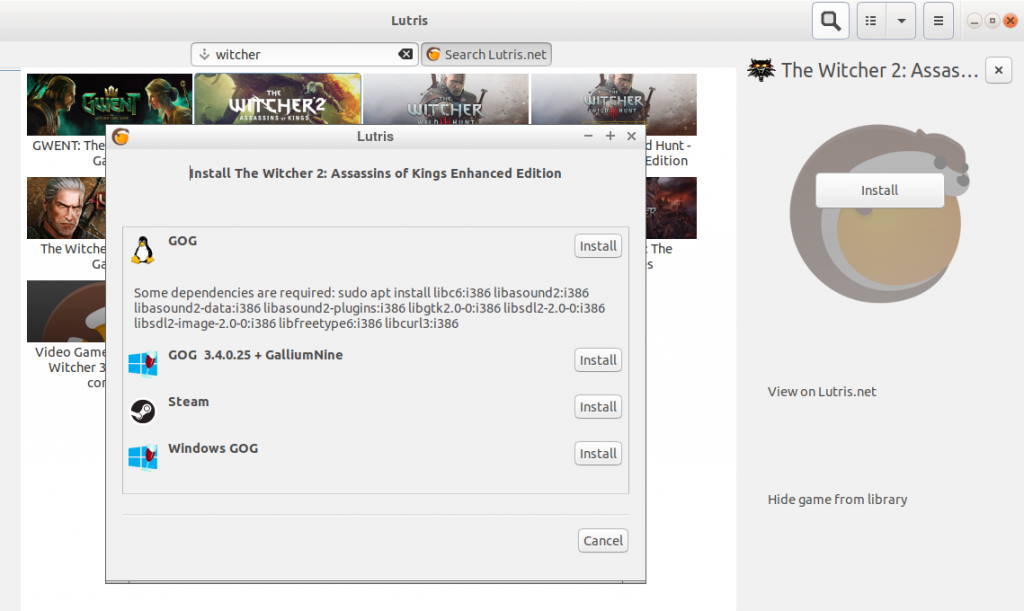 How to use Lutris to play games
So, for using the Lutris, you just have to open the app, click on the search button and type the name of the game, and hit enter.
It will give a list of applications that you can install. By clicking on those games, you can also get their detailed description.
Lutris also offers multiple runners for playing games from different platforms, which include the RetroArch, MAME, ScumVM, and DOSBox, etc. You can also download the games manually through any runners you want to use. It has a wide variety of options.
So, these were the methods by which you can play games on Linux, and We always suggest Steam to start with because it provides better performance and more support.