Google Assistant; it wasn't very common once the brand launched it. But now it isn't the situation, for various purposes, most of us are using the same. The Google Assistant can do a lot of functions. With some previous year's Google I/O, we saw that the Google Assistant could call and book our appointments. Although this feature is currently testing and it will take time to reach us. We should appreciate Google for innovating this, and we hope that this feature will soon reach us. More than a Google:s Assistant; now it is our personal assistant too.
Right from the traffic alerts, your upcoming events, package tracking, and even about your bills. These are the common features that we use in our day to day life. For someone who reads, this article may want to turn off the Google assistant's bill reminders. In case if you need to turn off, stay with us until we finish this article. There may be many reasons why people dislike this feature. Some users say that this feature is a concern for their privacy, and some others say that even when they had paid the bill, Google sends the notification. For these reasons, users need to turn off the bill reminders. Between any one of our readers had thought about it? So first, let us go through that and configure the same.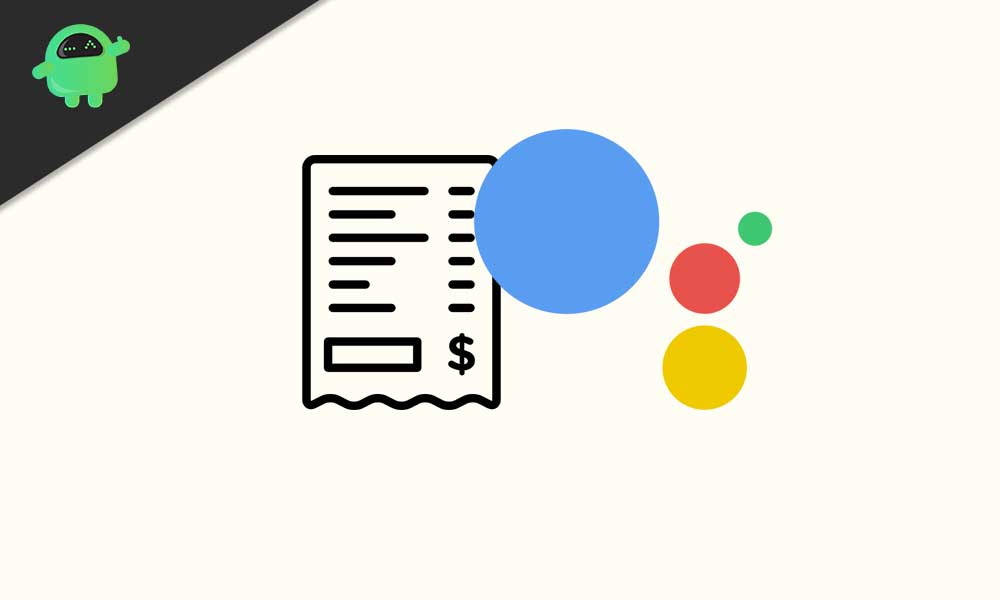 How does the Google Assistant know that if your bills are due?
Most of us are probably wondering how Google gets to know all this information about your flights, packages, invoices, and many other things. Do not worry Google doesn't steal your internal data, i.e.; Google uses some techniques for this. Its nothing but Google analyses your emails. Don't be panic; only the emails from your Gmail account are analyzed and not other email accounts that are present on your phone. Take this as an example if the Google Account that is connected to your phone contains emails from your credit card companies, your travel agents, and many others.
Google will extract this relevant information and will show you. This is how Google gets information about your upcoming bills. Let me cite another example where I forwarded an email from my Uncle's Gmail ( a ticket issued by Saudi Airlines). As soon as I received the email, Google added those flight information to my upcoming trips. And when the date for the trip came, Google sent me the notification and gave the link for tracking the same. I was a bit confused since the email wasn't directly from my travel partner. So I inquired about this in various portals and with some senior bloggers. They let me know that Google will scrutinize all our emails present in the Gmail account.
Now let us check how to turn off the notification from these bill reminders, ( only notification, we will include how to avoid bill reminders in the last area)
How to disable Google Assistant Invoice Notifications?
For doing this simple step, you guys follow us till the end.
Step 1 – First, launch the Google app. You should do this since it's the most crucial step.
Step 2 – Tap on the More tab icon, which you can see to the bottom of the Google app, and after once it opens, select the Settings option in the next window, which opens as soon as you click on More tab.
Step 3 – After this, now tap on notifications; once the menu appears, turn off the toggle for the bill, which you can see under the other sub-heading.
These steps are enough, and the above steps will prevent Google from you, showing the notification of the upcoming bills. However, this will not prevent Google from scanning your bills. You can still see your bills in the Google App Update section and the wizard. To completely preventing Google from scanning your data, follow the steps.
How to Prevent Google from scanning your bills?
Step 1 – For this too, you guys have to open the Google app first.
Step 2 – Now click on the More icon, which you can see to the bottom.
Step 3 – After this menu opens, now tap on the Your data in search
Step 4 – Now, Google will take you to the menu, which names as Google Wide Controls.
Step 5- Here, you can see the option which names as Web and App Activity. Once you see this option, click on the same.
Step 6 – This menu will appear and now turn off the toggle, which you can see right over there.
This is the very first step to avoid the personal bill scanning from Google Assistant. Now let us look into another area where you guys can see the bills and many other things.
Next Up; Where Else these personal Bills appear!
Other than reminding you guys about the due date of your bills, Google allows its users to check your daily personalized updates from Google in only two places, which is from Assistant and Google app. First, let us talk in detail about checking bills via the Google assistant.
How to Check Bills via Google Assistant?
For this, first, launch the Google Assistant on your phone. Once it popups, now tap on the icon that resembles a flashlight. Usually, this icon will be present at the bottom left corner, but Google regularly keeps changing its position. So don't worry if you didn't see this icon in the bottom left corner.
As soon as you click this, it will take you guys to the updates section. Here you can see all the recommendations by Google. Further, if you scroll down, you will be able to see the upcoming bills, your events, and many other relevant pieces of information. You can also talk to your Google Assistant to show the forthcoming bills. For this, use the Show me my bills, or Any upcoming bills, like these user commands.
So you guys have learned about viewing bills from Google Assistant, now let us look for how to view bills from the Google app.
How to Check these Bills from the Google app?
First, launch the Google app and tap on the updates icon, which you can see at the bottom of the screen.
Now once it popups, you will be able to see the same things which you have earlier seen by clicking that flashlight like icon. After this, you can scroll down to view the bills and other sundries which we had already mentioned.
How to dismiss Bills from the Google assistant?
For this, first, do all the steps to view the bills. That is, start right from the basic step and then to the last step where you can see the bills. Sometimes Google may even show bills which you guys have already paid. In order to dismiss these bills, first tap on the three dots icon, which you can see right above the bill. Once you click on this, now tap on the dismiss bill option.
Another query most users have is that we can pay the bills via the Google app.
How to pay bills via the Google app?
The answer to this question is very skeptical; there are answers like Yes and No. Because Google doesn't allow you to pay via the Google app directly, you can see the 'Pay' option, which will be present near the bill. Once you click on this option, it will automatically redirect to the service providers website.
Some others have queries like who can see these bills and other things. Let us look into this topic now.
Who can see our bills?
These bills can be seen on every device which is connected to the same Google account. No other person can see these bills. Unless they connect the same Google account, so don't worry that other people will see your bills.
There is also an option to remind your bills by Google assistant. Come on, guys, let talk about that here.
How to use Google assistant for reminding about your bills?
As we said above, Google Assistant as an assistant can do a lot of things which you can read by scrolling up. Even though Google Assistant will remind you about the due date of bills and by this, you can pay your bills. There is also a manual option to create reminders on the same. This manual reminder option will help you guys to create reminders while reaching a specified location or even a specified date. This function can be enabled in a simple step; just follow us. For this, first, obviously, launch Google Assistant and then create a reminder using the popular command, i.e., 'Remind me.' Once the assistant recognizes this, now say about the time or location of the place along with the name of the reminder. For instance, remind me to pay the credit card bill at Bangalore City Centre.
Further, if you wish to see your bills via your laptop or desktop, let us discuss that, too, here.
How to View Upcoming Bills on Desktops?
Like mobiles, you guys can also view these bills on your laptops and other gadgets too. For this, there is a similar step, like the Google assistant. Now type in the Google search bar like "Show my bills. "Yes, the same type of expression which we have used in Google assistant. Remember, you need to sign in with your Google account for making this work. Once you search this, Google will do the same step, i.e., will scan all your emails and find everything and present in front of you. We hope that you guys can see the due bills in front of you ( that is on your screen).
Our Verdict
We suggest you guys not to turn off this feature from Google, because it helps us in many ways. For instance, we may forget about paying, but Google will help you by reminding us. Further, the option for manual reminders is lit AF. Thank you for reading the post and let us know about your thoughts in the comment section.