Google Pixel 7 series promises to deliver impressive performance, camera capabilities, and 5G connectivity. But recently, multiple users having Google Pixel 7 and 7 Pro have reported that their devices are not showing 5G Network even though their career supports 5G bands. The problem is severe for users who recently purchased expensive 5G enabled data plans but cannot use them. On the other hand, it is frustrating for users who need to use 5G connectivity for their daily personal or professional use.
Having trouble connecting to 5G on your Pixel 7 series smartphone? There can be multiple reasons behind this issue ranging from bad 5G reception to even hardware faults in the smartphone. Most cases, 5G network-related issues are due to software glitches or outdated network settings profiles. If you are facing a similar problem, follow the troubleshooting methods below to fix the 5G network problem.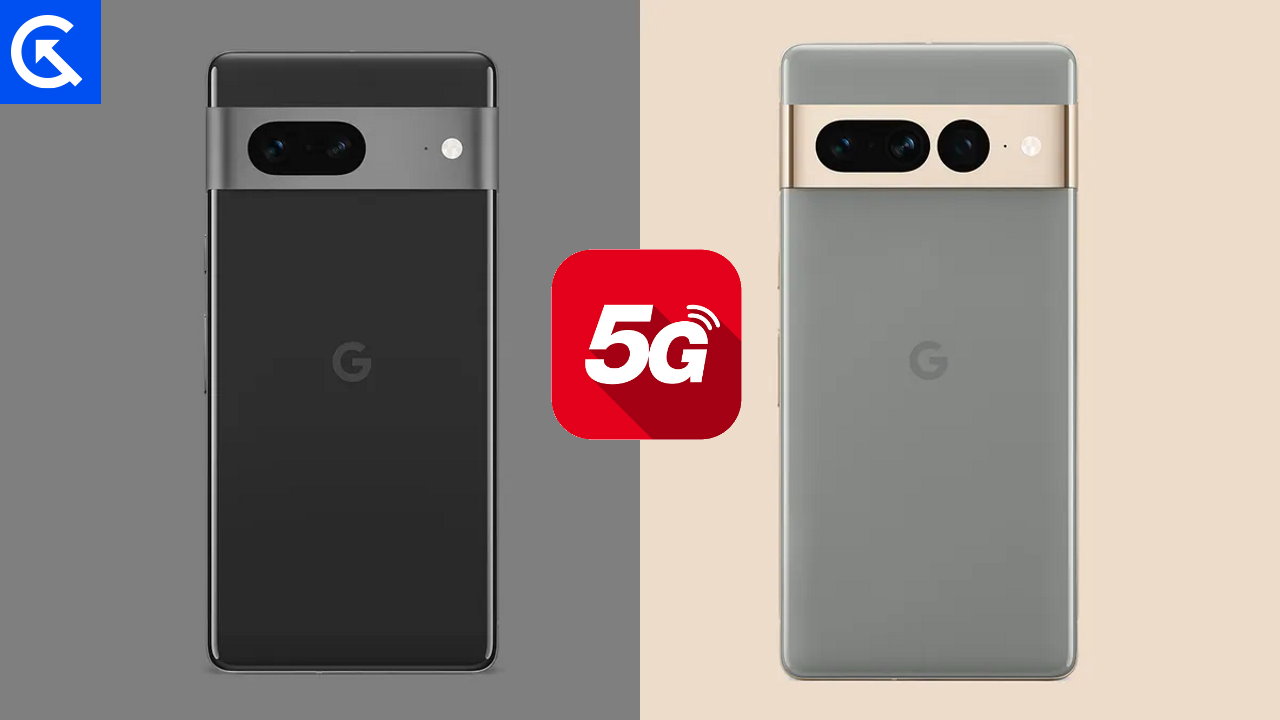 Fix: Google Pixel 7 and 7 Pro Not Showing 5G Network
Not being able to take advantage of the faster speeds and improved performance offered by 5G can limit the capabilities Pixel smartphones. However, there are a few methods that can help fix this issue and get your device connected to 5G networks.
Method 1: Restart your device
In the majority of cases, the issue of 5G is just a technical glitch and will go away once you restart your device. This is because when you restart, your smartphone will again search for the nearest 5G tower and will connect to it. If you don't wish to restart your smartphone, you can toggle on and off your Airplane mode for a similar effect.
Method 2: Check SIM 5G Compatibility
It's important to note that even if you have a 5G smartphone, it's not enough to avail of the 5G connection speeds. You will also need to opt for a 5G service plan from your carrier provider. In some cases, you also need to unlock the 5G services once you put in a request for 5G network activation. Please connect with your SIM card carrier for more information.
Method 3: Check 5G Reception Area
One of the first things to check is if the device is in the right location. 5G networks are not as widely available as 4G networks yet, so it's important to make sure that the user is in an area with 5G coverage. Users can check the coverage map provided by their carrier to see if 5G is available in their area.
Method 4: Update Software Version
Many devices do come with 5G hardware support, but those are locked behind a software firewall waiting for approval from govt and other regulatory bodies before users can use them. Since the launch of 5G services, Google Pixel developers have been rolling out software updates for configuring 5G network capabilities in Pixel 7 and 7 Pro devices. Users can check for updates by going to the phone's settings and checking for updates in the software update section.
Method 5: Enable 5G Connectivity
If your Google Pixel 7 or 7 Pro is updated and you are in a 5G coverage area, then you must check the phone's settings to make sure that 5G is enabled. The phone may have been configured to only connect to 4G networks by default. Users can check the settings by going to the phone's settings, selecting "Connections" and then "Mobile networks" and making sure that 5G is selected.
Method 6: Reset Pixel 7 & 7 Pro
If the above solutions don't work, the user should try resetting the phone's network settings. This will erase all the network settings on the phone, and the user will have to set them up again. However, this can fix the issue if there's a problem with the phone's network settings. Users can reset the network settings by going to the phone's settings, selecting "System" and then "reset" and then finally selecting the "reset network settings" option.
Method 7: Contact SIM Provider
If the above methods do not work for you, then the problem might be with your SIM card network services. Occasionally your SIM might be blacklisted for 5G usage. And this migth be the reason for no 5G network connectivity issues on your smartphone.
Many users over the Reddit Pixel community have suggested that calling the carrier company will unlock the 5G services via new APN settings. So raise your concerns with them and hopefully, 5G network issue will go away.
Method 8: Contact Pixel Customer Care
If none of the above methods works for you, then it's quite possible that there is a hardware defect in Pixel itself. Many users on Reddit have raised their concerns that no 5G network works on their Pixel 7 and 7 Pro smartphones. Google does acknowledge the fault and will release some software updates to fix the issue. If waiting is not worth your time, then you also might consider returning the product if that's an option available with you.
Conclusion
This brings us to the end of this guide for fixing Google Pixel 7 and 7 Pro Not Showing 5G Network issue. Please note that in most cases, the issue can be on the carrier end of due to low 5G sigla speeds in your area. Please follow the above-mentioned methods to fix the 5g connectivity issue on your Pixel smartphone.