Finally, an affordable flagship of 2020—by Xiaomi is here, Poco F2 Pro. Xiaomi recently unveiled its new product in May 2020. Pop-up camera, massive battery, and impressive display are all highlights of the phone. However, potential consumers are still reluctant to buy Poco F2 Pro without knowing If it is water-resistant or not. Xiaomi has a history of producing cheap flagships, although the mantra is "the more expensive a phone is, the better waterproof quality it renders." It's not just Xiaomi; every smartphone brand works like this.
Poco F2 Pro features some great qualities, and It can be a strong competitor for the latest flagships unless it lacks water resistance. However, there is no announcement by the company of the device being waterproof. Ultimately, we ran some tests to unleash the accuracy If Poco F2 Pro is water-resistant or not. In this article, we have revealed the reports of these tests and answered your inquiry.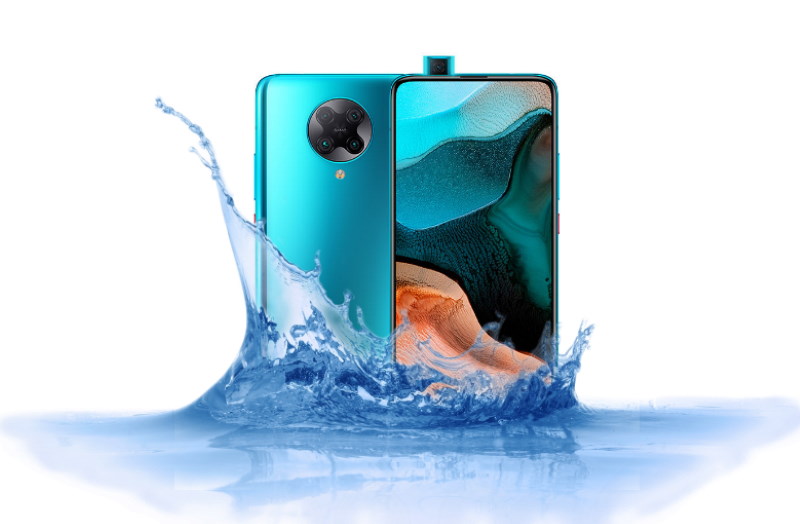 Poco F2 Device Specifications
Poco F2 Pro is a successor of the hit Poco F1, which was well received by the market last year. It features the most glorified quad-core rear pop-up camera that tucks inside when not in use. An AMOLED full HD display (2400×1080 pixels) of 6.67-inch, with an in-screen fingerprint scanner, and support for 5G. Poco F2 Pro comes in two versions, one with 6GB Ram and 128GB storage priced at 540$ and other renders 8GB of Ram and 258GB of storage priced at 650$.
Xiaomi also listed some additional features for the phone, which are apparently found in other flagships, such as 500 nits of display brightness, support for HDR10+, an IR blaster, and Corning Gorilla Glass 5. Brooding over the problem of smartphones emitting heat, during games or other heavy apps, Xiaomi has rendered a feature—LiquidCool, a technology that keeps the device's temperature cool even when playing high-end games. The Poco F2 Pro comes in various classy colors, such as Neon Blue, Cyber Gray, Phantom White, and Electric Purple. It renders a battery of 4500mAh and fast charging, ships with a 33W charger that takes care of rapid charging— 50% charge in 20 minutes.
Poco F2 Pro Waterproof Test
Xiaomi didn't officially state the IP waterproof rating of the phone. Thus Poco F2 Pro features no IP rating. So we intended to test the tendency of the phone to withstand water. Although we planned to run several tests, the device wasn't in a condition to be tested for further experiments after the first two tests. Following are some analysis and reports we conducted:
Poco F2 Pro Splash Proof Test
In the splash-proof test, a device is exposed to artificial splashes to test its endurance to water splashes and whether it can confront the original situation. After testing the Poco F2 Pro, It was working normally.
| | |
| --- | --- |
| USB Interface, Ports, Headphone jack | Working |
| Camera | Working |
| Screen | Good |
Poco F2 Pro Washing Test
In this test, we attempted to soak the phone, running the tap over it for a whole one minute. This certainly proved If the Poco F2 Pro is waterproof. (P.S: The results were taken after rinsing the device)
| | |
| --- | --- |
| Camera | Damaged |
| Speaker | Damaged |
| Touchscreen | Flickering |
| Power and Volume Button | Not Working |
| Charging Port | Damaged |
| Earpiece and Mic | Works Partially |
| I/O Ports | Not Working |
| Water Went Inside | Yes |
Is Poco F2 Pro Waterproof Device – Conclusion
A smartphone that does not come with an official IP rating is certainly not waterproof. However, some company's value different waterproofing techniques and ratings but they can't stand with a smartphone which bears an official IP rating.
Disclaimer
The waterproof test results are purely based on individual/team observation. These tests will only give an idea of whether a device is waterproof or not. We recommend users not to try this test at home, as it might damage your device.
| | |
| --- | --- |
| Splash Proof | Yes (not official) |
| Water Proof | No |
| I/O Ports | Damaged After Washing |
| USB Interface | Damaged After Washing |
| Water Went Inside | Yes |
| Cameras | Not Working |
| Screen | Flickering After Washing |
| Speaker and Mic | Damaged After Washing |
| Power and Volume Button | Not Working After Washing |
After running the tests, we come to this conclusion that Poco F2 Pro is not waterproof. It is merely a splash-proof phone. It was evident because the phone does not comes with an official IP rating. So users must take proper care of their device to avoid any possible water or liquid damage.