Since the release of the Mi Series, the most expensive flagships, with an incredible 108MP camera by Xiaomi. It has been a talk of the town, whether Mi 10 and Mi 10 Pro comes with a waterproof IP rating. Furthermore, consumers are foreseeing a lot from both smartphones, and looking at the price; the expectations seem reasonable. A Flagship is the most costly and most superior smartphone produced by a company. And say, It is a tradition that a flagship has to come up with an official IP rating of dust and water resistance.
Mi 10 and Mi 10 Pro, the latest flagship introduced by Xiaomi, comes with the official P2i rating. Hence they lack an IP rating. P2i is a company that develops protective coating agents through nanotechnology, for electronic devices, science, and lifestyle products. There are major differences in the key specs of both smartphones. Besides the waterproof rating, both phones come with the same P2i water resistance rating.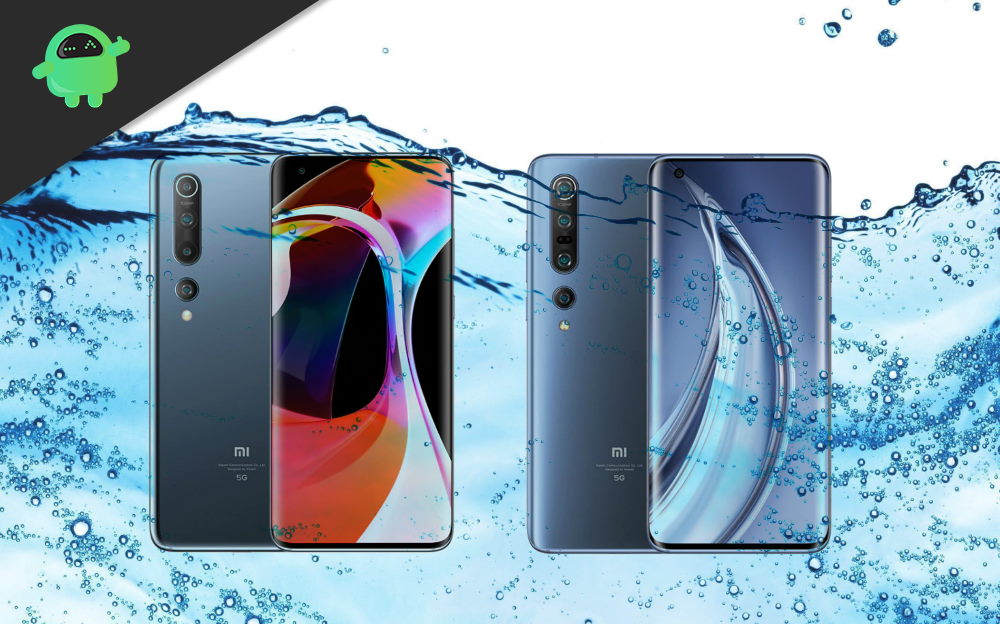 What Is The Difference Between P2i Rating And IP Rating?
Basically, there are two types of waterproofing techniques used in smartphones: Structural waterproofing and Nano-coating. For instance, the latest flagships by OnePlus, Samsung phones, and Apple phones offer structural waterproofing, which is rated by IP68 (Ingress Protection). In structural waterproofing, the entire body of the phone is completely sealed to achieve high-quality waterproofing.
On the other hand, nano-coating offered in Xiaomi Mi 10, and Mi Pro does not cover the entire body of the smartphone. Instead, the coating is used in selective positions such as the smartphone's circuit board, USB interface, elements, and other openings of the phone. From where the water can apparently make its path inside the device. Nano-coating technology is rated by P2i (Perform Protect Improve).
At the existing time, the major selling point of the smartphone is the IP68 rating. Companies who produce smartphones with official IP ratings do everything to highlight this feature and try to come under the spotlight. Surprisingly, the Xiaomi Mi series, the most advanced series of smartphones introduced by the company, renders P2i rating. Is the P2i rating better than the IP rating? Let's look into it.
Xiaomi Mi 10 & 10 Pro Device Specifications
| | | |
| --- | --- | --- |
| Specs | Xiaomi Mi 10 | Xiaomi Mi 10 Pro |
| Processor | 2.84GHz octa-core | 2.84GHz octa-core (1×2.84GHz + 3×2.4GHz + 4×1.8GHz) |
| RAM | 12GB | 8GB |
| Storage | 128GB | 256GB |
| Rear camera | 108-megapixel (f/1.69, 1.6-micron) + 8-megapixel (f/2.0, 1.0-micron) + 12-megapixel (f/2.0, 1.4-micron) + 20-megapixel (f/2.2) | 108-megapixel (f/1.69, 1.6-micron) + 13-megapixel (f/2.4, 1.12-micron) + 2-megapixel (f/2.4, 1.75-micron) + 2-megapixel (f/2.4, 1.75-micron |
| Front Camera | 20-megapixel | 20-megapixel |
| Battery | 4500mAh | 4780 mAh |
| Display | 6.67 inches | 6.67 inches |
| Water and Dust Resistance Rating | P2i Water Resistance Rating | P2i Water Resistance Rating |
| Weather sealed | No | Yes |
Did Xiaomi Launch Mi 10 And 10 Pro With IP Waterproof rating?
The Mi series was introduced via an online event in March. And since then, Qualcomm Snapdragon 865, 108MP cameras are titles and headings of articles in the Global Phone Market. Estimating the price of both phones, consumers are expecting the phones to hold the official IP rating of waterproof resistance. If we put aside, some giant highlighted features, and look for a waterproof rating of the phone, and It will be hard to find. However, Xiaomi asserted that mere Mi 10 Pro renders weather-sealed splash resistance.
Nowhere Xiaomi seems to be mentioning the IP rating. Because there is no IP rating. Instead, Mi 10 and Mi 10 Pro come with a P2i waterproof resistant rating. Ok! So eventually, when we started to understand what IP rating is, now there is another rating. Don't worry. It is simpler than the IP rating.
Is P2i Rating Enough?
IP68 waterproofing, as we discussed above, provides a full-body waterproofing. Moreover, smartphones with an IP68 rating can be soaked in 1-meter water for 30 minutes and work perfectly fine. Coming at P2i rating, It offers the nano-coating technique. And its priority is to cover only specific components of the phone, not the whole body. Thus it is not as effective as structural waterproofing.
A smartphone with nano-coating (Pi2 waterproofing), when immersed in water, must be drained immediately. Otherwise, it'd stay merely metal and plastic. Pi2 waterproofing might be equivalent to IP53 or below. It is good but not as powerful as IP68, which is definitely more reliable, supports high-level, and true waterproofing.
Conclusion
Both smartphones Mi 10 and Mi 10 Pro render great features and traits. If one looks at the price, It is surprising that Xiaomi didn't introduce its flagships with an IP rating. In the present time, consumers want to buy such a smartphone, which is undestroyable, even if it falls from an eight-story building and a smartphone that normally works under the water. The least a smartphone company can do to achieve this level of consumer demand is, to produce a phone that has an official IP68 rating. And Xiaomi is not seemingly interested in this desire of a consumer, well perhaps in the future, we might see Xiaomi taking the lead.