Waterproofing is one of the most important hardware feature these days. Since both Vivo Y30 and Vivo Y50 are mid-range smartphones, and it is very hard to reach a great level of waterproofing in such devices. Of course, Waterproofing Hardware requires more systematic engineering in any electronic device. This is the reason most mid and low budget phones aren't waterproof at all as it'll cost more to manufacture such Hardware.
Testing companies made an international Standard to provide information about smartphone Hardwear durability. This Standard is Called IP rating. Smartphones with an IP rating of IP68 are completely waterproof devices. We checked the official Website of both the Vivo devices, and there are no mentions of their IP ratings. It means officials have no confirmation about the waterproofing of both the phones.
There are several ways to test if a device is waterproof or not. Above all, the best way is to conduct the test is to do it by self. We are going to do the same, in our Vivo Y50 and Y30 waterproof test.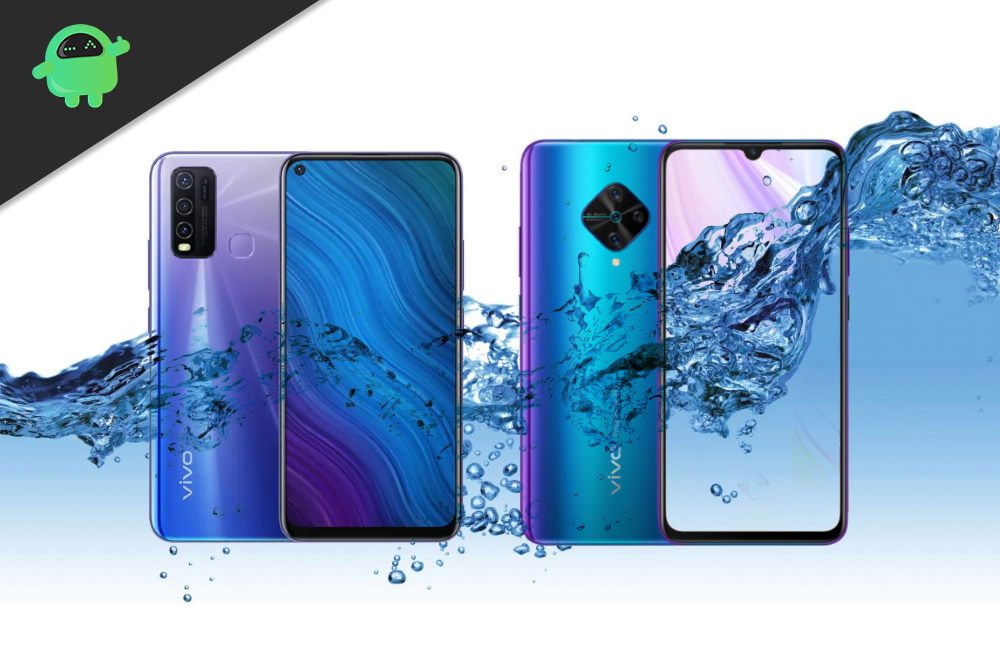 Are Vivo Y50 and Y30 Waterproof device?
Vivo is a brand that offers budget-friendly smartphones with sleek designs and unmatchable camera performance. Vivo is a Chinese company. After huge success in China, it came to India in 2014. After arriving in the Indian market, it made an impact on the Indian offline market and ruled over it. Vivo introduced its own operating system named fun touch OS, which is based on Android. It was a colorful and modification friendly operating system, and as a result, it attracted customers.
Vivo launched many smartphones globally, and we are going to look into two of them. The first one is The Vivo Y30, and The second one is The Vivo Y50. According to rumors, Vivo will launch Vivo Y30 in July 2020 and Vivo Y50 in June 2020 In India. The price of Vivo Y30 is 15,890 INR. After that, The price of Vivo Y50 is 19,090 ₹. Both devices are budget-friendly. People have concerns about Hardwear safety in budget smartphones. We are going to check out if both of these devices have strong Hardwear points or not.
Vivo Y50 Specifications
Our Vivo Y50 Run on Qualcomm Snapdragon 665 processor. It has 8GB of ram and 128GB of internal storage expandable up to 256GB. It comes With 6.53 inches Display. The display has a resolution of 1080 x 2400 pixels and 403 PPI. It is a device with an IPS LCD display and an aspect ratio of 20:9. Talking about Connectivity It has a Dual (GSM+GSM) SIM nano+nano slot. It is a 4g ready device, but no information about it supporting 5G is out, and there is a low chance of it. It has a 5000 MAh battery and 15 W quick charge support; in addition, it has a USB Type-C port.
The Primary Camera Of Vivo Y50 is a 16MP selfie camera. It has Four rear cameras of 13 + 8 + 2 + 2 megapixels and a LED flash. All four cameras have the same aperture as Vivo Y30. It has different sensors like the Light sensor, Proximity sensor, Accelerometer, Compass, Gyroscope.
Vivo Y30 Specifications
Vivo Y30 comes with MediaTek Helio p35 processor. It is equipped with 4GB of ram and 128GB internal storage. In addition, storage is expandable up to 512GB. It has a 6.47 inches display with a resolution of 720 x 1560 pixels. The PPI is 266 in its IPS display and supports multi-touch. It is a dual-SIM (GSM+GSM) phone with a nano+nano(hybrid) SIM size. It has a 5000 MAh battery without Quick charge support. No USB Type-C port is present on the device.
The camera is Something for what Vivo has best known among people. The Vivo Y30 has four rear cameras 13 + 8 + 8 + 2 megapixels With following aperture F/2.2+F/2.2+F/2.4+F/2.4, and there is a LED Flash. In the front, it has a Single 8 Megapixel Camera. Light sensor, Proximity sensor, Accelerometer are Also available in it.
Vivo Y50 and Y30 Waterproof test
We Took A bowl of clean water and put Vivo Y30 and subsequently put Vivo Y50 into it for a minute. We checked both devices after the test. The result of Vivo Y50 is That it is working fine, but we noticed a distortion in its speaker. On the other hand, Vivo Y30 had a bit of delay in touch, but after drying for some time, it came back to normal.
| | | |
| --- | --- | --- |
| Device Parts | Vivo Y50 | Vivo Y30 |
| Touchscreen | Works | Litle delay |
| Camera | No issues | No issues |
| Charging Point | Works | Charging short circuit/ damage |
| Power and Volume Buttons | no issues | no issues |
| Speaker | noise distortion | works |
| Earpiece & Mic | works | muffle sound |
Conclusion
Both the devices are great according to their price. Since it is hard to provide a fully waterproof body in this price range, Vivo made both the device somewhat partially water-resistant and splash resistant.
Disclaimer
The waterproof test results are purely based on individual/team observation. These tests will only give an idea of whether a device is waterproof or not. We recommend users not to try this test at home, as it might damage your device.
Most importantly, clean water has no bad effect on them for a very short period of time, But Salty water or soft drinks and dirty water may damage the devices, so it is not safe. As a result of the test, we can say that If used carefully around water, Vivo Y50 and Y30 are slightly waterproof and can survive even if they get some drops or splash of water on them.