Motorola is stepping in with the 5G smartphone race. They have launched their recent 5G enabled devices, Motorola Edge and Motorola Edge Plus devices, both of these devices are hanging the latest 5G technology. But that's not enough to satisfy customers' needs. Most customers want speed, security, and waterproof features. Since the new Motorola Edge Plus device is 1000$ smartphone, most people suspect it to have IP68 waterproof specification. So today, we will check whether the new Motorola Edge or Edge Plus has a waterproof specification or not. We will conduct a waterproof test for both the Motorola devices and see how to perform when subjected to water damage.
For any users, keeping a waterproof smartphone is a must. Your device might get water damage or accidental juice spills; in such scenarios, a waterproof device will hold intact. So users are looking or a waterproof Motorola Edge and Edge Plus device, now are they actually waterproof device? Well, we will find out in our Motorola Edge and Edge Plus waterproof test.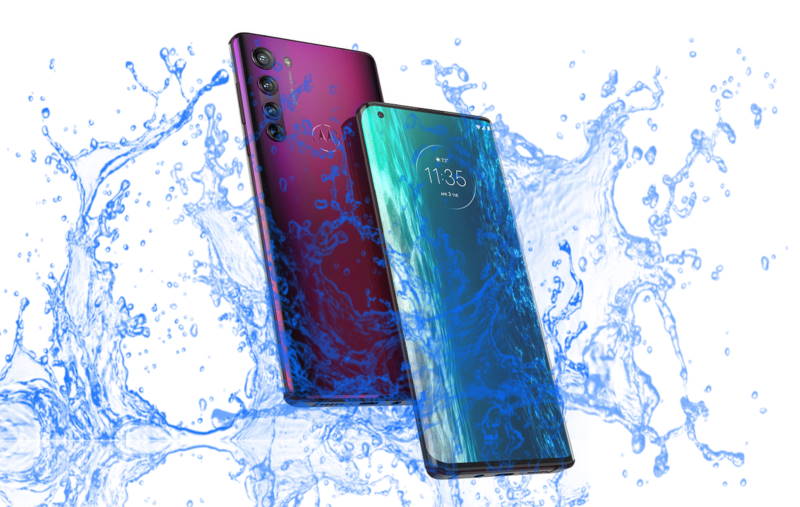 Motorola Edge Device Specifications
Moto Edge is a very recent smartphone from Motorola. It was launched on 22nd April 2020. Having a 6.7 inch full HD OLED Display with a resolution of 1800×2340 pixel gives your sharp and rich tone experience. This time Moto is providing you a more smooth experience with its 90Hz display panel and supporting Dual physical sim. It is preinstalled with Android 10 OS out of the box. Coming to performance, it gives you uncompromised performance with the help of the latest Snapdragon 765G soc (7nm) with eight cores, of which six are power efficient 1.8 GHz cores.
Capturing ultra HD shots with its 64MP rear camera accompanying 8MP Telephoto, 16MP ultrawide, and a TOF 3D camera using them, it can take super wide shots, zoomed shots, and 3d too. Able to shoot 4k videos at 30 fps and Full HD at 60/30 fps. A 25MP selfie shooter is fixed at the front to capture beautiful selfies—a 4500mAh Battery with a fast-charging of 18 watts with its USB-C port. Motorola Edge is available in two color variants Solar Black, Midnight Magenta.
Motorola Edge Plus Device Specifications
Moto Edge plus is launched under the flagship category by Motorola and launched on the 22nd of April 2020. Fixed with a 6.7 inch full HD (resolution of 1800×2340) OLED Display with HDR+ support allows you to play High Dynamic Range videos with its crisp display. You have the same 90Hz refresh rate as that of Moto EDGE. Supports dual hybrid sim. It is preinstalled with Android 10 OS out of the box. Performance this time is top-notch with the latest Snapdragon 865 soc (7nm+) having eight cores out of which 1 is super powerful 2.84GHz core and four are power efficient 1.8 GHz cores. Performance boosted with the latest Snapdragon's Adreno 650 GPU for rendering the best graphics and having the fastest UFS 3.0 onboard storage of 256GB and 12GB of LPDDR 4 RAM. There is no SD card slot for expanding storage.
Latest market-leading 108MP camera senor is used in it for the main rear camera. Along with the more camera sensors, including 8MP Telephoto, 16MP ultrawide, and a TOF 3D with PDAF and 3x zoom using telephoto, and super-wide shots taken with the ultrawide sensor makes its flagship in the camera section. A 25MP selfie shooter same as Moto EDGE, is used to capture stunning selfies. Being a flagship device, it also retains its 3.5mm audio jack. A massive 5000mAh battery is placed at the back with a fast-charging of 18 watts with its USB-C(3.1) port. Wireless charging of 15W is also there to make life more convenient. Motorola Edge Plus is available in two looks Smokey Sangria, Thunder Grey.
Motorola Edge & Edge Plus Waterproof Test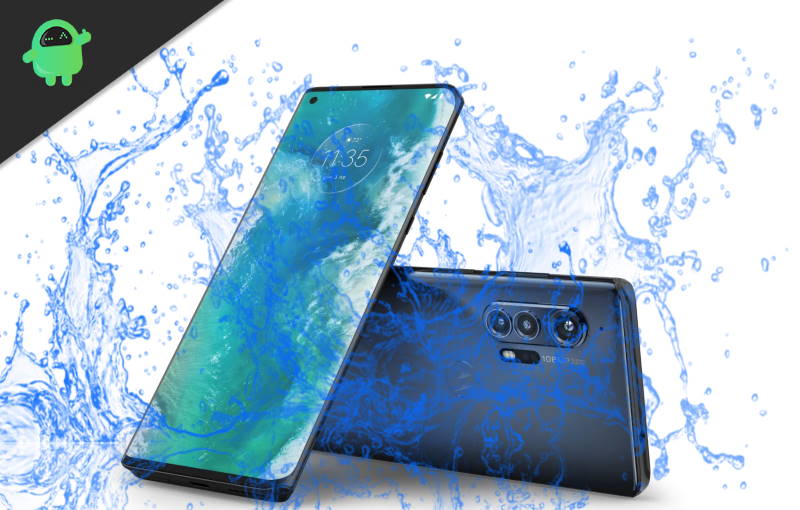 In this test, we will test out the latest Motorola Edge & Edge Plus for their dustproof and waterproof capabilities. After the test, we can be sure about the waterproof certifications of the device.
Warning
The waterproof test results are purely based on individual/team observation. These tests will only give an idea of whether a device is waterproof or not. We recommend users not to try this test at home, as it might damage your device.
So we start the test by turning a shower and holding the phone for 10 sec under the shower. After this test, the phone was working fine. There was no issue at all. Next, we filled a container with normal tap water and put the device in it. It stays there for as long as 2 mins.
| | |
| --- | --- |
| Ability to take underwater photos? | No, the device will get water damage. |
| Can you use Motorola Edge & Edge Plus under rainy conditions? | Yes, possible |
| Take calls / listen to music while taking a shower? | yes, possible |
| Any damage due to water/ juice spill accidents? | Screen damage under extensive water submersion, no waterproof |
When we took it out form the container, the screen was looking to be okay, but unfortunately, the touch started misbehaving (Random taps, Ghost touches). The main speaker was almost fine, but the earpiece started muffling. The camera seems to be okay, and everything was fine except them.
Is Motorola Edge or Edge Plus Waterproof device?
After conducting our Motorola Edge and Edge Plus waterproof test, we find out that both these devices are only splashed resistant but not completely waterproof. This might be disappointing news for some users. However, the device can resist accidental water splashes or juice spills. Unfortunately, you will not be able to enjoy features like underwater photography or videos. But your device is still safe from any accidental water damage. But users should stay cautious and do not put their device in water for a long period of time.
Conclusion
As observed with the test, the phone is just a splash-resistant device. Which can resist minor splashes, light rain, accidental shower, and accidents similar to these? But the phone is not waterproof as confirmed by the experiment.
| | |
| --- | --- |
| Device Name | Waterproof ratings |
| Motorola Edge | None, Splash resistant |
| Motorola Edge Plus | None, Splash resistant |
So it's okay to say that the device can resist splashes to some extend but not safe for complete immersion in water. Other than water factor, it's still a good phone with a solid and handy build and beautiful glass design.