Great news for Apple fans! The new iPhone SE 2 is out with great features and a reduced price tag. Apple likes to call it iPhone SE 2nd generation, however its a 2nd alteration of the original iPhone SE. It comes with the latest chipset from iPhone 11 Pro and has the most requested features, such as the Touch ID support. Since it has the majority o features from the new iPhone 11 lineup, many customers are wondering if it also comes with iP68 waterproof specifications or not. Today we will conduct iPhone SE 2 waterproof test and find weather the budget iPhone 2020 from Apple can withstand water damage or not.
iPhone SE 2 is one of the most requested smartphones from Apple. Its good that Apple is finally listening to their customers and upgraded the old forgotten iPhone SE, which was made from iPhone 5s design. The new iPhone SE 2 has a body of iPhone 8; it is possible that the device holds the same IP waterproof certifications. Also, most Apple smartphones are water and dust resistant out of the box, so the new iPhone SE 2 also might be a waterproof device. We will test this out in our waterproof test. After conducting the test, we will be sure whether the new iPhone SE 2 is designed to use underwater or not.
Apple iPhone SE 2 Device Specifications
Apple has announced to launch the new model of iPhone SE, which is iPhone SE 2. In India, the phone is about to launch in May. iPhone SE 2 is designed quite similar to the iPhone 8. The smartphone runs on the Apple A13 Bionic chipset and has the Hexa Core (2.65 GHz, Dual-core, Lightning + 1.8 GHz, Quad-core, Thunder) processor, also has an Apple GPU with four-core graphics. It has 3GB of RAM and 64 GB of internal storage.
iPhone SE 2 has an iOS v13.0 Operating system to run all the 64-bits Apple apps. The phone has a screen size of 4.7 inches with OLED and 3D Touchscreen, which is capable of 750 x 1334 pixel resolution. However, the phone supports only one nano-SIM, and there is no microSD slot. The front camera has 7MP, and the back has a single camera of 12MP with Retina Flash supports. Both the rear and the front camera has lots of features like autofocus, face detection, etc., which is great to have sharp professional-looking studio pictures.
The phone has non-removal Li-Polymer 1960 mAh of battery, which may last up to 1 and half day depending on the usage. The Fingerprint sensor is present on the front of the phone, which is very convenient to unlock the phone. All the other sensors like Light sensor, Proximity sensor, Accelerometer, Compass, Gyroscope, are all installed on the phone for the apple experience. iPhone SE 2 supports Bluetooth and also has a 3.5mm audio jack support. All the other connectivity options like Wi-Fi, USB, NFC, and GPS/Volte, iPhone SE 2 supports them all. The phone is not that thin as it has a thickness of 7.8mm. The width is 67.4 mm and Height is 138.5mm. iPhone SE 2 is available in Black, Red, White colors.
iPhone SE 2 Waterproof and Dustproof Test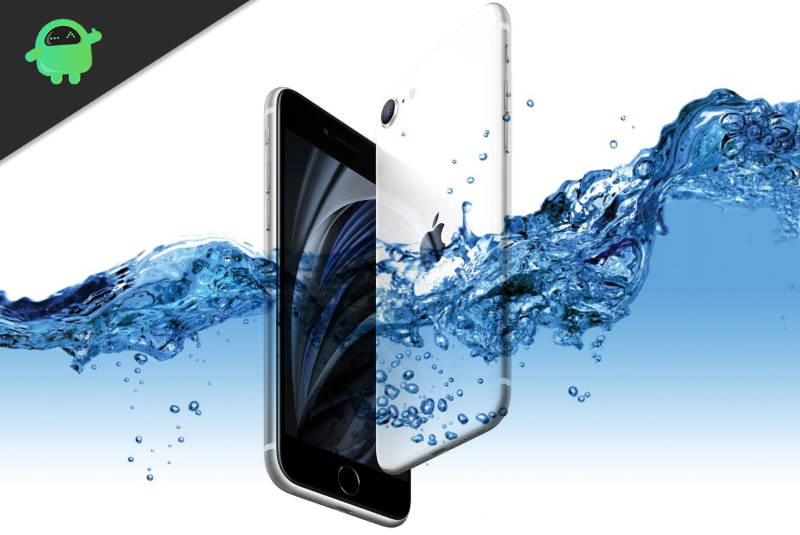 In this test, we will test out the latest iPhone SE 2 for its dustproof and waterproof capabilities. After the test, we can be sure about the waterproof certifications of the device.
Warning
The waterproof test results are purely based on individual/team observation. These tests will only give an idea of whether a device is waterproof or not. We recommend users not to try this test at home, as it might damage your device.
| | |
| --- | --- |
| Screen/ camera/ IO ports water damage? | No damage |
| Ability to take underwater photos? | yes, you can take underwater photos & videos |
| Can you use iPhone SE under rainy conditions? | You can use in rainy or stormy weather. |
| Take calls / listen to music while taking a shower? | Yes |
| Any damage due to water/ juice spill accidents? | No damage |
Finally, after conducting the test quite successfully, we are up with the results. The new iPhone SE 2 is a complete water and dust resistant device. It can withstand water damage up to 1 mere for 30 minutes. Also, it can handle accidental water or juice splashes from time to time.
Is Apple iPhone SE 2 a Waterproof device in 2020
Yes, iPhone SE 2 is a waterproof and dust-proof device. We can confirm that because there is an official IP rating of IP7 for iPhone SE 2, which means the phone is fully water splash resistant proof and the maximum time it can survive in water of 1 meter is 30 minutes.
Device Name: Apple iPhone SE 2 2nd generation
Waterproof: Yes, IP67 – Survives splashes, sloshes, sprinkles, sprays, splatters, and spills
Dustproof: Yes, IP67
Ideal for: People who are looking for an iPhone with the latest features and design
The IP rating was given after the phone was tested by the IEC standards. So we can confirm that the device is water-proof without any confusion.
Conclusion
iPhone SE 2 is going to be the next big hit from Apple. Because of its affordable price tag of $399 and the latest features, it will sell crazy fast. And it is great to see that Apple has put the latest IP68 water and dust resistant technology with iPhone SE 2nd generation device. So it completely safe to use near water and for taking underwater photos or videos.