Realme is back with a new budget smartphone for the Indian audience. Many smartphone users are looking for a new budget affordable smartphone with waterproof specifications from Realme smartphones. Realme has previously launched many smartphones with splashproof body design. The latest Realme 5 Pro is the latest example of this. We have previously covered the Realme 5 Pro waterproof test. However, none of these devices are actually IP68 waterproof. So it will be interesting to see if the new budget friendly Realme 6i is a completely waterproof device or not. So today, we will conduct a realme 6i waterproof test to find out whether it is a waterproof device or not.
Recently Realme has launched a new model Realme 6i on 17 March 2020. The phone is a budget phone that comes with decent features that you will expect on a Smartphone; it has a 6.5-inch touch screen and 720×1600 resolution with an aspect ratio of 20.9. The size of the phone is pretty good for regular use and its very comfortable to use. It comes with the latest technologies pre-installed on the system, to know more about budget friendly Realme 6i read the device specs below and know it is weather waterproof or not.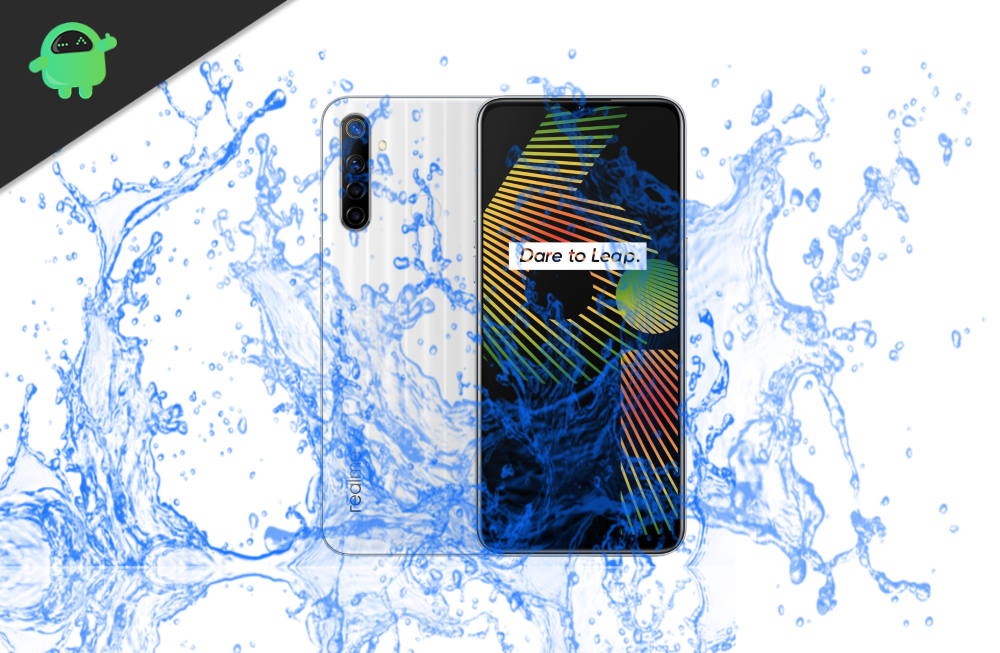 Realme 6i Budget Waterproof device in 2020?
A waterproof smartphone can protect itself from any accidental water damage. And users also get to enjoy some additional features like listening to music while taking a shower, attending calls in the rain and underwater photography. These are some of the features that all waterproof smartphone has. So it would be interesting to see if realme 6i is a budget waterproof device in 2020.
We have seen every official documentation and spec sheet for Realme 6i. But it is sad to see there are no official IP68 waterproof ratings for the device. So we will conduct the Realme 6i waterproof test to check whether the device is resistant against water or not. But before that, let's have a look at the device specifications first.
Realme 6i Device Specifications
The phone is expected to launch in India on 18 June. However, the model 6i of Realme is pretty neat. It runs on the latest Android 10 Oreo OS with custom Realme UI. Realme 6i is a touchscreen smartphone with a screen size of 6.5 inches with 720×1600 pixels resolution. It has Gorilla Glass, which reduces the chances to break your screen. Its aspect ratio is 20.9. Realme 6i comes with 1.8GHz octa-core (6×1.8GHz + 2x2GHz) processor of MediaTek Helio G80. The phone has 3GB of ram, which sufficient for running all the apps and low-end gaming. Internal storage is 64GB, and it supports microSD, which you can expand up to 256GB. It comes with all the necessary pre-install apps, it runs on 64-bit Android 10 Oreo and has Skin of Realme UI.
Also read: Common Problems in Realme 6i and Solutions – Wi-Fi, Bluetooth, Camera, SIM, and More
Rear Camera of Realme 6i has 48-megapixel (f/1.8) + 8-megapixel + 2-megapixel + 2-megapixel which is sufficient for 4k resolution crisp images. It supports autofocus and has a LED flash. The Front Camera has Front camera16-megapixel (f/2.0, 1-micron), it will give you picture-perfect selfies. Realme 6i supports Dual NanoSIM; both SIM's has a feature of 3G,4G, and GSM. The connectivity options like Wi-Fi, GPS, Bluetooth, and USB Type-C are available. 6i supports 3.5mm Headphones. Realme 6i comes with Fingerprint, Face Unlock, Compass/Magnetometer, Proximity, Light, and Accelerometer Sensors. The phone comes with a 5000 mAh non-removal li-ion battery and supports fast charging.
Realme 6i Waterproof Test
There is no official announcement or any IP rating that the device is waterproof. Though the device is recently launched, there isn't any waterproof testing done yet. Obtaining an official IP rating IP7 or IP8 is is not easy. So we will conduct our very own Budget smartphone Realme 6i waterproof test to find out whether the new Realme 6i is waterproof or not.
Warning
The below waterproof test's results are purely based on individual/team observation. These tests will only give an idea of whether a device is waterproof or not. We recommend users not to try this test at home, as it might damage your device.
So we have done a comprehensive waterproof test with Realme 6i to that the device is waterproof or not. Firstly we fill a bowl to half with freshwater and dip the smartphone in that for about 30 seconds. The device failed here as the screen went white, which is an indication of water damage.
| | |
| --- | --- |
| Camera | Non -measurable |
| I/O ports | Working |
| Screen | White screen with flickering |
Now we found that the device is not fully waterproof. The device got an instant white screen issue, and the touchscreen was not responsive. Also, the device speaker stopped working. However, after 30 minutes of the test, the device was functioning as normal. This indicates that the Realme 6i doesn't come with waterproof body design. It is, however, splashproof to some extent.
Conclusion
Realme 6i is a fantastic smartphone for people under a small budget. However its sad to see that the device is not fully waterproof. After our waterproof test, we have found that the device got minor display damage. But t can handle any accidental coffee or juice spills. Realme 6i can survive some splash of water; it is safe to say now that the device is not waterproof. So users should take proper care of the device.