The new Samsung Galaxy M21 is a mid-range smartphone launched on 18th Mach 2020. The main emphasis on the device is its massive 6000mAh battery and powerful processor. It comes with a price tag of $170 in US markets and 12,999 in Indian markets for the base variant. Where other smartphone manufacturers are providing splashproof and waterproof body designs in this price segment, it would be interesting to see if Samsung puts waterproof IP certification in their latest galaxy M21 smartphone. With this speculation, many customers are special whether the new New Samsung Galaxy M21 is a waterproof device or not. Today, we will test the new Galaxy M21 device in our Waterproof Test.
Samsung is known for making smartphones in all price ranges, especially in the mid-range segment. However, Samsung keeps the waterproof features only to its flagship devices. But with the recent trend changes, many smartphone manufacturers include splashproof and waterproof features in their mid-range smartphones. So it puts pressure on Samsung to launch the new Galaxy M21 with waterproof specifications.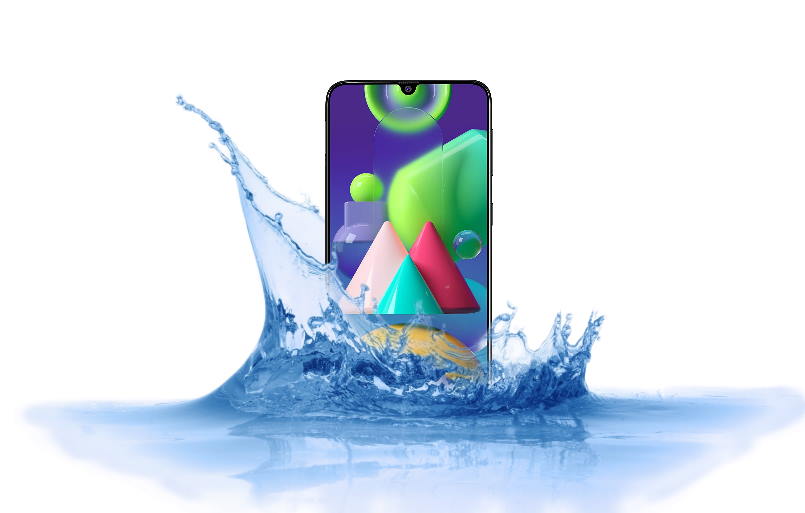 Is Samsung Galaxy M21 Waterproof device?
Waterproof smartphones are the new norms of smartphones' future. Where more and more waterproof devices are coming in the market, in a few years, this feature will be mandatory in all devices. All waterproof devices are protected by certain IP67 or IP68 waterproof ratings. These ratings signify that the devices are designed to sustain water damage. The IP68 rating is the best protection a smartphone can have. However, it is important to note that this IP testing is with freshwater, so we can end up with different results if using saline water. Samsung Galaxy M21 is a smaller variant for the M31 device. We already did the Samsung Galaxy M31 waterproof test, and it turned out negative. So it would be interesting if the new smaller variant – M21 comes with waterproof specifications.
We have checked with the official Samsung website and found no IP ratings for the Galaxy M21 device. This means that the device is not officially IP68 rated. As our official sources didn't confirm the waterproofing of the device, we had to test it ourselves. So let's continue with our Samsung Galaxy Waterproof device test.
Samsung Galaxy M21 Device Specifications
Samsung Galaxy M21 is a new mid-range smartphone with the launch date of 18th March 2020. The device comes with a massive display of 6.4 inches with a resolution of 2340 by 1080 pixels. Galaxy M21 is powered by a 1.7GHz octa-core Samsung Exynos 9611 processor coupled with 4 GB of RAM. The device for Galaxy M21 is set for a brighter side making it ideal for the young generation to use. The screen comes with a U-hole camera punch for selfies. The devices run the latest One UI 2.0 based on Android 10 out of the box. It has 64 GB of inbuilt storage, which users can expand via Micro SD card support.
Talking about the cameras, it has a triple camera setup. The main sensor of 48 MP, the secondary lens of 8MP, and the third depth-sensing 5MP camera. For selfie enthusiasts, it has a wide 20MP camera for clear and beautiful selfie shots. Also, the device boasts an all-day running battery of 6000mAh. It hands all modern games pretty well. Talking about connectivity, it has Wi-Fi 802.11 a/b/g, GPS, USB Type-C, 3G, and 4G on both Sim cards. And the device supports both finger lock unlock and face unlock.
Samsung Galaxy M21 Waterproof test
Since there is no official IP waterproof rating for the Galaxy M21 smartphone, it simply means it is not waterproof. However, we will still conduct a waterproof test which will comprise of all waterproof, splashproof, and dustproof tests. After the test, we will look at the result that if it is waterproof or not.
Warning
The below waterproof test's results are purely based on individual/team observation. These tests will only give an idea of whether a device is waterproof or not. We recommend users not to try this test at home, as it might damage your device.
So we have done a comprehensive waterproof test with the Samsung Galaxy M21 to that the device is waterproof or not. Firstly we fill a bowl to half with freshwater and dip the smartphone in that for about 30 seconds. The device failed here as the screen went white, which is an indication of water damage.
| | |
| --- | --- |
| Camera | Non -measurable |
| I/O ports | Working |
| Screen | White screen with flickering |
Now we found that the screen has stopped working, but the display was still on. There are tracks of water seepage inside the device. This indicates that the new Samsung Galaxy M21 is not a waterproof device at all.
Conclusion
Since the new Samsung Galaxy M31 doesn't come with any IP certification ratings. Further, not getting information from official sources, we decide to test it ourselves. To our surprise, the smartphone passes somehow with flying colors.
| | |
| --- | --- |
| Galaxy M21 waterproof ratings | none |
| Dustproof | To some extent, yes |
| Waterproof | No |
However, you should keep some factors in mind while purchasing this device. This device doesn't have official ratings, and the test results can differ from device to device. Also, the new Galaxy M21 is not suitable for any water-related activities. Users must take proper care of the device.