Infinix is back again with two different smartphones – Infinix Hot 9 and Infinix S5 Pro. Where Infinix Hot 9 is made for budget smartphone users and Infinix S5 Pro is more reserved for flagship users. Both the devices come with the latest build design and smartphone aesthetics in 2020. However, we have seen many smartphone manufacturers putting waterproof and splashproof features in budget and flagship models. So is the new Infinix Hot 9 and Infinix S5 Pro waterproof device? Well, today we will conduct Infnix Hot 9 & S5 Pro waterproof test to confirm.
If iNfinix is able to put waterproof IP68 certification in their budget smartphone then most users will buy the new Infninx Hot 9. Also premium uses who are looking to buy the new Infinxi S5 Pro also need a waterproof device. So let's see what the company has done to make these both smartphone waterproof.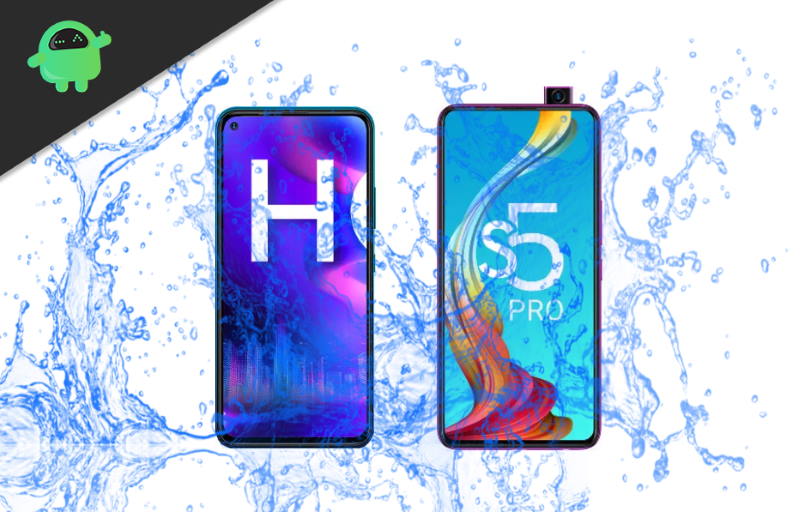 Is Infinix Hot 9 or Infinix S5 Pro a Waterproof device?
Here, we will discuss Infinix Hot 9 and Infinix S5 smartphones. Both are equipped with the latest technologies but there is a little confusion. Are these devices are waterproof or not and what are their IP ratings, we will clear your doubt in the following topics of detail analysis of Infinix Hot 9 and Infinix S5.
A waterproof smartphone can protect itself from any accidental water damage. And not to mention you will get some extra features as well. Such as listening to music while taking a shower, attending calls in the rain and underwater photography. These are some of the features that all waterproof smartphone has. So it would be interesting to see if Infinix Hot 9 or Infinix S5 Pro comes with a waterproof body.
Infinix Hot 9 Device Specifications
Hot 9 smartphone was launched by Infinix in March 2020. It is a brand new smartphone in the competition. Infinix Hot 9 runs on Android 10 Oreo powered by a 1.8GHz octa-core MediaTek Helio A25 processor and 4GB of RAM. External storage can be extended up to 256GB and internal storage has 128Gb of free space. Hot 9 supports dual SIM and accepts Nano-SIM and Nano-SIM cards. The smartphone is powered by a 5000mAh non-removable Li-ion battery.
Rear Camera packs a 16M+2MP+2MP and has an autofocus feature. Front Camera has 8MP. All options for Connectivity like Wi-Fi, 3G, 4G, Micro-USB and Bluetooth are included with a fingerprint sensor. Hot 9 is launched in Matte Black, Cyan, Violet, and Light Blue colours, build with polycarbonate and screen size of 6.6 inches.
It has no official IP ratings, therefore, we cannot confirm that the device is waterproof.
Infinix Hot 9 Waterproof Test
As the Infinix Hot 9 is not IP68 waterproof rated so, it is not a waterproof device. But we will still continue with our Infinix Hot 9 Waterproof test to see the results.
| | |
| --- | --- |
| Touchscreen & Display | white screen |
| I/O ports | volume button fail |
| Speaker & Earpiece | muffle sound |
| Camera | works |
We filed a half bowl with water and dipped the smartphone for 30 seconds. And no surprise, Infinix Hot 9 got instant water damage. So te device is not waterproof at all.
Infinix S5 Pro Device Specifications
S5 pro by Infinix claims to be the most affordable smartphone in the market with pop-up selfie-and HD+ notch-less display with 6.5 inches of screen size which gives it a crisp and modern look. The design of the S5 is a bit too garish. S5 is powered by 4000mAh battery and can last a full day with regular usage. It MediaTek Helio P35 chip. It doesn't support fast charging.
Coming to the Rear Camera has 48MP which is very good for clicking crispy pictures and the low-light sensors enhance your low-light photography. The front camera is a pop-up selfie with 16MP supports Bokeh effects. The phone runs on Android 10 Xos and skin XOS 6.60 with 4GB of RAM and 64GB of Internal Storage. External storage can be extended up to 256GB by using micro-sd. S5 supports Dual SIMs and accepts Nano-SIMs. Connectivity options like GPS, Wi-Fi, Bluetooth etc are present and updated. Sensors like AMbient-light sensors, Finger-print sensors are included. The phone is available in Forest Green and Violet.
Infinix S5 Pro Waterproof Test
Now we got our hands on the Infinix S5 Pro. We again started testing it in and out. Since there are no official IP68 waterproof ratings, we cant be sure whether it is waterproof or not. So we have to continue with our waterproof test.
| | |
| --- | --- |
| Touchscreen & Display | works |
| I/O ports | no water damage |
| Speaker & Earpiece | muffle sound |
| Camera | popup camera damage |
We filed a half bowl with water and dipped the smartphone for 30 seconds. This smartphone, too, passed with flying colors without any problem. So this device can easily survive splashes, rain, sweat, and also unfavorable condition.
Conclusion
After thoroughly checking both the devices, we reached to the outcome. Both the devices are not waterproof. Both of them are no means splashproof as well.
| | |
| --- | --- |
| Device name | Waterproof ratings |
| Infinix Hot 9 | none |
| Inifnix S5 Pro | none |
As both the devices, Infinix Hot 9 and Inifnix S5 Pro are not waterproof, we urge you not to use these devices carefully near water. Since they can get water damage pretty easily.