Huawei has launched its three new smartphone variants, Nova 7, Nova SE, and Nova 7 Pro. All of these devices are intended for users from all price ranges, starting from budget and up to flagship models. With these three new devices, Huawei has made many changes in the designs and improvements. So customers are excited to see if the new Huawei Nova series are waterproof or not. The new Nova 7 pro might come with IP68 waterproof certifications as the device falls in the premium segment. However, we can't be very sure about Huawei Nova 7 & 7 SE devices. So we will perform Huawei Nova 7, Nova SE, and Nova 7 Pro waterproof test to find out the results.
In our smartphone market, many companies are providing waterproof or splashproof devices in the budget range of smartphones. This has increased the competition for big companies like Huawei to put waterproof and splashproof certifications in their lower-level smartphones. So let us conduct a waterproof test for all these three new variants from the Huawei Nova series and see if they are actually waterproof or not.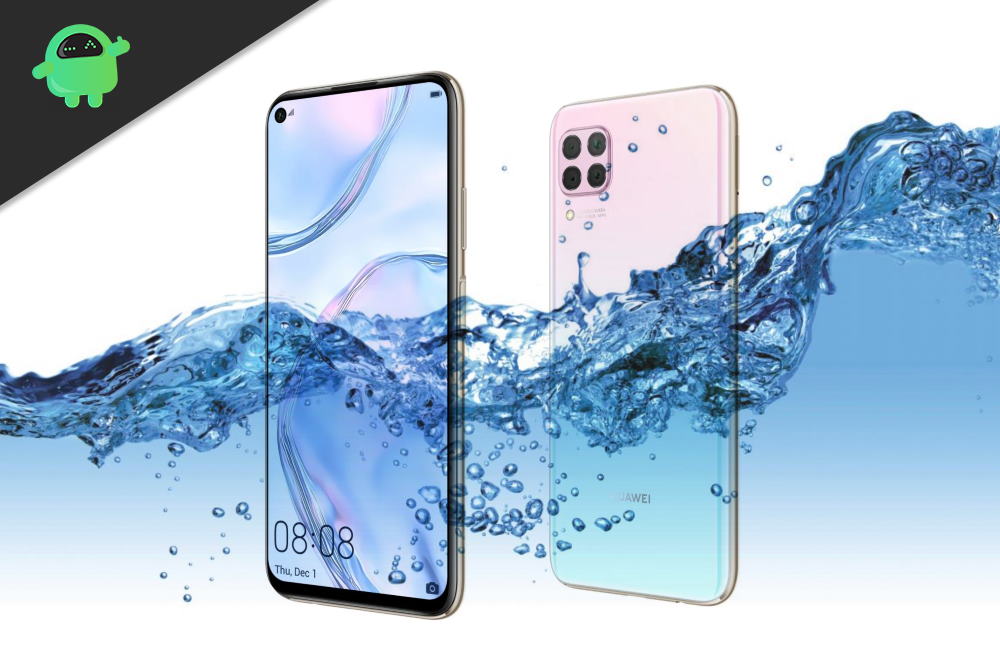 Huawei Nova 7 Device Specifications
Huawei Nova 7 on the 23rd of April with a 6.5inch FHD HDR Display. So that HDR+ videos easily render on such a long 20:9 screen. Supporting dual sims, Powered by Huawei's own HiSilicon Kirin 820 5G (7nm) chipset with 8 cores for superb performance. A Mail G-57 (6 core) GPU packed with 8GB of RAM and 128GB/256GB of onboard storage.
A 64MP main rear camera along with an 8MP ultra-wide, 2MP macro, 2MP depth sensors making a decent quad-camera setup with can shoot ultra HD, wide, macro and portrait shots. Able to record your moments at a resolution up to 2160p. Video conference would be more clear with a 16MP front shooter. A decent package with all essential sensors and a superfast side-mounted fingerprint scanner for enhanced security. Battery with a capacity of 4000mAh charges at a rate of 40W through its USB-C port along that a reverse charging of 5W makes your phone like a power bank. Four shades of its looks are Black, Purple, Green, Blue.
Huawei Nova 7 Waterproof Test
There is no official IP rating available on the official website of the smartphone. We performed a test to check whether it saves itself form water. Starting from a shower test, exposing the device under the direct shower. Nothing happened. The device was working almost fine. The second test is a running tap test, the device held below a direct running tap water for 1 min. This time speaker was not working, and the touch was misbehaving. The third test was the water immersion test. The phone is immersing in a container filled with water completely. After 3 mins the phone was not in running condition display was dead so nothing can be tested.
Huawei Nova 7 SE Device Specifications
Huawei Nova 7 SE is the latest mid-range 5G phone from Huawei with a big and wide display of 6.5inch supporting HDR10 for playing High Dynamic Range videos. It comes out of the box with Android 10 skinned over by EMUI, but with no google play services, this means no Google play store. A super performance device with 8 cores HiSilicon Kirin 850 5G chipset. 8GB of RAM packed with two storage variants 128GB and 256GB with GPU unit named Mail G-57 for rendering smooth UI.
Quad cameras are set up for best photography with a 64MP main camera. Ultra-wide and Macro are there, making this setup more versatile. Super slow motion of 960fps for shooting what your eyes can't see. There is a standard selfie camera of 16MP for selfies and video calls. You get a side mount fingerprint scanner for biometric security authentication purposes. Fast-charging of 40W can charge its 4000mAh battery to 70% in 30 mins. Supports reverse charging of 5W.
Huawei Nova 7 SE Waterproof Test
No IP rating was found in the device documentation, so here is a test to check its water repellent power. First of all, we conduct our shower test, where we put shower water on the smartphone for 2 minutes. After this, we expose the device under running tap water for 1 minute. This will get us fine idea weather the new Huawei Nova 7 SE is waterproof or not.
After conducting this test, the device got water damage in the speaker module. The bottom speaker and I/O ports got severe water damage. As a result of this test, the phone almost got damaged like touch issues, no camera response and display became white after a few minutes of testing. Basically, the phone can't be used now.
Huawei Nova 7 Pro Device Specifications
A flagship-like device from Huawei was launched on April 23 with a huge 6.57inch OLED display with a resolution of 1800 by 2340. Smooth UI experience provided by EMUI skin over the latest Android 10 OS. It is a powerhouse with its flagship HiSilicon Kirin 985 5G Chipset with 8 cores and a super smooth rendering Mali G-77 GPU with 8 Cores. It comes with 8GB of RAM combined with superfast UFS 3.0 storage (128GB/256GB).
An interesting setup of camera sensors with 64MP main, 8MP periscope telephoto, 8MP ultra-wide, and a 2MP macro one. With this, a lot of shooting modes are available in EMUI like 5x zoom (optical), 64mp, Night mode, and many more to explore. To make selfie more incredible, a dual-camera setup of 32MP and 8MP (ultra wide) is placed at the top with a cutout design. Without the senors, a smartphone is incomplete, so Huawei provided all the sensors along with the most convenient Under Display Finger Print scanner (optical) for more security and reliability. Huawei's supercharging technology charges its 4000mAh battery with super speed using its 40W adapter. Just 30min of plug-in enough for 70% charged battery. In case of emergency, your phone can be used as a power bank with its 5W reverse charging.
Huawei Nova 7 Pro Waterproof Test
With specification, its almost a flagship experience, but without a water safety, a phone can not become a perfect flagship. As documented, there is no water safety rating like IP68. So we did a test to check its strength against water.
The first test was a mild shower test in which the phone exposed under the shower for 1 min. This results in no damage to the device. So moving to the second one, this time phone was exposed under a running tap for 2 mins and used it. It was almost fine, no problems were noticed. In the third test, the phone was damaged, Speaker was muffled, and the camera stopped working.
Is Huawei Nova 7, Nova 7 SE, or 7 Pro Waterproof device?
After conducting a waterproof test on all the new Huawei Nova 7 series smartphones, we came to the conclusion that none of them are actually waterproof. Yes, they can sustain a little water damage in the form of accidental juice or water spill. But they are no way near perfect waterproof or splashproof devices.
| | |
| --- | --- |
| Device name | Waterproof ratings |
| Huawei Nova 7 | none |
| Huawei Nova 7 SE | none |
| Huawei Nova 7 Pro | no |
Warning
The waterproof test results are purely based on individual/team observation. These tests will only give an idea of whether a device is waterproof or not. We recommend users not to try this test at home, as it might damage your device.
The new Huawei Nova 7, 7 SE, and 7 Pro are great smartphones. But its sad to see that none of them actually have any waterproof certifications. So users should take proper care of the devices as once got water damage, the device might get permanent water damage.