You were playing a game or watching your favorite movie and suddenly the phone rebooted itself. What happened? Unless you instructed the phone to reboot, it would be termed as a random reboot and it is often seen after a software update. But hey, there can be a few other triggers causing the phone to randomly reboot.
You will find a tonne of reports on Poco F3 and Mi 11X random reboot issues and people keep searching for troubleshooting guides to fix it up. We at GetDroidTips now have a troubleshooting guide on how to fix Poco F3 and Mi 11X random reboot issues. Also, this post contains a simple explanation of what's random reboot is and what causes it FYI.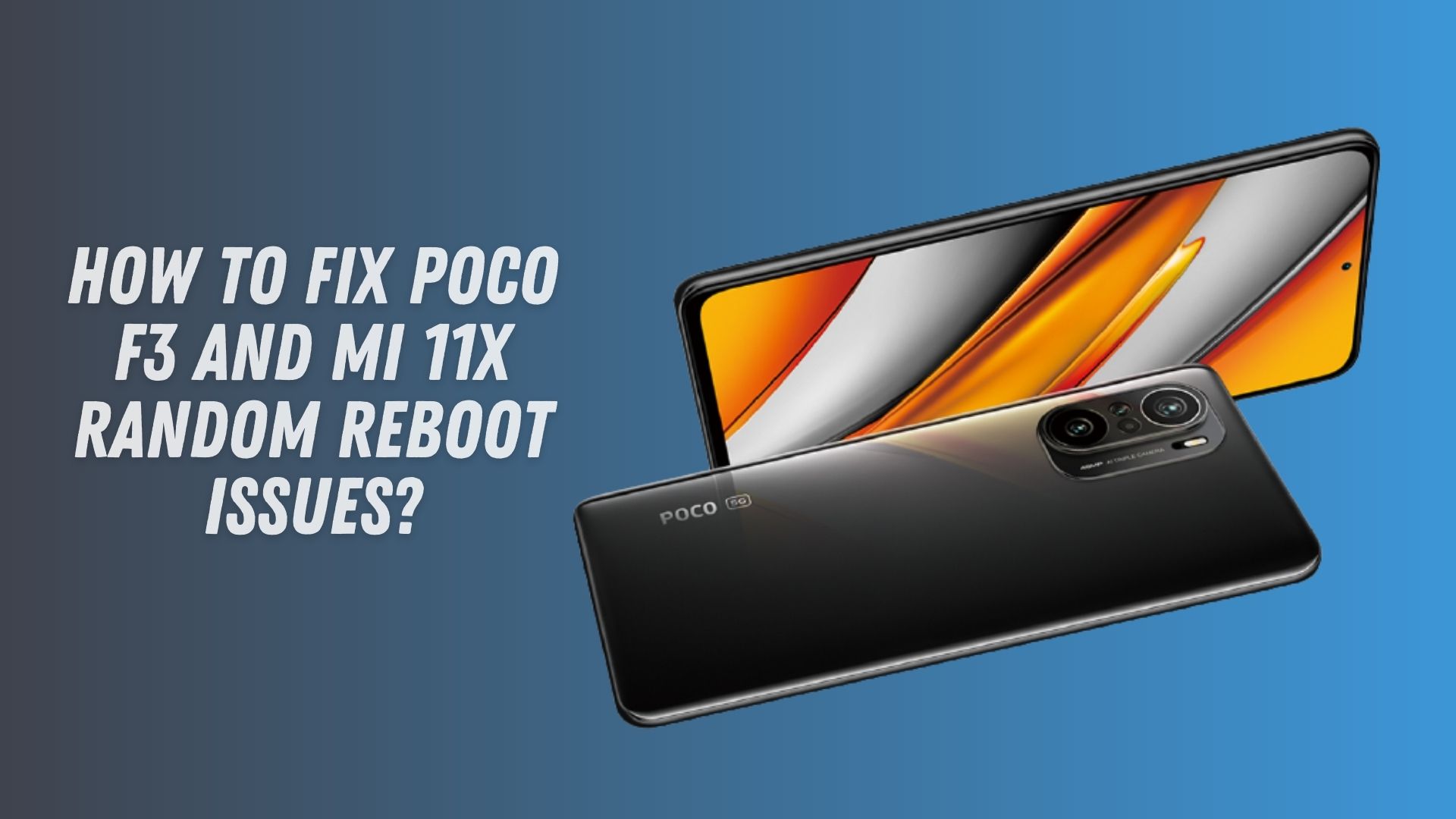 What is Random Reboot and What Causes It?
Understanding a random reboot is simple. You were using the phone and suddenly it rebooted or restarted. There's nothing you can do to prevent it once the phone is rebooting itself. Also, this can happen due to a number of reasons most of which are related to the software although hardware issues can make up some portion of it and would require a professional to fix it up.
There are a few reasons why your phone would end up in a random reboot. Since we're talking about Poco F3 and Mi 11X here, let's keep it in focus although the same causes and troubleshooting methods can be applied to other smartphones as well.
The reasons why your phone would suffer random rebooting issues could be due to corrupted or outdated apps or the firmware i.e. MIUI in case of Xiaomi, Realme UI in case of Realme, and so on. Side-loading and unauthorized apps can cause this problem as well. Liquid insertion is also a reason why your phone would randomly restart since the liquid isn't a good friend to components in your smartphone unless it is protected with water-resistant coating or layers.
Overheating is one of the many reasons why you would end up with a randomly restarting phone and there's no software involved here. The phone simply shuts off when the system isn't able to dissipate heat proactively. A loose battery can trigger a number of issues including this one. It could be anything from loose batteries to bent/faulty connectors or gaps between pins and so on. Finally, hardware damage to the circuit or any component including the chipset, battery, and others can cause the phone to end up in a continuous loop of reboots. Here are some of the troubleshooting guides you can use.
How To Fix Poco F3 and Mi 11X Random Reboot Issues?
Before we begin, if you have recently upgraded to MIUI V12.x (including MIUI V12.5 and V12.5 EE) on your Poco F3 or Mi 11X, some portion of the users have complaints about random reboot issues after upgrading the software. This is indeed a software issue and Xiaomi has acknowledged it and will be sending a fix soon although based on when you are reading this, it might have been fixed. Till then and for any Poco F3 and Mi 11X user-facing random reboot issues, here's how to fix it using these simple troubleshooting methods.
This isn't much of a troubleshooting method but rather something you should take care of. If your smartphone is prone to pressing the power button accidentally in your pockets or if the new case or cover you bought squeezes the power button, it will lead to reboots and at any given time. Thus, check if your phone case or cover is to be blamed and place the phone as if to prevent accidental touches to the power button.
Update all the apps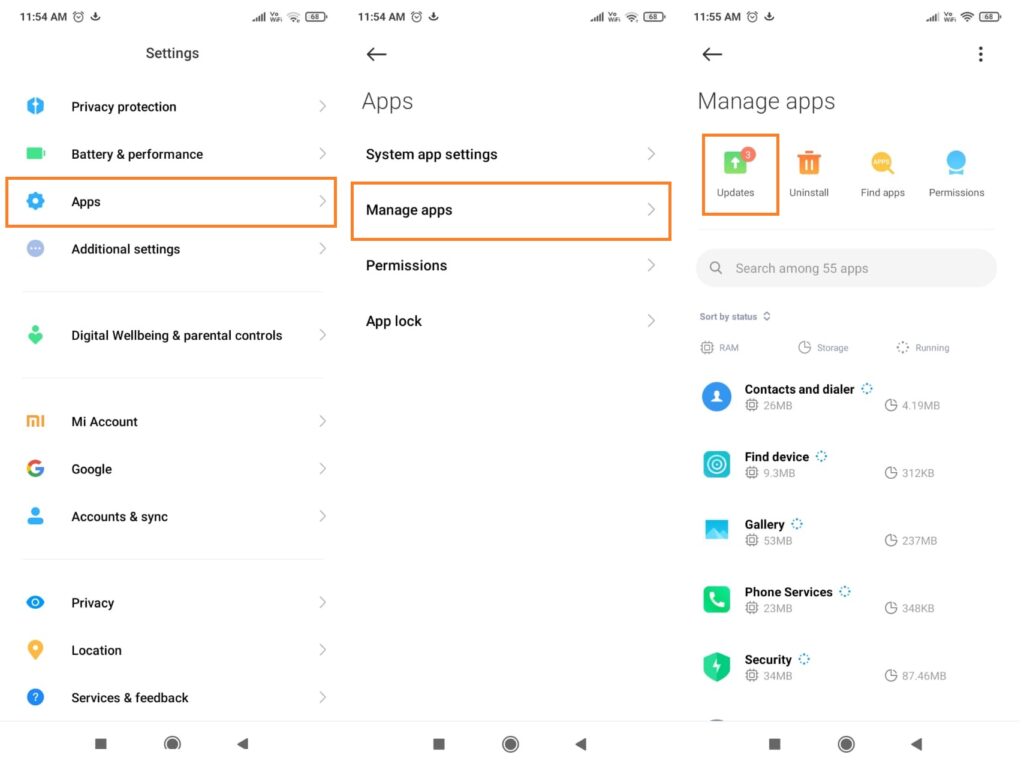 Outdated apps can introduce a series of problems with random reboot issues being one of them. You need to keep all the apps updated to keep off the beaten track. Here's how you can do it.
Firstly, go to the Settings app on your phone.
Proceed to the "Apps >> Manage Apps".
Tap on "Updates" on MIUI devices to find apps that have a pending update available. Once you find it, simply 'Update' particular apps and it is done.
Alternatively, proceed to the Google Play Store and check out the "My Apps & Games" section.
Here, you will see a list of apps and if they have a pending update. If there's an update, tap on the "Update" button against that particular app(s).
You can tap on "Update All" to update all the apps at once.
If the device prompts you to grant permission during updating apps, select "Accept".
Update the Software
Just as the case with outdated apps, the software i.e. Android OS-based MIUI on Poco F3 and Mi 11X (for instance), you need to keep it updated as well. This prevents the firmware from getting susceptible to bugs and malware and the many issues that you would face due to outdated software such as a decrease in performance, slow speeds, and random restarts among others. Here's how you can update the firmware.
To update the firmware, tap on the Settings app on your device.
Next, you need to go to About Phone >> MIUI Version.
Tap on "Check for Updates" and you will get a listing if the update is available.
Once you are done installing the update, it is better to restart the device and monitor if there are random restarts henceforth.
Ensure sufficient storage is available
Storage is an important commodity on Android smartphones unless your phone has 128GB or above the storage. RAM is another element that you need to consider because there is only so much you can do with 3/4/6GB RAM. Insufficient storage and RAM can choke the system which means your phone will be slower than it should; cache data can have an adverse impact on the device as it leads to many problems. Thus, cleaning up is crucial.
For starters, you can clear up unwanted PDFs, pictures, videos, and data that you no longer need. Turns out people store a lot of data that they won't ever need on their smartphones and that adds up. Another thing to clear is the recent background apps as it eats up some portion of the storage and RAM as well. There's no rocket science on releasing RAM from unwanted processes but it does have a positive effect on the device.
Ensure there's no corrupted app
You need to check for corrupted apps. These are apps that won't open or crash or they will hang the system as a whole when you try to open it or do some tasks on it. You need to ensure that there are no corrupted apps lying around. A simple but effective practice is to get rid of unwanted, unused third-party apps and disable unwanted bloatware.
Perform a factory reset
The last resort you have to fix the issue assuming that it is a software-related issue is to perform a factory reset. Here's how you can do it on your device.
Firstly, go to Settings >> About Phone >> Factory Reset.
Tap on the "Erase All Data" at the bottom of the screen.
The device will prompt you to enter a PIN to proceed after which, you can erase all the data on the phone and it is done.
Note that this method completely erases all the data from your device which means you no longer have any data stored. You will have to begin setting up the device and monitor if the problem sticks out.
Does it require a repair?
Now, this is your final resort. If nothing works when you were trying to fix Poco F3 and Mi 11X Random Reboot Issues, it could be a hardware issue. I don't recommend diagnosing and repairing by yourself unless you know exactly what you are doing. Instead, you can book an appointment or walk into a nearby authorized service center to get the problem fixed. On the other hand, you can save a bit more and request a faster service at a third-party or local service center but risk voiding the warranty as a trade-off.