The DualShock 4 and Xbox One were developed to work with their respective consoles by default, however, with the grace of developers, the recent software updates made pairing possible with your iPhone devices, Windows, or Android devices of even previous versions as well. Now the users can put their respective PS4 Controller in pairing mode.
You don't need to look anywhere because we have wrapped everything related to Pairing your PS4 Controller. Right from connecting the Controller to remapping it and disconnecting afterward, and reconnecting it to your console. So, I think it would be helpful for you while going through connecting and disconnecting your PS4 controllers.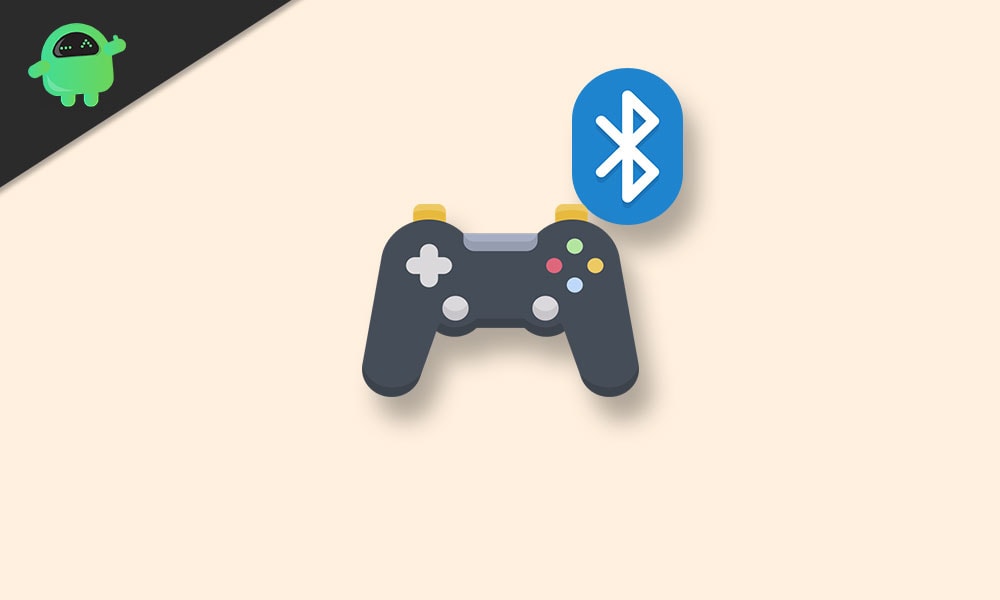 How to Put PS4 Controller in Pairing Mode
If you are fond of gaming and you like to play on multiple consoles as well as on your mobile phones, then the article is for you. You would be delighted after knowing that your PS4 Controller can be paired to play games on your mobile devices. Moreover, you don't need to learn a new control layout for your favorite mobile games because you can also use the default layout of your Controller.
The procedure of setting your PS4 as well as Xbox wireless controller is very easy. However, the steps may vary depending on the device's operating system, which will be paired to the Controller, and further, it also depends on the type of Controller you are having. We will go through all of the variables below:
Pairing PS4 with an Android Device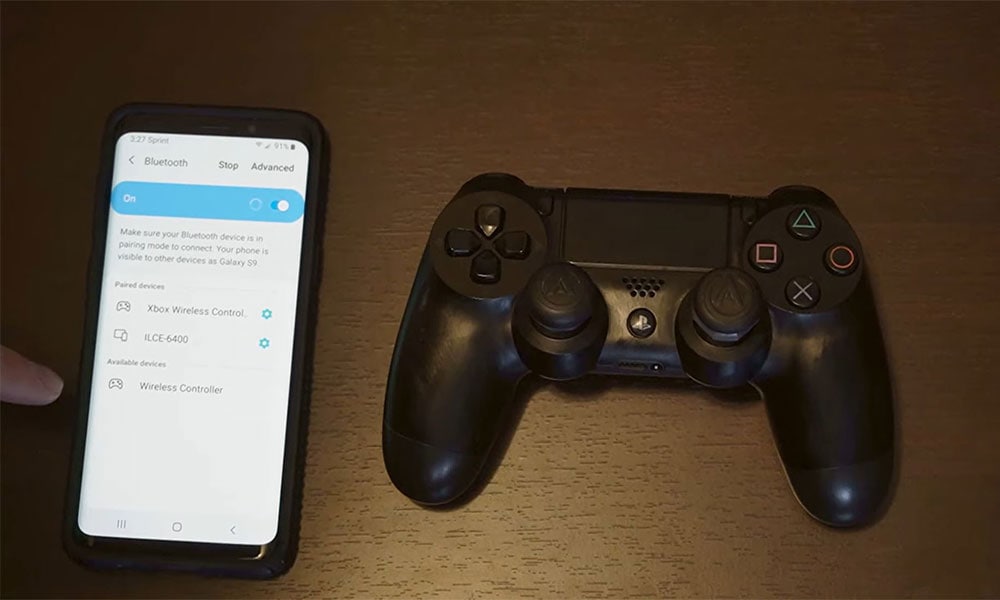 It's an easy task to pair your PS4 Controller with an Android device. It is as simple as having a piece of cake. What you need to do is to press few buttons on your Controller, authorize an option on your Android device, and you are capable of playing your Android games engaging your PS4 Controller. Moreover, you can navigate the Android interface using your Controller. Let's start
Firstly, unplug the PS4 Controller from your console. Now press and hold Share (available on the left of the touchpad) and PS (available in the middle of the touchpad) keys combination simultaneously for a while unless and until the Controller begins to blink light white.
Now, your Controller is prepared to be paired with the device of your choice.
On an Android device, Open the "settings" app and navigate into "Bluetooth & device connection." Click on "Pair new device."
Authorize your device to scan for your PS4 Controller. Tap on "DUALLSHOCK4 Wireless Controller" and connect as soon as it appears in the list of available devices.
Wait until the white light blinking in your Controller comes to an end. Moreover, the light bar on the top of the DualShock 4 will switch into PINK automatically. Further, this indicates that your Android device is ready to perform with your Controller and the pairing is successful. Now you can start enjoying your Android games with the PS4 Controller.
You may now use the Navigation buttons of your Controller and navigate over the options on your Android device. Ultimately, you may access your Android device with the help of the PS4 Controller.
Pairing PS4 with an iOS Device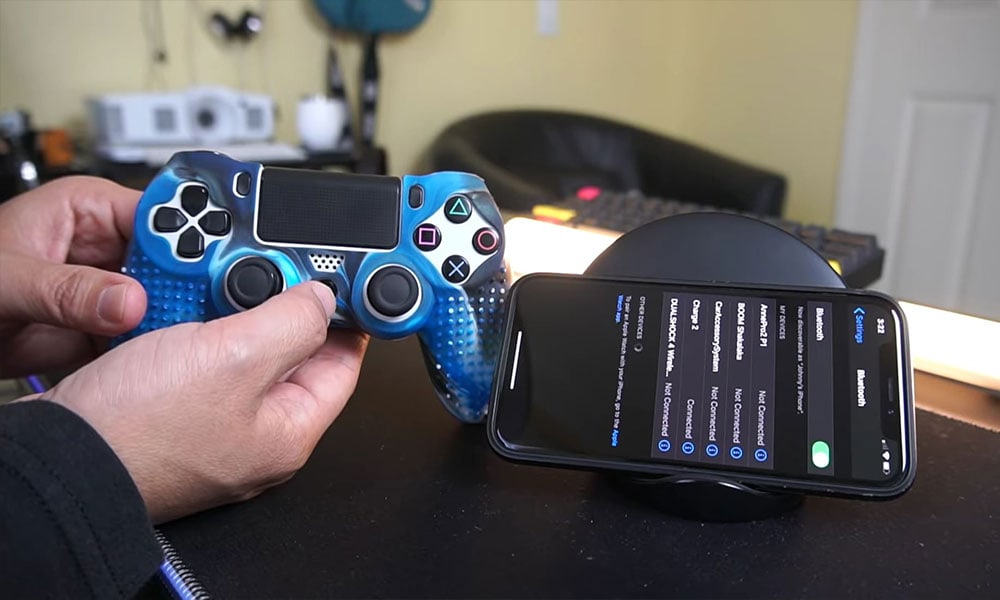 Pairing the Ps4 Controller with an iPhone device is similar to that of the devices running on Android. However, there's some requirement on an iOS device that needs to be fulfilled for pairing.
Your iOS device needs the minimum iOS version of 13 to be able to connect with your PS4 Controller. If your device isn't running onto the iOS 13, then you need to get into Settings > General > Software Update and get your device with the latest version available for you.
Let's have our eyes on how to connect these devices:
First of all, unplug the PS4 Controller from your console. Now press and hold Share (available on the left of the touchpad) and PS (available in the middle of the touchpad) keys combination simultaneously for a while unless and until the Controller begins to blink light, white.
Now your Controller is ready to pair with your iOS device.
Launch the "Settings" app on your iOS device and scroll down to "Remotes and Devices," and tap on it.
Scroll to the bottom until you find "Bluetooth" and tap on it. A well-designed resource known as "How to pair game controllers" can be seen as the next page's first option. Read if you wish to, else if your Controller is in pairing mode, it means if the light is blinking then, it will appear beneath the"Other Devices" section.
Once the lights on the controller stop blinking, it means you have successfully paired your Controller with your iOS device. Now onwards, you can enjoy gaming and many more activities you can do with your PS4 Controller.
Remapping the Game Controls to Work with the PS4 Controller
As soon as you have started enjoying your game with the help of a PS4 controller on your Android/iOS device, it must have come to your notice that some of the gaming controls aren't working fine for your external Controller; they need to be optimized. The reason for the issue is many games still don't have external controller support.
However, you can fix this issue with the help of an app. Simply search for a key remapper app on your app store/play store; it will allow you to modify your keys at your convenience. Choose the app accordingly and modify your keys in such a way that they fit with the controls of your PS4 Controller, and your gaming would be easy. Install the app onto your device and add your games to the list and proceed with customizing your controls.
How to Disconnect the Controller from your Device
After finishing the game-play on your device with the use of PS4 controllers, now you would like to disconnect the Controller from the device and pair it back to your console.
Open "Settings" in your Android/iOS device and navigate to the "Bluetooth" option under the "Connection and Sharing." Press and hold on the PS4 Controller in the device list and tap "Disconnect," and then tap "forget" from the saved device.
Your Controller is disconnected now and is ready to pair with your console. The white light would have started blinking, which verifies that it is disconnected now. Now you can connect the Controller with the console using a USB cable and tap the PS button.
Bottomline
We hope this guide has helped you to put your PS4 controller in pairing mode as well as in disconnecting and reconnecting it back with the console. For future updates, you may subscribe to our YouTube Channel. Don't miss out on our Gaming Guides, Windows Guides, Social Media Guides, iPhone, and Android Guides to know more.