PUBG we all know and must have played on your smartphones or our desktops/laptops. This battleground game is a worldwide phenomenon which is developed by Tencent and is one of the most highly rated and downloaded games of all times in the Android Play Store. Moreover, it was given the people's choice awards for the best game in 2018 in the Android Play Store. But, there are certain limitations playing this game, as it does not run smoothly in lower-end devices. Users will lower-end phones have often complained regarding the lag, bugs and network error in their smartphones.
But, you cannot blame the developers for this as this game itself is huge to download and considering its graphics, gameplay and open world arena, the game is bound to perform and run smoothly on higher-end devices. Moreover, you could see the difference of gameplay by running PUBG in a lower-end device and higher-end device. The gameplay is utterly smooth in the higher-end devices and it also gives you those extra milliseconds to have a heads-up over your opponent, which you lose while playing in lower-end devices.
However, its time to rejoice as the much anticipated PUBG Lite is coming to India and the developers, Tencent has teased its first event announcement to cater the base of lower-end smartphones gamers of the game. Tencent has put in efforts to provide the lower-end smartphone users a toned down version of the game so that it could run smoothly in their smartphones and most importantly without any hiccups. The lite version of the game will also help those users of the game that have faced connectivity issues in the past.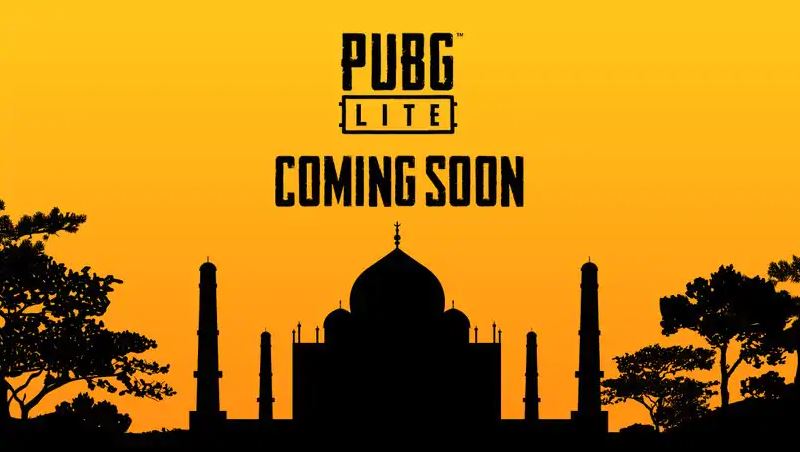 PUBG already has a massive user base and with its new PUBG Lite, it is going to target the lower-end smartphone users target base and give them a feel of one of the best battleground games of all time. However, India is not the first country that they are going to launch this Lite version of the game as it has been already launched in Hong Kong, Taiwan, Brazil, and Bangladesh. And, to grip up to the excitement, the PUBG has updated its cover picture on the official PUBG India page with a silhouette of Taj Mahal along with the text "PUBG LITE COMING SOON" on June 6, 2019 (can be seen in the above image).
System Requirements
Note: These system requirements are for playing PUBG Lite on your desktop/laptop.
Minimum System Requirements
OS: Windows 7,8,10 64Bit
CPU: Core i3 @2.4Ghz
RAM: 4GB
GPU: Intel HD 4000
HDD: 4GB
Recommended System Requirements
OS: Windows 7,8,10 64Bit
CPU: Core i5 @2.8Ghz
RAM: 8GB
GPU: Nvidia GTX 660 or AMD Radeon HD 7870
HDD: 4GB
Live Event in Kolkata
PUBG India, in their Official Facebook page, has announced its first PUBG Lite event in India which is going to take place in Kolkata. You can read the details about it below;
We are thrilled to announce that PUBG LITE will soon be expanding to India!

As the first event, we present PUBG x Gamer Connect Kolkata to our Indian players!
Visit #GamerConnectKolkata and follow the steps below to receive a special treat/reward.

Visit GC Kolkata and find the PUBG LITE booth.
Like our official Facebook Page
Take a photo at the photo booth.
Post it on your (Facebook) page with our hashtags: #PUBGLITE #PLAY_PUBGLITE_TOGETHER
Fill out the Google form at the venue and receive the gift codes via email on June 13th.

Stay tuned to this page for the latest updates!!

#PUBGLITE #ThisIsBattleRoyale

Source: PUBG India Facebook Page
What's Our Take
PUBG Lite is definitely the much awaited toned down version of the PUBG Mobile game. Tencent has made this game to target which might be in my opinion of the biggest user base that is India and launching a lite version of the game will help them boost their user base more. The affordable smartphones are affordable for a reason because you won't find higher-end specs in them and many users including many of my friends wanted to have a toned down version of the game and in my opinion, it is a great move to launch the lite version here in India.
Moreover, the PUBG Mobile, which is the original game, has been updated to 0.13.0 update which went live in beta. And, you might all know that PUBG was banned in their home country and was replaced with the Game For Peace which glorified the Chinese Military, earned a staggering $4.8 million in a day, becoming the world's most top-grossing mobile application ever.