Wifi problems are one of the maddening issues on Android smartphones. There are plenty of problems such as wifi isn't connecting or the phone is unable to detect wifi network or the internet isn't working after connecting to a wifi network, etc. Since there are a bunch of problems that you could face on your Panasonic smartphone, we decided to tackle each one of them using this explicit guide that would allow the user to fix any kind of wifi problems on Panasonic smartphone without any hassle.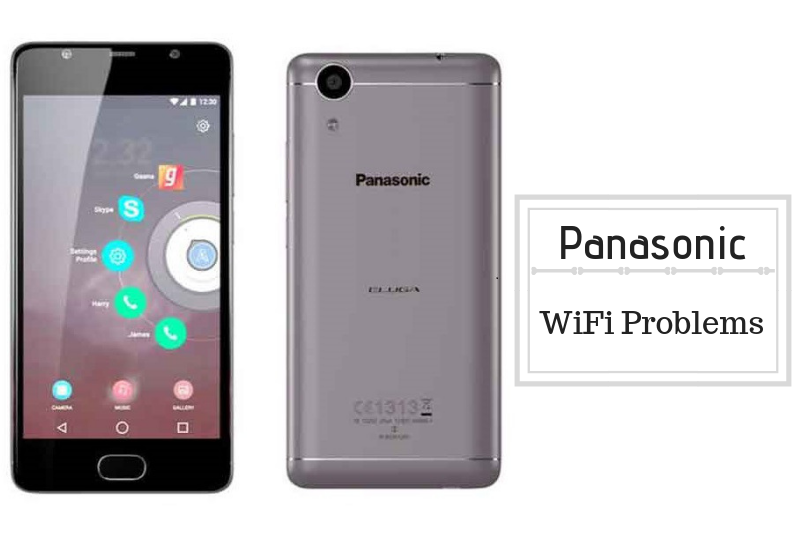 Quick Guide to Fix Panasonic Wifi problems?
Toggle Wifi on your device
This is probably the first thing anyone with a smartphone will recommend you and in some cases, it works so why not try it. If you are finding it difficult to connect to a wifi or if the wifi is enabled but the internet is not working, toggle wifi switch under the notification tray several times and check if the issue is averted or not.
Reboot
Panasonic wifi problems? Why don't you reboot the phone? Well, it is a common issue with wifi where it connects and disconnects to a wifi network when moving around the house. Interference and obstacles can also play a crucial role are disconnecting wifi to your phone at times. The easy way out is to yank the power button and turn off the phone. Although you can quickly restart it but let's say wait for a few minutes before doing it. This must resolve the issue.
Reboot the router
I use a TP-Link router which performs really good but sometimes, I just cannot access the internet while connected to the router. Later, I found out that the router might have gone overloaded since it is usually turned on for days without turning it off which there are of course other issues included such as the router is not functioning well or if the signal is not strong enough thereby not allowing the user to access the internet. Thus, the way around to this problem is to simply turn off the router, probably switch it off and wait for few minutes before restarting it.
Toggle Airplane mode
Although let's not dig into how it works but airplane mode is known to resolve the majority of network issues may it be cellular or wifi, etc. Pull down the notification tray, tap on the airplane mode icon and all incoming/outgoing networks will is restricted. This gives the phone a window to fix any temporary glitch that might have occurred whilst you were using the wifi. To try it out, simply tap on the airplane mode to enable it and wait for few moments before turning it off. Now, tap on wifi to enable it and bingo, it's done. Check for yourself if the wifi connection is restored or not.
Check if there are any intermediate issues with Wifi
Can't access the internet even when connected to a wifi network? Check if there is an intermediate issue with the wifi router that you signed up for. The easiest way to verify it is to use a different phone to connect and use the internet if it works, there's something wrong with your phone but it isn't working, it is probably an issue with the service provider. Give them a call and they will look into the matter and fix it as soon as possible.
Distance matters
If you think that the internet is poor or slow, check if you are at the optimum distance the router is capable of performing optically. You can use the app called Wifi Analyzer that allows you to check the strength of a wifi router. Strength is 100% if you stand just near the router but it reduces as you move ahead and suffers a lot of attenuation due to obstacles like walls, doors, etc. You can even find sweet spots for using your phone at your home or office without any hassle. Listen, the distance between the router and your device and the obstacles between these two units could make or break the wifi connection and internet speeds so take care of it.
Remove few saved networks
Since wifi is far cheaper than mobile data in most countries, people cling to wifi as it allows faster downloads, browsing and more without denting on the pockets. Now that wifi can be found everywhere, you might have a lot of networks saved causing the phone to register to a new network or an old network as well. Simple as it sounds, delete a few saved networks by diving into 'Settings >> Wifi >> Saved Networks'.
Forget and reconnect
If the phone is unable to register to a network even though the password you entered is right, you can simply forget it. Now that you forgot it, it will be displayed under the list of available networks wherein you can tap to connect by entering the password and voila. Although this technique wouldn't work if you don't know the password but it works on all known networks and password-free networks.
Alter AP frequency
By default, both our phone and the router use 2.4GHz AP frequency which is something that has become saturated due to a humongous surge in usage across different electronic devices and appliances in a short bandwidth. There is a new band i.e. 5GHz AP frequency which has a broader bandwidth and allows faster, quicker, and obstruction-free transmission across a large number of devices and appliances. You'll need to tweak the frequency both on your phone and the router using the 'Settings >> Wifi' and 'Control Panel' respectively.
Update the firmware of the router
Your router works with the help of a firmware/software. Since it is a software, it is bound to receive updates and could get outdated as well. Although in many cases, the router will automatically update itself, you can intervene by checking out the available updates on the router's manufacturer's website and install it. This must potentially fix the Panasonic wifi problems on your phone asap.
Wipeout cache memory
Cache files could cause a lot of trouble thanks to their vulnerability to get corrupted and therefore, it is recommended to clear cache memory as and when you move. There are several ways you can opt to clear files. Automatically, you can download apps like CCleaner, Avast Clean Up, etc to delete all cache files right away. Further, you can use the manual methods by diving into 'Settings >> Storage >> Cache Memory' and/or 'Settings >> Apps >> Downloaded >> Click on apps individually >> Clear Cache'. Finally, you can boot into the recovery mode using the power button and both volume buttons when the phone is rebooted and deploy 'clear cache partition' to wipe all the residual cache files available on your device.
Install a wifi range/signal extender/booster
Are you living in an area that has a poor wifi connection or a place away from the router? You can install a wifi range extender which is an investment that will pay off since the equipment actually amplifies the signals and strengthens the network in the long run.
Get help from the service center
Since smartphones aren't that easy to understand and that this marvelous unit of engineering comprises of both hardware and software components. So it is plausible that one or more component has gone haywire or damaged. Locate a nearby authorized service center and report about the wifi problems and get it to sort out. Note that it may involve paying a certain amount as repair charges if not covered by warranty but as long as you are with an authorized center, you can expect a warranty on your device for the said period.