Oppo has launched Realme 2 at the price of Realme 1 in August 2018. This is a great leap from Realme 1 as it comes with dual camera support and waterproof display. However, this is not enough to convince customers to buy their phones these days. Since the device is in the budget segment, more people have eyes on this device. So they want to know whether this device is completely waterproof and dustproof or not. Since there aren't any official IP68 waterproofing ratings for this device, so we here at Getdroidtips will be testing it out for you guys. So let's begin with our Oppo Realme 2 Waterproof and Dustproof test.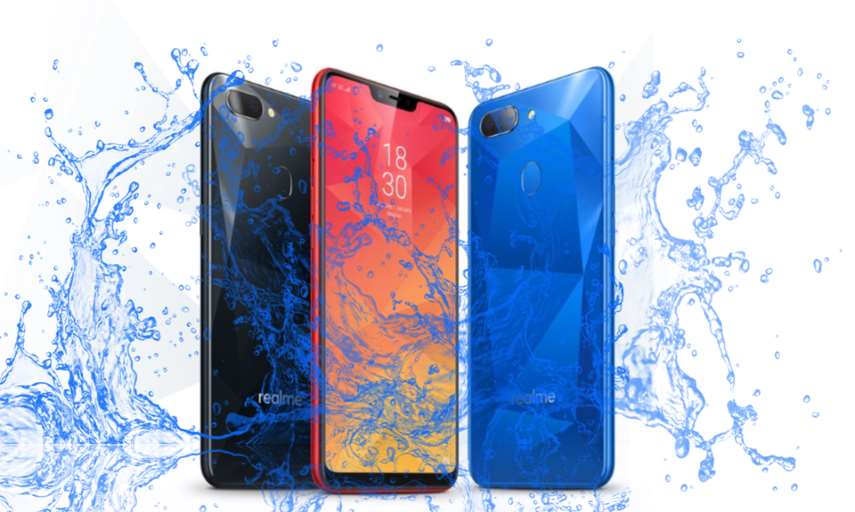 Before starting with our Oppo Realme 2 waterproof and Dustproof test, let's get to know some of its specifications first. Realme 2 offers a great bunch of specs to it customers it comes with a 6.2-inch waterdrop display with a resolution of 720 by 1520 pixels. This translates to 271 PPI resolution which is quite good considering this price segment. Realme 2 comes with  1.8 GHz octa-core processor coupled with 3GB of RAM. You have 32GB of onboard storage which you can expand with an external microSD card. Talking about the camera department, it is having a dual camera setup. The primary camera housing a 13MP sensor and 2MP sensor capable of taking nice portrait shots. You also have an 8MP selfie shooter for your beautiful selfie.
Oppo Realme 1 waterproof and Dustproof test
In this test, we are going to check whether this device is waterproof or not. Since there are no official IP68 ratings so its hard to tell. But as the previous Realme 1 was splash proof in our tet, this might be waterproof and dustproof for real. So let's see.
Also read: Is Oppo RealMe 1 Waterproof device to buy today?
The waterproof test comprises of different types of test which includes water. So we are going to take a couple of tests to figure out whether this device is waterproof and dustproof or not. So let's start!
Splash Proof Test
In Splash proof test, we will test the device to withstand an accidental water splash. This will tell us whether the device survives in such condition. Since there aren't any official IP68 ratings for the device, so it might or might not pass the test. So when we subject Oppo Realme 1 to artificial water splash, the device seems to work fine. Even the screen tries to deflect water droplets thanks to its oleophobic coating.
Rainwater test
In this test, we are going to suspend the device in artificial rain environment. This also mimics the showering conditions as well.
Also read: Did Xiaomi launch PocoPhone F1 with Waterproof specs?
After testing the Oppo Realme 1 in artificial rain condition, we observed that the device does not show any signs of damage. So this means that users can use this device to talk to their loved ones in rain or humid weather.
Washing Test
In this test, we are going to wash Oppo Realme 1 with running tap water for 1 minute and check whether it survives or not. This will help us verify that this device is waterproof or not.  After performing the washing test, the device seems to be working. There are no signs of water damage to any component of the device.
I/O Ports Water Test
In this test, we try to check whether the water will go inside Oppo Realme 1 or not.
| | |
| --- | --- |
| Power & volume rocker buttons | Works |
| Any other I/O port damage | None |
| Charging Point | Works |
| Touchscreen | No damage |
| Earpiece & Mic | Works |
| Speaker | Working fine |
Dustproof Test
In this test, we will keep the device in a sandy environment with lots of grain and sand particles with a running fan around it. This situation mimics dust storms and will check how the device holds in such conditions.
Also read: Top 10 Features of Android 9.0 Pie Update
After the dustproof test, no dust was found in the internal parts fo the device. This shows that indeed his device is dustproof.
Final results
After all the test, we come to a conclusion that the device is indeed waterproof and dustproof.
| | |
| --- | --- |
| Official IP ratings (waterproof ratings) | Not found |
| Splashproof test | Passed |
| Rainwater test | Passed |
| Washing test | Passed |
| Dustproof test | Passed |