In this post, we'll tell you how to record WhatsApp calls on Android and iPhone. With 5 Billion installs & 1 Billion daily active users, WhatsApp is possibly the biggest Instant Messaging (IM) app ever. One of the best features that it offers is the option of voice calling.
Since WhatsApp voice calling works over the Internet, it is very reliable when compared with the normal calls that may face drops, voice clarity or other issues from time to time. As working professionals, recording calls is something that most of us do – mostly to keep a record of calls that might prove useful in the future.
Now, recording normal calls is pretty straightforward – you can either use the built-in method that some manufacturers provide or you can go for one of the many third-party call recorders. But, the same is not the case with WhatsApp calls as the company doesn't provide any official option & almost all the third-party apps are tacky at best.
Now, we are not saying that there's no way to record WhatsApp calls. It's just that, the process for both Android and iPhone varies greatly, requires a lot of work, and might not even work in the end. So, are you still up for it? Let's get started then.
How To Record WhatsApp Calls On Android?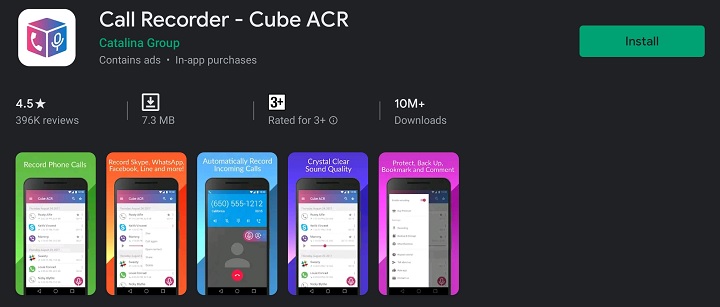 Honestly, there are not many ways you can record WhatsApp calls on Android. One method that we found working without any issues is using a third-party call recording service called Call Recorder – Cube ACR.
The bad news, here, is that the app isn't supported on all Android devices. In fact, before you begin the process, go through this list of devices that Cube ACR could work on. If your device is not on the list, there's a very high chance that it might not work for you.
If you have a device that's listed in the Google spreadsheet, follow these steps.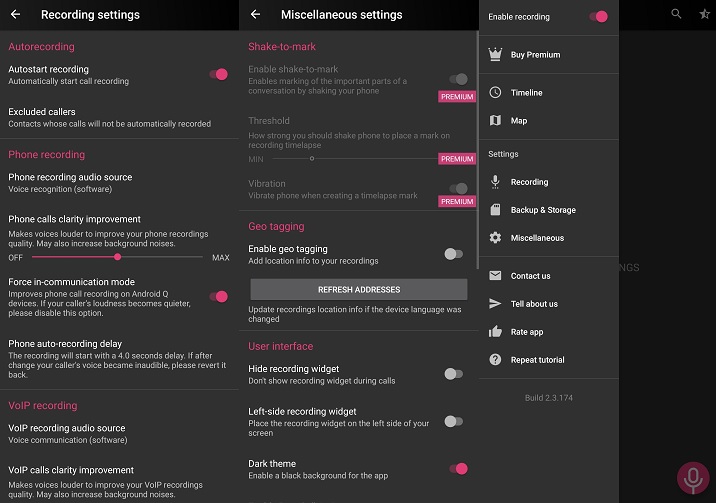 Go to the Play store and search for Call Recorder – Cube ACR. Install it.
[googleplay url="https://play.google.com/store/apps/details?id=com.catalinagroup.callrecorder&hl=en_IN"]
When it's installed, launch the app & grant it all the necessary permissions it asks for like drawing over other apps, access to the phone, contacts, etc. These permissions are used to give you a smooth performance so that you don't face any error while the app tries to detect incoming & outgoing calls.
Once done, it will ask for access to the accessibility service to make sure your phone supports VoIP call recording – Voice over Internet Protocol. If you don't see the prompt, it means that your phone doesn't support this feature.
Now that everything's done, you'll see a list of calling apps that are compatible with this app like Phone, Facebook, Skype, Telegram, WhatsApp, etc.
Next, open WhatsApp and place a voice call. If the app's working, you'll see a pink-colored widget on the calling screen. Now, all your WhatsApp calls will be recorded automatically as soon as you pick them up.
If the recording seems weird or you can't hear the callers voice, head to the ACR app, open the Recordings section, scroll to the bottom, and enable Force in-call mode. With this enabled, the app will treat VoIP calls as regular calls, due to which you'll be able to record the caller's voice without any issues.
Well, this process is fairly easy but depends on the smartphone model to work effectively.
An alternative for this could be rooting your device & using apps like SCR Screen Recorder from XDA. With this, you can record system audio like calls as well as in-game audio.
It goes without saying that rooting your Android device comes with its advantages and disadvantages. Just be one hundred percent sure before proceeding.
How To Record WhatsApp Calls On iPhone?
iOS is pretty strict when it comes to the privacy of its users; that's why there's no official or direct method to record WhatsApp calls on an iPhone. However, there's a workaround.
The technique I am about to tell you requires work and patience. Moreover, you must have a Mac, an iPhone, and a secondary phone with an active WhatsApp account. The secondary device can be anything as long as it can run WhatsApp.
With the help of a data cable, connect your iPhone to a Mac and give necessary permission by taping "Trust this computer".
Open QuickTime and click on the File menu.
Next, choose "New audio recording" from the menu, select the connected iPhone as the source, and click on the record button.
Now, using the iPhone, call your secondary phone.
Next, with the help of a group calling feature, add the contact you want to talk to. Continue the conversation like you normally would.
Once the conversation is over, stop recording on QuickTime and save the audio recording to your Mac.
Note: Make sure that the iPhone is connected to the Mac at all times. Plus, all the contacts should be active in the group call (including the iPhone). If a caller disconnects, the call recording will stop.
Wrap Up
As mentioned earlier, recording calls on WhatsApp is tricky and doesn't guarantee one hundred percent success every time. If you're convinced that recording a WhatsApp call is important, give the methods a try.