It is not uncommon for smartphones to experience occasional glitches and bugs. Even the most popular and well-reviewed devices are not immune to these issues. One such problem affecting some users of the Redmi Note 11 is that their phones have been rebooted automatically.
This can be extremely frustrating, especially if it happens when using an app or in the middle of a phone call. Well, don't worry because we are here to help. If you are a Redmi Note 11 user, you might have encountered a few problems with your device. One of the most common problems the users face is their phone rebooting automatically. While several things can cause this problem, there are some things that you can do to try and fix it.
Why is the Redmi Note 11 Rebooting Automatically?
Before we get to the solutions, let's understand why the Redmi Note 11 keeps rebooting automatically. There could be many reasons why your Redmi Note 11 might be automatically rebooting. Here are some of the potential reasons why.
A corrupt software update
Hardware problem
Battery issues
Besides these, there could be many other reasons why your Redmi Note 11 keeps rebooting automatically. Thankfully, you can fix this issue for the most part. Let's see how.
Fix Redmi Note 11 Rebooting Automatically Issue
While there are a couple of reasons behind this issue, it's most likely due to a software issue. However, as we discussed earlier, there could be other reasons too. There are a few things you can try to fix the problem:
Check for Software Updates
The new software update might contain a fix for the reboot issue. Most Redmi users don't update the latest software version, which is the main reason for starting problems in devices. Do the following steps to update your latest version of the software.
1. Go to the Settings app on your phone.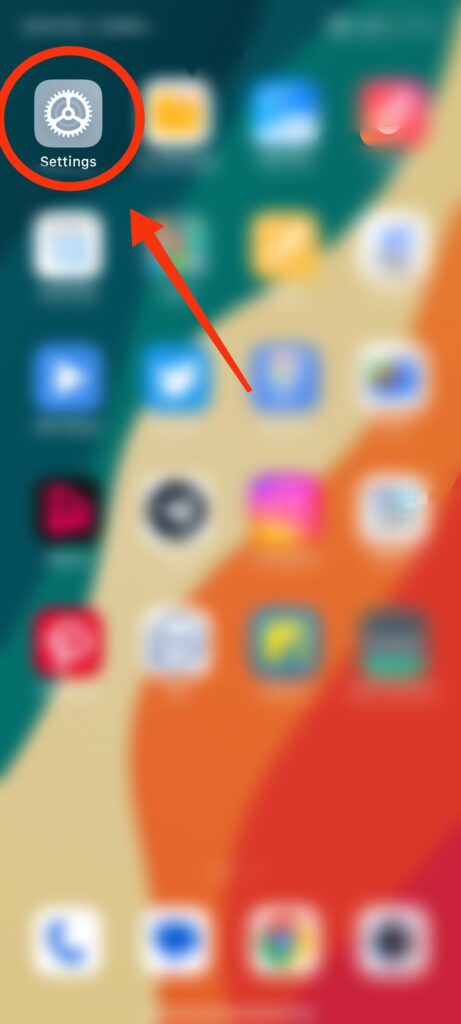 2. Now go to System and tap on About phone.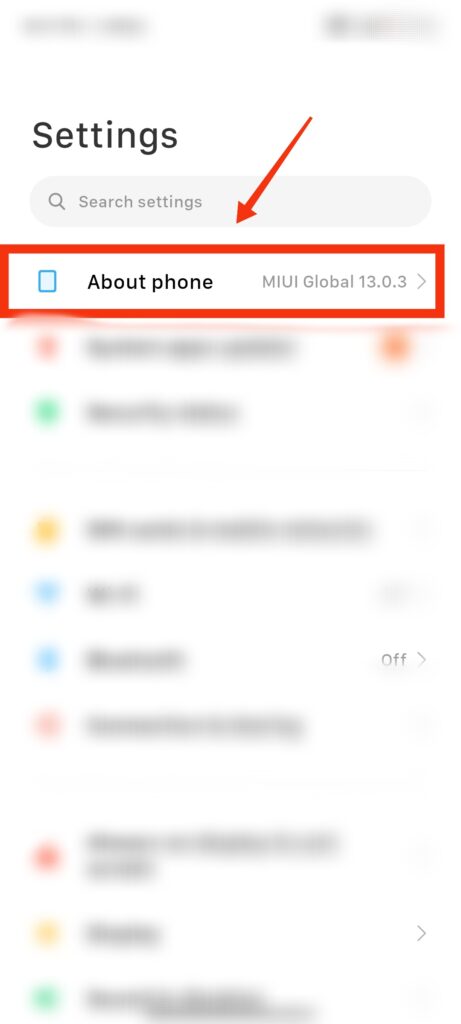 3. Check for System updates.
4. If an update is available, follow the on-screen instructions to install the update.
Hopefully, updating the latest software version will help you resolve the automatic reboot issue on your Redmi Note 11. However, if the issue persists, move down to the following solution.
Update your Apps
App updates are necessary for all devices, which makes the device faster and smoother. Most Android users who don't update their apps frequently enough are facing this issue. This is because outdated apps can sometimes cause problems. Make sure all the apps on your phone are up to date. To update the apps, you need to follow these steps.
Open Google Play Store on your phone.
Click on the profile icon on the top right.
3. Now, tap "Manage apps and devices."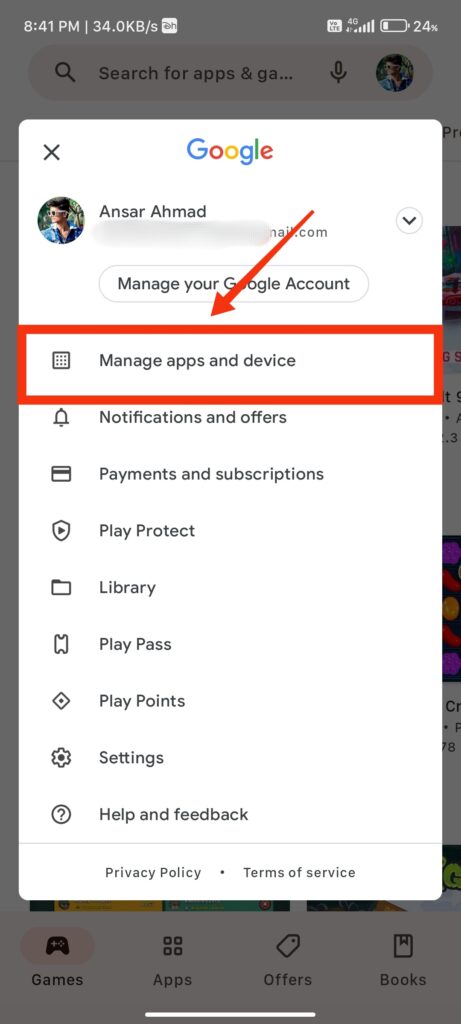 4. You will see the updates option, tap Update all.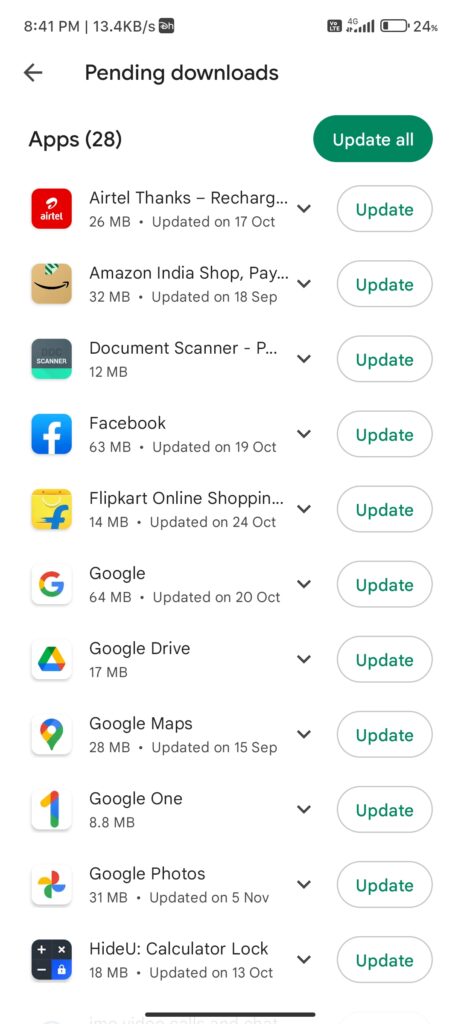 5. Once all the updates are done, restart your device, and you should be ready.
Free Up Storage Space
Insufficient storage space can also lead to such a problem. If you use one of those 64GB models, this can be an issue. You must free up some storage space on your smartphone to tackle this.
To free up storage space on your Redmi Note 11, go to Settings > Storage. Here, you will see how much space is being used and how much is available. If you see that there is not a lot of space available, try deleting some unnecessary files or apps. You can also try moving files to an SD card if you have one.
Safe Mode
Additionally, you can try Safe Mode on your phone. If your phone is rebooting automatically, try restarting the phone in Safe Mode. In Safe Mode, only the essential apps and services are loaded. If the problem doesn't occur in Safe Mode, it's likely due to an app. To exit Safe Mode, restart your phone.
Factory Reset
In the end, if nothing works out, you can try to factory reset your device. However, this will erase all your data, so back up your files first. To factory reset your phone, you need to follow the following steps.
Open the settings app on your phone.
2. Scroll down, tap System and then select Reset.
3. On the next page, select Erase all data and tap Continue.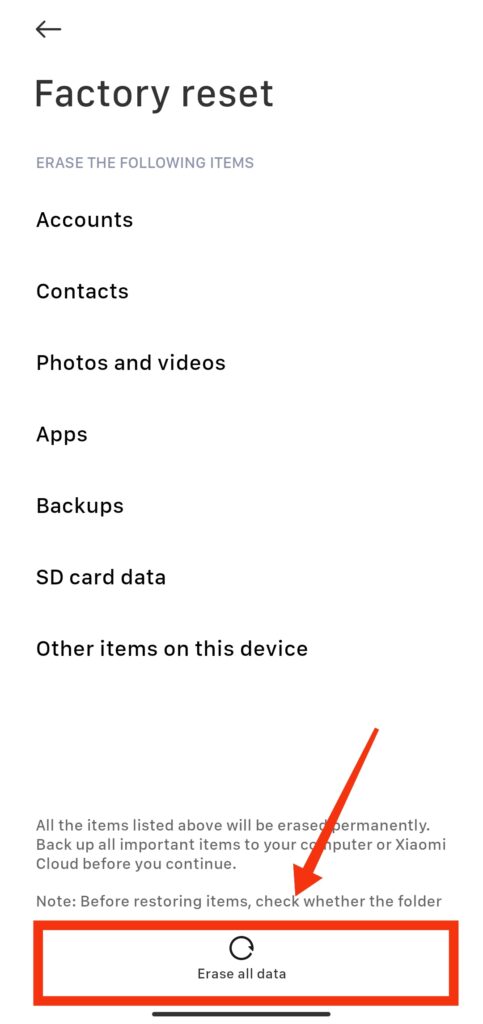 4. Lastly, tap OK, and you're done.
The factory data reset will erase all your data from your device and, hopefully, resolve the rebooting issue on it.
Contact Xiaomi Support
If you tried all the following steps and are still rebooting, you may need to take it to your nearest Xiaomi service centre to get it fixed.
Conclusion
Well, these were some of the best solutions to fix the problem of Redmi Note 11 rebooting automatically. We hope that this article helped you and you were able to fix the problem. If you have any further queries or suggestions, contact us via the comments section below.