While Xiaomi Redmi Note 7 users wait for the Android 10 update for their devices, the handset has been recently spotted running Android 11 on a Geekbench listing. Notably, Xiaomi is expected to bring us the MIUI 12 which will be based on the Android 11 update. Google has recently made the Android 11 (Android R) Developer Preview 1 live for the devs to make their apps and games compatible for Android 11. Moreover, there are tons of new features and enhancements that Android 11 brings in for the devices.
However, for the Redmi Note 7 users, the Android 10 update is available as beta but the stable update is yet to seed for the device. Talking about the device, it was launched back in January 2019 and packs in Snapdragon 660 paired with 3-6 GB of RAM, offers up to 128 GB of onboard storage. It also sports a 6.3-inch display and in the camera department, it has a dual-camera setup with 48MP main shooter. For the selfie camera, there is a 13 MP lens as well. It is juiced up by a 4000 mAh battery.
Talking about the Geekbench listing, readers should note that the Android 11 update is unlikely for the device for the time being and everything related to it should be taken with a pinch of salt as the Redmi Note 7, was previously spotted running Android 10 on a Geekbench listing. Since there is limited information about the Android 10 update and another Geekbench listing showcasing the device running Android 11 (Android R) seems kinda weird.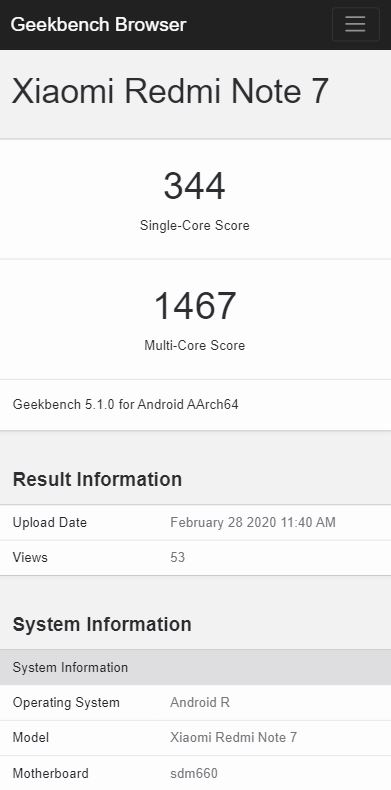 Anyone with some knowledge about rooting and modding can do this so, there is no confirmation about this source. As per XDA Developers, a simple tweak can exaggerate the Geekbench results and result in such fake numbers. However, we cannot prove anything until something concrete comes up about this development for the Redmi Note 7. We will keep you in the loop once we have more information in this regard.