After the introduction of Android Operating Systems from Google we can observe the shift in Mobile and communication technology and after back to back releases of its various upgraded versions with year Android has captured the worlds mobile phone market and has also evolved from phone to other devices like smart Watch and televisions also we can see that high tech smart vehicles also use Android OS for many different purposes. In this guide, we will help you to Remove Carrier Label and Add More Animation Scale on Galaxy S8.
Talking about its interface we have also seen many drastic changes with time and every smartphone company is investing the real good amount of money and time in making their Interface to look pleasant and more technical with advancement and flexibility in making more user-friendly.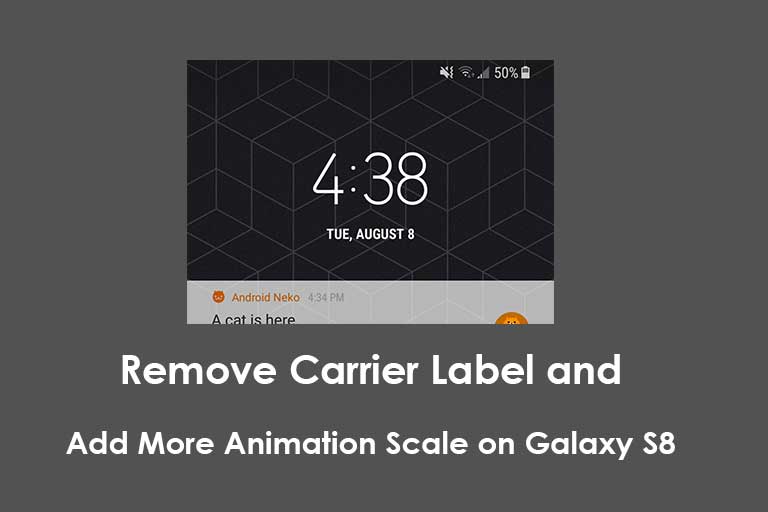 How to Remove Carrier Label and Add More Animation Scale on Galaxy S8
Samsung the pioneer in making android phones has really vast and large number of users across the world and also Samsung smartphones are very user-friendly and easy to learn for an even averagely literate person. After the release of Galaxy S8 with a numerously large number of advanced features it won many hearts and been loved by many user and tech enthusiasts.
But after a certain amount of time, we need some upgrades and want some customizations in the looks of our handset.
Samsung also has started working on overlays since few months and thank god for the support of Runtime Resource Overlay (RRO) and the company also started working on OMS Overlay Manager Service, which is a client that manages overlays that allow providers to dynamically control priorities and enable and disable overlays. OMS has been included in AOSP and will appear in Android O.
And in this article, we will be telling you the methodology to remove carrier label and add more animation scale on Galaxy S8.
Download Files
First of All, you need is to download to android package files links of those are provided below:
After downloading the above-mentioned files install them by tapping on them each one by one.
After installing these files overlays should work properly automatically but in case it doesn't, restart the device.
As these overlays are very general and simple you will not get any settings and application to tackle with and it will work itself and you will not see any further carrier name on your Status bar. If you want to see the animation scales (and maybe change too) just go to Settings > Developer options and scroll down to the Drawing section.