In this guide, we will outline the steps to remove Facebook bloatware from OnePlus 8, 8 Pro, and Nord. Bloatware is nothing new in the Android ecosystem. Although the number of these apps might vary from OEMs to OEMs, they still manage to take a permanent abode on near about every smartphone. However, not everyone seems to be a fan of these pre-installed apps.
Although it doesn't take much toll on your device storage, the entire notion of making these pre-installed apps as system app infuriates the userbase, and rightly so. The issue then with these system apps is that you cannot uninstall them like a normal app.
At most you could just disable them but they will still be on your device, with some of its related services may be running in the background as well. So this leads to two issues, the first and pretty obvious one is the battery drainage. The second and more concerning one is about the user's privacy since these apps might be collecting data for various purposes. In this regard, OnePlus' OxygenOS was known to provide a bloat-ware free experience, with just its own set of apps like Community installed.
However, it seems they too have taken the route that might not be liked by many. The OnePlus 8, 8 Pro, and the recently released Nord all come with the Facebook app preinstalled. Considering the shady privacy records that the social media giants come with, there is no second guess that some users might wish to get rid of them in the first instance. And if you echo these thoughts as well, then you have come to the right place. Today, we will show you how to remove Facebook bloatware from OnePlus 8, 8 Pro, and Nord.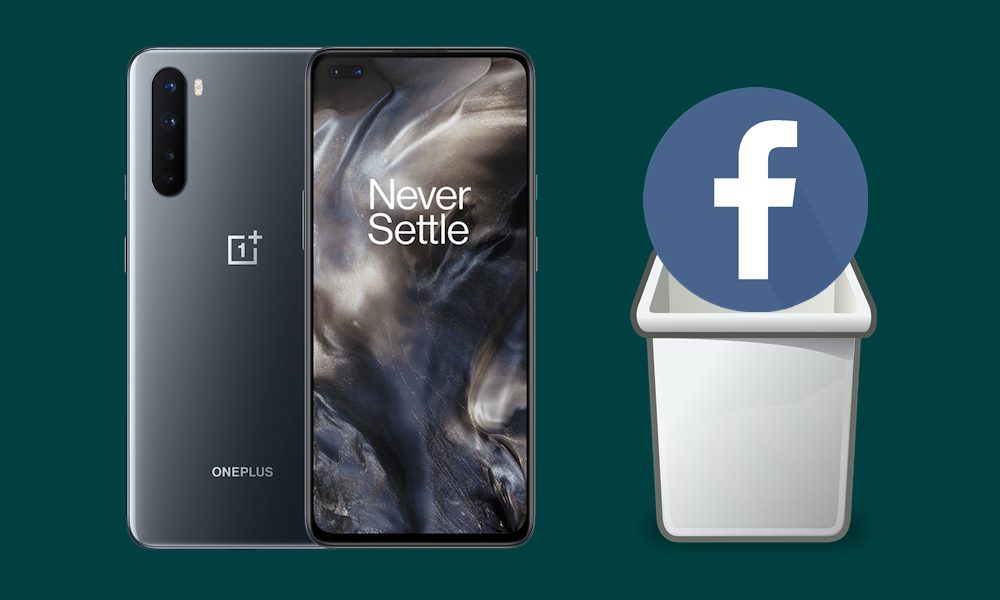 How to Remove Facebook Bloatware from OnePlus 8, 8 Pro, and Nord
So here is the thing. Even if you are able to uninstall the Facebook app the normal way, there isn't plenty to cheer about. This is because there are three additional services of Facebook that is still present on your device and being treated as the system app. These are the Facebook App Manager, Facebook Services, and Facebook System. And these three apps couldn't be uninstalled the normal way.
However, there is still another pretty nifty workaround to get rid of these apps. We would only be making use of ADB commands and there will be no involvement of the root. So with that said, here are the steps to remove Facebook bloatware from OnePlus 8, 8 Pro, and Nord. Before proceeding with the steps, make sure to go through the below requirements section first.
Prerequisites
To begin with, download and install the Android SDK Platform Tools on your PC. This will provide the necessary ADB binaries.
Next up, enable USB Debugging on your OnePlus device. This will help your PC in successfully identifying your device in ADB mode. So for that, head over to Settings > About Phone > Tap on Build Number 7 times > Go back to Settings > System > Advanced > Developer Options > Enable the USB Debugging toggle.

That's all the requirements. You may begin with the steps now.
Steps to Remove Facebook Bloatware
Connect your OnePlus device to PC via USB cable.
Head over to the platform-tools folder, type in CMD in the address bar, and hit Enter. This will launch Command Prompt
Type in the below command and if you get an alphanumeric string then it indicates a successful connection on ADB mode:

adb devices

You will now have to get the shell permissions. For that, the following command will come in handy:

adb shell

Now execute the first set of commands to remove the Facebook App Manager app from your OnePlus device. Upon successful execution, you should get the Success message:

pm uninstall -k --user 0 com.facebook.appmanager

Then use the following commands to remove Facebook Services:

pm uninstall -k --user 0 com.facebook.services

Finally, type in the below command to uninstall the Facebook System

pm uninstall -k --user 0 com.facebook.system
With this, we conclude the guide on how to remove all the Facebook bloatware apps from your OnePlus device. If you still have any issues concerning the above steps, do let us know in the comments section below. Rounding off, here are some iPhone Tips and Tricks, PC tips and tricks, and Android Tips and Trick that you should check out as well.