Apple has recently updated its iPad Pro and Air lineup sign with a significant jump in their processing power. The iPad Air comes with the A13 Bionic, the one we see on the latest iPhone 13 lineup. And the iPad Pro received an update to the Apple M1 chip, the one we see on Macs. So with processing power close to a PC, one might think if an iPad is now good enough to run a full-fledged PC operating system on it.
A popular PC operating system that has a wide user base is Linux. Programmers prefer to stick to this operating system as it is friendly for programming compared to a Windows PC. So many might wonder can the Apple iPad run Linux on it? It has the processing power for it, but is it enough? Let's discuss it in this article.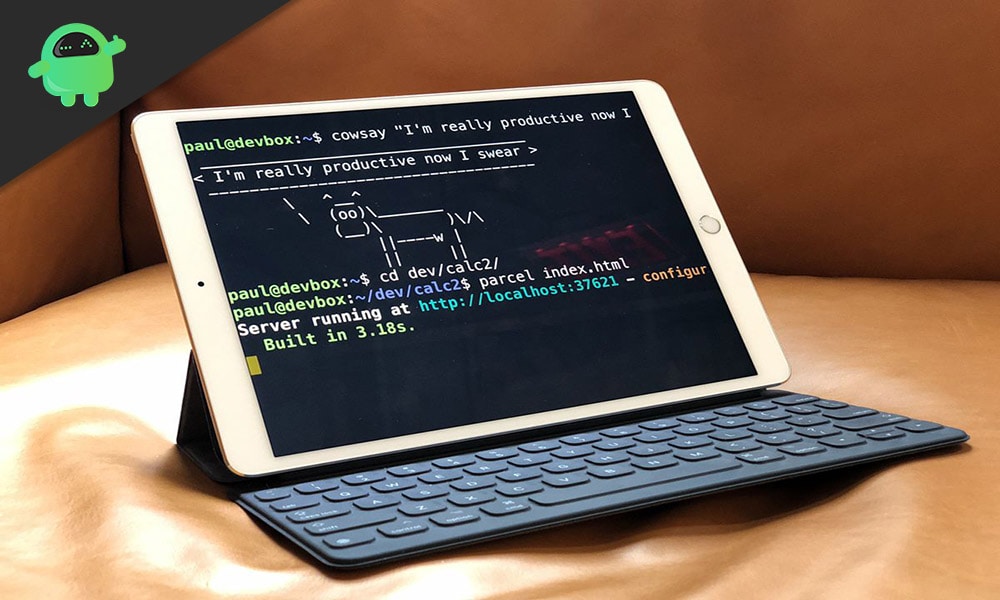 Can I Run Linux On iPad?
If you use your Apple iPad as your primary mobile computing device, then you might want to try something other than the built-in iPadOS to improve your experience. One particular OS that is great for developmental purposes is the Linux operating system. And on the Apple iPads, you can run Linux. But there is a process to it. Let's take a look at how one can run Linux on their iPads in this article.
Pre-Requisites:
There are some requirements for running Linux on an iPad.
You Must Run the Latest iPad OS version:
The VM emulator, which runs Linux on iPad OS, requires the latest version of iPad OS to function properly.
Supported on A12 Bionic chip:
The Emulator also works properly on iPads that have the A12 Bionic chip or later. An older chip might be able to run Linux too, but it won't work for everyone.
Charge Your iPad to 100%:
Before you go ahead with the process, you need to charge up your iPad to 100%. This is to ensure that your process does not get halted in between.
Need Windows 10 or macOS PC:
For this process, you will need a Windows 10 or macOS PC to perform the initial installation. It would be best if you had the latest iTunes installed on your PC. And you will also need the Apple iCloud installed on your computer.
USB Cable:
To connect your iPad to your PC, you will need the USB cable you received with your iPad.
Installing Alt Store on Windows:
Firstly, you will need to install Alt Store on your iPad. It is a free application that works as an alternative app store. You can use this application to sideload Apple app files to your device. But there is a catch to it. To keep using the Alt Store and the apps sideloaded with it, you need to keep enabling the alt-store and the sideloaded apps, again and again, every seven days. You can choose to pay for an Apple developer account that will allow you to use the Alt Store freely without reloading it repeatedly every week.
To install the Alt Store on your iPad, you first need to head over to Alt Store's official website on your PC's browser. On the website, you will see the option "Download AltServer for." Click on that option and then choose Windows(if you are using a Windows PC) or macOS(if you are using a Mac).
After the download is complete, launch that downloaded file to install AltServer on your computer. Once the installation is complete, you can move ahead to the next step mentioned below.
Use AltServer to install UTM:
For running Linux on your iPad, you will need UTM, a virtualization tool designed for Apple users. It can be used to run most types of operating systems on Mac/iOS/iPad OS.
To install UTM on your iPad, you need to download the UTM IPA file and then use Alt Store on your iPad to load it on your iPad. Once it is loaded up, you can run Linux on it. To download the UTM IPA file, click here. You need to download and store this file on your iPad.
Instructions to Install:
Before going ahead with the installation, connect your iPad to your Windows PC or Mac.
Unlock the connected iPhone and tap on "Trust" to trust your connected machine.
After this, launch the AltServer that you have installed on your computer. It will show up in the system tray icon in the bottom right corner of your screen.
Click on that icon and then click on the "Install Alt Store" option to install the Alt Store on your iPad.
Once the Alt Store is installed on your iPad, you need to trust this app on your iPad. For that, navigate to Settings > General > Device Management. Here, tap the Alt Store app and select Trust.
While your iPad is connected to your PC, open up the Alt Store app on your iPad and select "My Apps." Then tap on the + icon in the left corner.
Now, select the UTM file that you have previously download on your iPad. The UTM installation process will now initiate. This installation might take a while, so be patient and do not disconnect or turn off your iPad while it is going on.
Once the UTM is installation is done, it is now time to get Linux working on your iPad.
Open up UTM and tap on the "Browse UTM Gallery" button to view the pre-configured Virtual Machine for iPad. Look for the one that you like, and then download it to your iPad.
Now open up the Files app on your iPad and extract the ZIP file. Now, open up the UTM file you see on your iPad OS Files app and wait till it automatically imports into the UTM VM application.
Once you are done importing the VM, tap on it to start it up. You will notice Linux running on it.
If you are using an old iPad, then stick to download a light version of Linux to avoid complications. And you will have to re-enable the Alt Store every seven days to keep using Linux on your iPad.
So this is how one can run Linux on an iPad. If you have any questions or queries about this article, then comment below, and we will get back to you. Also, be sure to check out our other articles on iPhone tips and tricks, Android tips and tricks, PC tips and tricks, and much more for more helpful information.