Saints Row is a famous series of video games packed with action and adventure related to the 3rd Street Saints. It's a street gang that originally operated in the Saints Row neighborhood. This fantastic series revolves around driving and shooting in most gameplay with occasional role-playing rudiments. Insurance Fraud is a minigame of the Saints Row franchise.
There are 4 types of Diversions in Saint Row 2: Collection, Jobs, Stunts, and Minigames. Before a player can get overrun and earn his stack of cash in Insurance Fraud, he must unlock this Minigame first.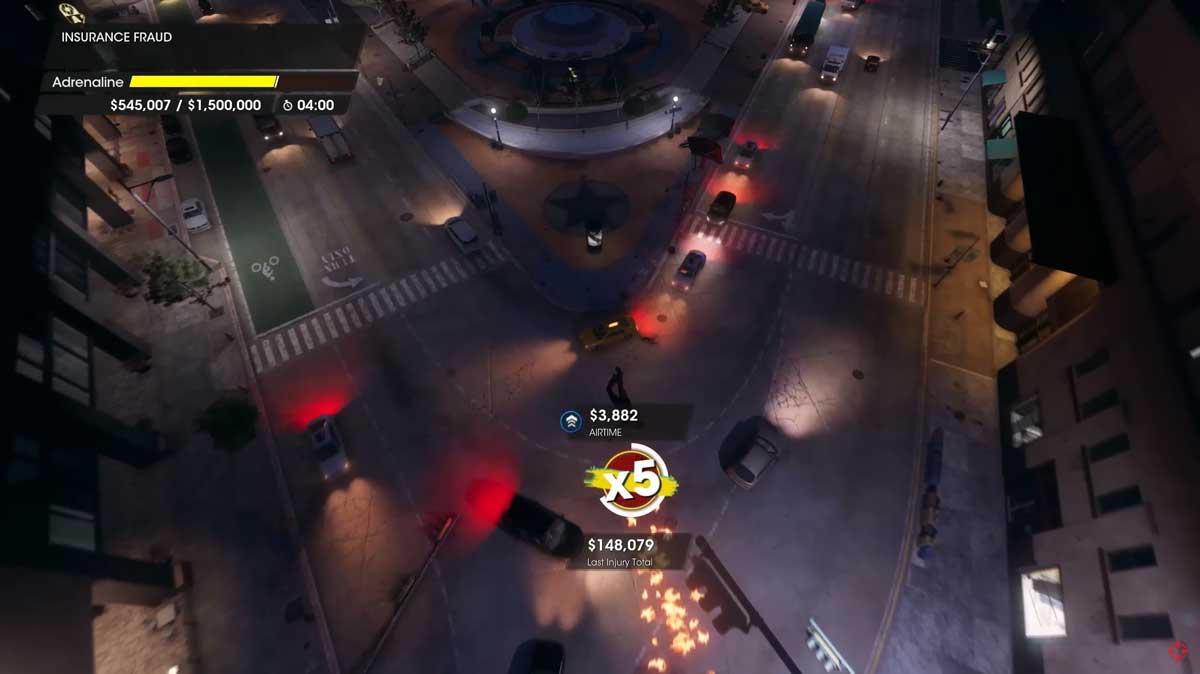 Overview of Saints Row 2022 Insurance Fraud Minigame
Insurance Fraud has been a tradition since the first Saints Row game, and the side activity rightfully makes a comeback in the recent reboot. The goal of Insurance Fraud is pretty simple in the Saints Row game. In the gameplay, your goal is to commit the most injury to yourself to earn the specific amount of money for that level.
Several conditions affect the score like a fall, witnesses, distance, the number of cars crashed, and also whether those witnesses/vehicles are government owned. Each motioned factor earns you a bonus or multiplier to the existing score.
For example, you walk into traffic on the map and try to get hit by a car to eventually earn the particular amount of money specified as per the severity of your hostage physics-fuelled collision. Players can increase their earnings via hangtime bonuses by hitting multiple vehicles simultaneously without splatting on the ground.
The Process to Unlock the Saints Row Insurance Fraud
You can unlock the Insurance Fraud Minigame within the first few hours of the game if you make the right decisions in the primary stages. As you progress through the Saints Row primary missions, you will eventually be tasked with creating contacts to help build the Saints' criminal empire.
How does Mission Networking work?
The mission is named "Networking," and this mission takes you to a local garage owner named JimRob or JR. He willingly joins forces with the Saints, but you need to deal with a member of Panteros' gang, who is harassing him. Once you complete the mission with JR, you need to enter the Saints' home base.
In the Home Base, you will be introduced to the Criminal Empire Table, and you need to build various ventures to fill the empty lots. There you can choose any location from the three available fronts, viz. Chupacabra, Bright Future, and Shady Oaks.
Each of these buildings is linked to a special minigame, and you need to build Shady Oaks to start insurance fraud. Once Shady Oaks is up and running, the game takes you through a short loading screen. You need to talk to the NPC outside, Tamira, to unlock your first Insurance Fraud location.
Completing this mission in the first location will unlock more locations on the map, so be sure to check the map after completing it for the first time. Here we will mention the details of the Insurance Fraud location and the contacting characters.
Locations Guide of Saints Row Insurance Fraud
1. Los Carnales
Location: Cecil Park, Barrio District
Contact: Dr. Raymond Gonzales
Rewards: Safety with reduced car collision damage, Holistic health regeneration triggers faster
In gameplay, Gonzales shakes Playa's hand in greeting and tells him his name then they both sit down. Gonzales mentions that he has done a lot of counseling for this law firm, and his testimony in court has cost insurance companies millions of dollars. He ensures that he will write a perfectly correct insurance claim. He says that once you put yourself at risk, we all get much richer. It sounds too good to be realistic, isn't it?
2. Vice Kings
Location: Adept Way, Downtown District
Contact: Legal Lee
Rewards: Reduced bullet damage
In gameplay, Legal Lee speaks on phone with Miss Jackson about not walking outside without her neck brace and about the problem she will face in court if someone catches her. After bidding good night to Miss Jackson, Legal Lee hangs up and faces Playa. He wants to know if Playa is looking to put together a court case. Also, he predicts Playa as an enterprising guy and assures him he can come up with something applicable.
3. Westside Rollerz
Location: Chinatown
Contact: Seth
Rewards: Reduced explosion damage
In gameplay, Seth moves towards the degree he has framed on the wall and mentions that he has been working on that bad boy for the last 5 months. Then he sits across from Playa and wants to know what he can do for him. Seth asks if Playa were in a car accident, walking accident, coffee accident, or self-inflicted stab wound accident. He says that Playa's injuries are worth money to both of them and suggests sticking with him to be the richest person in the ghetto.
Locations in Saints Row 2 Insurance Fraud:
1. Amberbrook
Location: Museum District
Contact: Dr. Angie Lucas
Rewards: Level 3- Reduced vehicle damage (5%), Level 6: Reduced vehicle damage (15%)
In gameplay, Dr. Lucas expresses his pleasure to finally meet Playa. Playa asks about the business proposal he mentioned. Lucas mentioned a woman improving in the medical field in an uphill battle and his confidence in her abilities. He insists Playa hurt some people so he can treat more patients. Lucas also asks Playa to fake multiple injuries so he can treat him faster than his normal timing of surgery. He further ensures cheating won't harm his profession.
2. The Mills
Location: Factories District
Contact: Dr. Sheldon
Rewards: Level 3- Sprint increased, Level 6- Unlimited Sprint
In gameplay, Dr. Sheldon wants to know how Playa is doing and tells him that Dr. Raymond Gonzales highly recommended him. He also mentions that he sent Gonzales to jail for an insurance scam with him and alerts Playa of the same fate if he commits the same scam. Finally, he inspires Playa to throw him in front of cars, so they can earn enough money and avoid getting arrested.
Tips to Beat Insurance Fraud Easily
If you want to achieve the best combo, aim for the fastest and the biggest car that does the most damage to your surroundings, including properties and characters. Avoid intersections where nobody cares, and try to get as much traffic as possible, like selecting the spots where cars stop frequently. Don't be afraid to hit the ground as you can get launched at a far distance and spend more time in the air to plan and execute your next big move.
Also, use adrenaline sparingly so that each hit counts as it should. With these tactics, you can hit all the spots you want and succeed perfectly every time. Thankfully, even if you fail once, it's a distraction in the middle of the main story that makes you want to get back into the action and try again to accomplish the mission.
The Bottom Line
We hope this trough guideline will help you earn good money by Insurance Fraud activity in Saints Row, but first, you need to unlock the minigames to play this version. To unlock Insurance Fraud, simply place the Shady Oaks crime venture and complete the associated mission. Try to get involved in long combos, as these earn more money than multiple short combos. Also, you need to keep in mind that adrenaline amplifies momentum, so ragdolling is more effective in mid-leap. Have fun in Saints Row, and you can concentrate on other minigames after you are satisfied with Insurance Fraud activities.