Samsung is doing a great job with the One UI 3.1 update (Android 11) to most of its devices and now it's time for Android 12 on top of One UI 4.0 skin. Currently, Samsung is rolling out the One UI 4.0 Beta 1 update to Samsung Galaxy S21 series devices in selected regions, so if you're interested in it, then you can Download and Install Android 12 One UI 4.0 Beta 1 for Samsung Galaxy S21, S21 Plus, and S21 Ultra from this guide.
Android 12 is fully focused on the Material You design with plenty of visual improvements and feature enhancements. Samsung's One UI 4.0 Beta is based on Android 12 Beta and the development process is still ongoing with the early beta program so that the skin can be improved much better in terms of smoother animations, performance improvements, etc. If you're one of the Galaxy S21 series users, you can check out the Samsung Members app.
Android 12 – Overview
Android 12 is the successor of Android 11 and it's fully featured with huge improvements over privacy apart from a bunch of useful features. Google has done a pretty good job with Android 12 by implementing such a wide range of additions and improvements after such a long time in terms of the design overview or features. Talking about the features, it includes a bunch of features that we've mentioned below.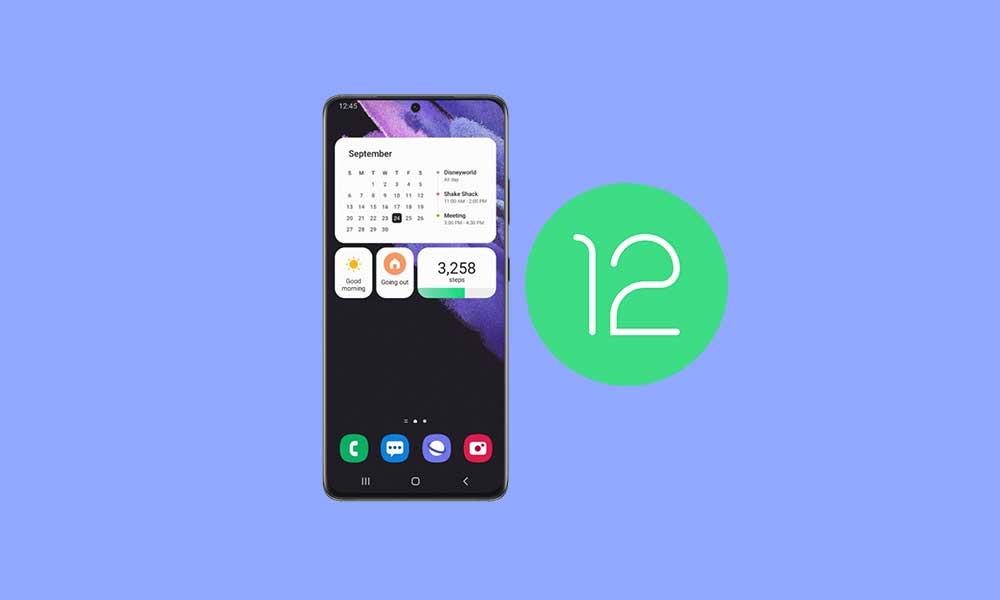 It offers Material You design, dynamic wallpapers & themes, privacy dashboard, improved app notifications, redesigned quick shortcut tiles, app hibernation, car unlock from the device, smoother audio transitions, improved and dynamic widgets, clipboard access alerts, AV1 codec video recording, location-free Bluetooth scanning, updates from alternative app stores, shortcuts API for Google Assistant, Bluetooth LE Audio API, faster auto-rotate, etc.
Additionally, it offers peer-to-peer & internet connection, blocking third-party apps by replacing the share sheet, splash screen API, microphone & camera indicator, conversation widget, revamped power option, shortcuts for wallet & device controls, a quick tap gesture, improved volume panel, enhanced battery optimization settings, improved media player design, status bar indicator for ongoing calls, scrolling screenshots, on-device search, etc.
One UI 4.0 – Overview
Now, talking about the One UI 4.0 update, it also includes most of the native Android 12 features apart from some customized & dedicated features that'll be exclusive for the eligible Samsung Galaxy devices. One UI 4.0 is a successor of the One UI 3.1 version that brings user-requested enhancements and changes from its predecessor.
So, before jumping into the download link or One UI 4.0 Beta 1 for Galaxy S21 series installation guide, check out the features or changelogs below.
One UI 4.0 Update Features and Changelog
Home screen
Home screen widgets have been redesigned to give you more information at a glance while also making your Home screen more stylish. You'll also get recommendations for widgets that may be useful for you.
Lock screen
You can now change the audio output to a different device, such as headphones or a speaker, right from the Lock screen. You'll also get customized controls depending on which music app you're using.
A new Voice Recorder widget for the Lock screen lets you record voice memos without unlocking your phone.
A monthly calendar appears on the Calendar widget to help you keep track of your events from the Lock screen.
Always On Display
You can set the Always On Display turn on whenever you receive a notification.
New animated stickers are available.
Quick panel
Manage your notifications more comfortably with an enhanced layout and an integrated section of alert and silent notifications.
The brightness bar in the quick panel is larger so it's easier to see and adjust.
Dark mode
Wallpapers, icons, and illustrations are now darkened automatically to provide a more consistent look and more comfort for your eyes.
Charging effects
New visual effects appear when you start charging to help you check the charging speed.
Samsung Keyboard
Get to your emojis, GIFs, and stickers directly from the keyboard with a single button. Self-expression is a tap away.
Looking to express something new? Combine two emojis, then add an animation so you can really get your feelings across.
New animated stickers are available for download.
Keep your grammar on point with the new Writing assistant, powered by Grammarly (English only).
Tips
Preview videos now appear when you enter the Tips app, helping you learn everything your Galaxy can do.
Sharing
You can customize the list of apps that appear on the share panel to reduce clutter, and scroll left and right across the lists of apps and people for quicker access.
When you try to share pictures that have problems like poor focus or framing, you'll get suggestions for fixing them so your pictures always look their best.
Camera
Enjoy a simpler, clearer layout with a preview that shows only the information you need. The scene optimizer button will only appear in Photo mode if there's low light or you're scanning a document. Settings for Portrait and Night modes are now more intuitive.
Lens and zoom: See the zoom level on the lens icons for easier zooming, even in modes that only support one lens.
The video that never misses a moment: Recording now starts immediately after you press the Record button, instead of when you release it. In Photo mode, touch and hold the Shutter button to start recording a video. Drag your finger to the Lock icon to continue recording without having to hold down the button.
Single take: Add extra time while recording in Single Take so you don't miss key moments.
After the recording is finished, the content selection menu has been improved to help you easily choose the perfect shots.
Pro mode: Settings have been reorganized for a cleaner look. When grid lines are on, horizontal level indicators help you line up the perfect shot.
Enhanced scan features: After scanning a document, you can zoom in for fine editing. When you scan a QR code, you can choose from several options depending on the type of QR code.
Gallery
Stories now show a video preview on the cover and a highlight video inside. You can also see where each picture in a story was taken on a map.
More options are available for sorting albums that contain lots of photos.
Album covers are now shown at the top of the screen when you open albums.
Search suggestions have been improved to help you find pictures and videos. Recent searches are also suggested.
Remastered pictures can be reverted to their original versions at any time, even after they're saved.
You can now edit the date, time, and location that pictures and videos were taken.
Photo and video editor
Add fun emojis and stickers to your pictures and videos.
Create video collages by combining multiple images and videos from your Gallery.
The new Light balance option lets you edit the tone of pictures more easily.
The Highlight reel editor has also been enhanced to give you even more control.
Revert edited videos back to their original versions at any time, even after they're saved.
Cut out a face, pet, building, or any other object from a photo and paste it onto a different one.
AR Emoji
Use an AR emoji as your profile picture in Contacts and Samsung account. You can choose from over 10 poses or create your own expressions.
New AR emoji stickers that show only your face has been added. Have fun decorating your photos and sharing them with your friends.
Make cool dance videos with your AR emojis. Choose templates from 10 different categories including #Fun, #Cute, and #Party.
Use your own drawings to create unique clothes for your AR emojis.
Multitasking
Pin the window options menu to the top of a pop-up window to make it easier to access.
Easily resize picture-in-picture windows with pinch zoom.
Keep your current app in view while using edge panels. Blurring has been removed to help you see more at once.
Settings
The new Safety and emergency menu let you manage your emergency contacts and safety information all in one place.
Improved search features help you find the settings you need when you need them. You'll get suggestions for related features depending on what you search for.
Digital Wellbeing
Keep your eyes on the road with the new Driving monitor. You'll get reports on how much you used your phone and which apps you used.
Clock
The dual clock widget now shows different background colors for each city depending on whether it's day or night.
Calendar
The new Calendar layout lets you add events instantly. You can also find events more easily with improved search features.
A new Home screen widget shows your monthly calendar along with today's events.
Create shared calendars and invite other Galaxy users to join.
Messages
Photos, videos, weblinks, and other content will now appear in search results in the Messages app.
My Files
Search features have been improved. You can still find the files you're looking for, even if there's a typo.
The Recent files area has been expanded to help you more easily find files you've used recently.
Samsung Internet
Get more search suggestions when you enter text in the address bar. Results will appear with an all-new design.
The new search widget helps you find what you're looking for, right from the Home screen.
To protect your privacy, Samsung Internet will automatically start in Secret mode if you were using Secret mode during your last browsing session.
Device Care
The main screen shows battery and security issues, making it easier to solve problems quickly.
Your phone's overall status is shown as an emoji, helping you check the status at a glance.
Now you can get right to Samsung Members diagnostics from Device Care. If something seems wrong with your phone, try the diagnostic tests to find out what the problem is and get suggestions for solving it.
Samsung Health
A new tab layout at the bottom of the screen helps you access the features you need more easily. The new My page tab shows your profile, weekly summary, badges, and personal bests.
For your gender selection, you can now choose "Other" or "Prefer not to say."
It's now easier to invite your friends to team challenges by sending a link. Additional snacks have been added to the food tracker.
Bixby Routines
More conditions are available for your routines. Start a routine during a call or when a certain notification arrives.
Make your routines do more. You can now turn on Enhanced processing with a routine.
There are also more options for connecting and disconnecting Bluetooth devices.
Reorder actions by touching and holding actions on the edit page. Advanced options have also been added to let you wait before action starts, confirm actions, and more.
We've removed restrictions for some combinations of conditions and actions so you can do even more with your routines.
Create custom icons for your routines using the camera or an image from the gallery.
Accessibility
Perform actions more quickly by moving your mouse pointer to one of the 4 corners of the screen.
Adjust contrast and size at the same time with custom Display mode (High contrast or Large display).
Access accessibility features more quickly with a floating button that's always available.
More visibility options are available to meet your needs. You can reduce transparency and blur or make the screen extra dim.
Set different colors for each app's notifications so you can easily determine where notifications are coming from.
The Magnifier window has been merged with the new Magnification menu, giving you more options and more control for magnifying content on the screen.
Privacy
See which apps are accessing sensitive permissions such as Location, Camera, or Microphone-in Permission usage history. You can deny permissions for any apps you don't feel comfortable with.
A green dot will appear in the upper right corner of the screen when an app is using the camera or microphone so you can see if an app is recording you without your consent. You can also use quick panel controls to temporarily block all apps from using the camera or microphone.
Take more control over apps that want to access your location. For apps that only need to know your general area, such as weather apps, you can allow access to your approximate location so they can't determine exactly where you are.
Sometimes you need to copy sensitive information, like passwords or credit card numbers, but you don't want it to fall into the wrong hands. You can choose to be notified any time an app accesses content copied to the clipboard in another app.
One UI 4.0 Beta 1 for Galaxy S21 Series (Eligible Regions)
As of now, Samsung is rolling out the One UI 4.0 Beta (Android 12) in the mentioned regions for the registered Samsung Galaxy S21 series users. If you're using any of these region variants of the Galaxy S21 series then head over to the Samsung Members app and download/install the One UI 4.0 Beta on your handset.
South Korea
United States (US)
United Kingdom (UK)
China
India
Germany
Poland
We're not sure whether the rest of the regions will be includes in the list anytime soon or not. If not, the chances are high that you'll gonna receive the official stable build of One UI 4 by the end of 2021 or in early 2022 expectedly.
Download Android 12 One UI 4.0 Beta 1 for Samsung Galaxy S21, S21 Plus, and S21 Ultra
Although the Samsung Galaxy S21 series users can simply go to the Samsung Members app on their handset and apply for the beta program to receive the update or directly install the update, if you're unable to do that, just manually download & install the OTA update by following the steps below.
Snapdragon Variant:
Exynos Variant:
Galaxy S21 Plus OTA (Beta 1)
Steps to Install or Update OTA
Here we've shared both the ABD and Stock Recovery method for updating or installing the latest firmware file on your Samsung Galaxy S21 series. Make sure to follow only one of those methods. If one method didn't work or you find it hard, try another one.
1. ADB Method:
First of all, make sure to download the OTA update file on the PC using the links above.
Now, rename the OTA file (.bin) to update.zip file name for your ease.
Make sure that your Galaxy S21 series device is running the latest One UI version (One UI 3.1.1). If not, update it first.
Next, install ADB and Fastboot Tools (Platform Tools) on your Windows, Linux, or Mac OS.
Transfer the renamed update.zip file into the installed ADB Platform Tools folder on the PC. [Important]
Now, make sure to enable USB Debugging and OEM Unlock option on your handset.
You should also download and install the latest Samsung USB Driver on your Windows PC.
Restart your device and connect it to the computer via a USB cable.
Head over to the installed Platforms Tools folder on the PC.
Click on the address bar and type cmd then hit Enter to open Command Prompt. [If prompted by UAC, click on Yes to proceed]
Now, run the following command:
Note: Make sure to add ./ on all commands (prefix) if you're not using a Windows PC.
adb start-server
Allow the prompt on your device to confirm trust in the computer.
Then make sure to restart the device to the recovery mode.
adb reboot recovery
Press and hold the Volume UP + Volume DOWN keys to go into the ADB update.
Then press the Side/Power button. However, if you can't see the install from the ADB option, then you'll need to sideload the OTA update file by running the following command:
adb sideload update.zip
Wait for the OTA update installation process and then restart the device.
It may take some time to apply the update and boot into the system again.
Voila! You're good to go with Android 12 on top of One UI 4.0 Beta.
2. Stock Recovery Method:
Make sure that your device is running on the latest stock firmware.
Download the One UI 4 Beta OTA update file from the link above and keep it to the internal storage (root directory). That means don't put it inside any folder.
Rename the OTA file to update.zip for your ease.
Now, restart your Samsung Galaxy device into the Recovery Mode by turning off the device > Then press and hold the Power + Volume Up buttons together for a few seconds until it boots into the recovery mode.
Then use the Volume buttons to navigate and highlight the 'apply update from SD card or storage' option > Press the Power key to confirm it.
Next, browse and select the transferred update.zip file from the internal storage.
Then press the Power button again to start installing the OTA update.
Wait for the process to be completed. Once done, reboot the device into the system.
It may also take some time to boot the device into the system.
You're done. This is how you can update to One UI 4.0 Beta 1 (or later) for Galaxy S21 series.
That's it, guys. We assume this guide was helpful to you. For further queries, you can comment below.