Samsung smartphones commonly come with a built-in app called Sim Card Manager. It lets the user pick the SIM card for calls, messages, data and you can also change SIM card names and icons. It even let you check SIM card information like phone number, network status, and signal strength. But, some user face problems like Sim Card Manager not working or not showing on their device. So, let's start this article.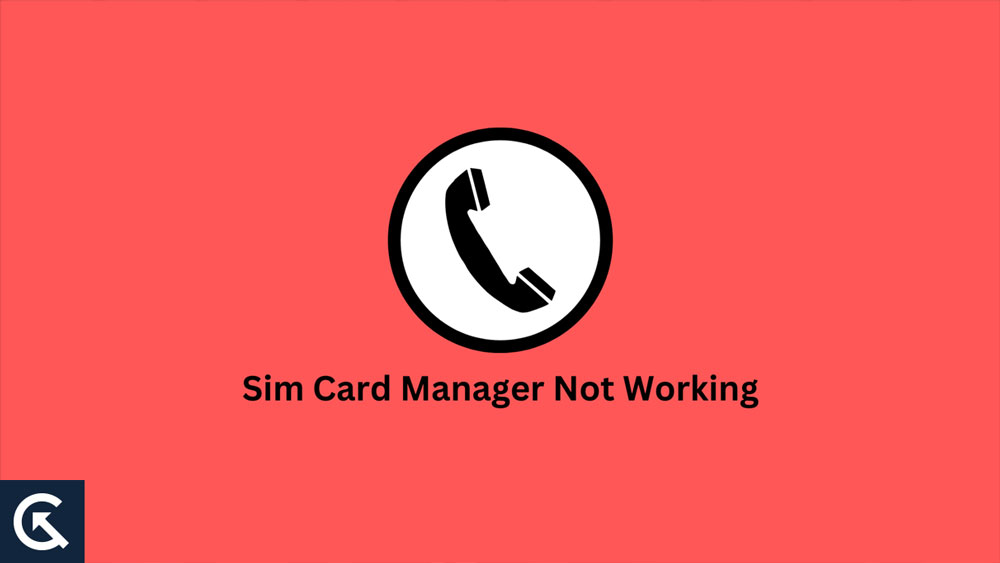 Why Samsung Sim Card Manager Not Working or Not Showing
To understand why Samsung Sim Card Manager might not work or not show up, we first need look at some possible reasons:
Outdated software: If Samsung device outdated, it may not display the Sim Card Manager in app list or it might not work properly. You might resolve this problem by updating software on your device.
App conflicts: Other Samsung app might mess with Sim Card Manager, causing it to crash or disappear. This conflict can be resolved by finding and uninstalling the conflicting app.
Sim card problems: Your Sim Card Manager may not recognize or display information on a SIM card if it's damaged, inserted wrong, or isn't supported by your device. Checking your SIM card and replacing it if need be can solve this problem.
Hardware issues: Sometimes you may have a bad SIM card reader or damaged motherboard on your Samsung device, which stops the Sim Card Manager from working right. In some cases, your device will need to be repaired by a Samsung service center or certified technician.
Solutions to Samsung Sim Card Manager Not Working or Not Showing
Experiencing problems with Samsung's Sim Card Manager not working or not showing up? Don't worry, we've got your back. This article, we take a deep look at the potential reasons behind this issue and the solutions to get you back on track. Let's dig in:
Updating Your Samsung Device's Software
Keeping your device's software updated to the latest version can be a smart way to prevent issues like this. Here's how to do it:
First, go to the Settings app of your device.
Look for the "Software update" or "System update" option and tap on it.
If a new software version is available, hit "Download and install".
Follow the instructions popping up on the screen to complete the update.
If the issue still remains post-update, you might want to give your device a restart.
Clearing Cache and Data
If a software update doesn't do the trick, you might wanna try clearing the cache and data of the Sim Card Manager app. Here's how you can do it:
Open up Settings and navigate to the "Apps" or "Application Manager" section.
Pick Sim Card Manager from the list.
On the "Storage" screen, tap on "Clear cache" and then "Clear data".
Give your device a restart to see if the problem's solved.
Uninstalling Conflicting Apps
Sometimes, other apps on your device might mess with the Sim Card Manager. To fix this, you can uninstall the apps you think causing the issue:
Open up Settings and scroll to the "Apps" or "Application manager" section.
Tap the app that you suspect is creating conflict with Sim Card Manager.
Click "Uninstall" or "Disable" to get rid of the app.
Give your device a restart and see if the problem's still there.
You can try booting your device into Safe Mode where all third-party apps are disabled to identify the problematic app. Here's how you can do it:
Press the Power button long until the "Power off" option appears.
Keep pressing "Power off" until you see a prompt asking if you want to boot into Safe mode.
Tap "OK" to confirm.
Wait for your device to reboot into Safe mode and see if the Sim Card Manager works.
If it works, it's probably a third-party app causing the issue. Identify it by uninstalling the most recently installed or suspicious apps one by one.
Once you identified, uninstall the app and restart your device.
Checking and Replacing Your SIM Card
A dodgy or unsupported SIM card can also cause Sim Card Manager to malfunction. Follow these steps to troubleshoot:
Switch off your device and remove the SIM card tray.
Check for any visible damages on the SIM card.
Wipe the SIM card and tray with a soft cloth or tissue.
Put the SIM card tray back and switch on the device.
See if the Sim Card Manager is working.
If not, try using a different SIM card. If the new one works, ask your carrier for a replacement.
Perform a factory reset
To reset all settings and apps to their default state, you can try factory resetting your Samsung device if none of the above solutions work. Be sure to back up all your important files and data before doing this, as a factory reset will erase all your data. Here's how to factory reset a Samsung device:
Initially, open the Settings app on your Samsung device.

Tap the "General management" or "System" section.

Click "Reset" or "Reset options."

Select "Factory data reset" or "Factory reset."

When the warning message appears, tap on "Reset" or "Delete all."

After your device has been reset, wait for it to finish.

If your device isn't showing up, restart it and check if the Sim Card Manager works.
Wrap Up
When the Samsung Sim Card Manager not working or not showing up on your device, it can be useful for managing SIM cards. We have provided some solutions and causes for these problems in this article, including updating your device's software, clearing the cache and data of Sim Card Manager, uninstalling conflicting apps, checking and replacing your SIM card, and performing a factory reset. It is possible that you will need to contact Samsung for further assistance if none of these solutions work. So, that's it from our side. We hope you find this guide helpful.