We know how important to us our smartphones are for day-to-day use. More important are the data it stores. Let it be contact numbers, text messages, photos, videos etc. These are very dear to us and we cannot afford to lose them. Well, then there must be a way to keep a copy of all these data in case any kind of data loss may happen. Data loss can refer to phone getting lost or stolen, any storage corruption etc. So, we need to do a backup of our data. Though we know there is the new system of cloud backup, it is time taking as the cloud has enormous data to deal with. So, we have to find a solution that allows us to make a backup locally which is less time taking. So, in this guide, we will tell you how to back up and restore your device data by using the Samsung Smart Switch.
The Samsung smart switch supports all Samsung Galaxy devices exclusively. However, the compatibility is accurate if the device is of 2016 made. Also, to keep up with the latest Android OS it supports Android 6.x Marshmallow and above. So, if you happen to run Nougat, Oreo or Pie OS Samsung smart switch will work just fine. Apart from back-up and restore, you can also install the latest software updates on your Galaxy smartphone using this tool. We have discussed all the apsects in details and also put up the guide for you.
How To Take Backups Using Samsung Smart Switch
First, we have to download the Samsung smart switch suite for both Windows and MacOS.
Download Samsung SmartSwitch for Windows
Download Samsung SmartSwitch for MacOS
You May Also Like,
Taking a Backup on SD Card Using Samsung Smart Switch
In this process, we have to take an SD card and take back up of our data on it from our Samsung Galaxy devices.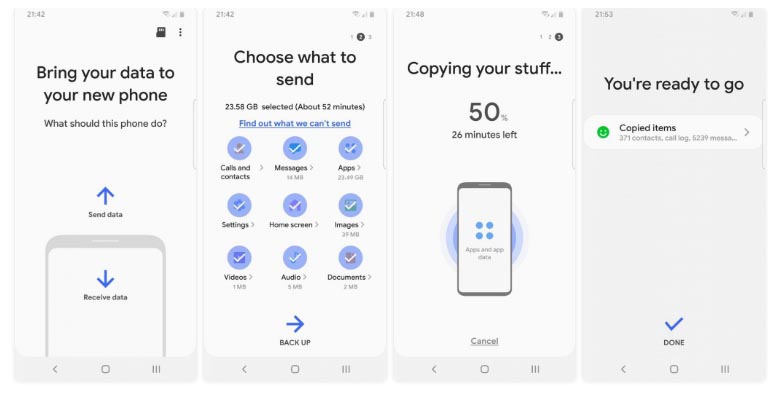 Step-1 To create your backup, go to Settings > Accounts and Backup > Smart Switch,
Step-2 Click on the SD Card icon.
Step-3 Then, select your required Contacts, Videos, Photos etc which you want to back up
Step-4 Now click start to begin.
How To Restore a Backup on SD Card Using Samsung Smart Switch
Now that we are done with backing up, now let's see how we can restore the same.
Step-1 On Samsung smart switch click on Restore Now.
Step-2 Click Select Your Backup Data from the backup you made and then
Step-3 Select the date and time when you created the back up in the Backup Restore screen.
Step-4 on the smartphone or tablet, you will see the Allow Access window tap Allow.
Step-5 Then Click OK.
Note: On your smartphone or tablet, you may have to manually restore features within the Apps like Weather widget on the Home screen by tapping Tap here to restore weather data.
Synchronize Outlook Contacts With Samsung Smart Switch
You can also use this tool to syncyoourMicrosoft Outlook contacts and other info. Follow the steps below.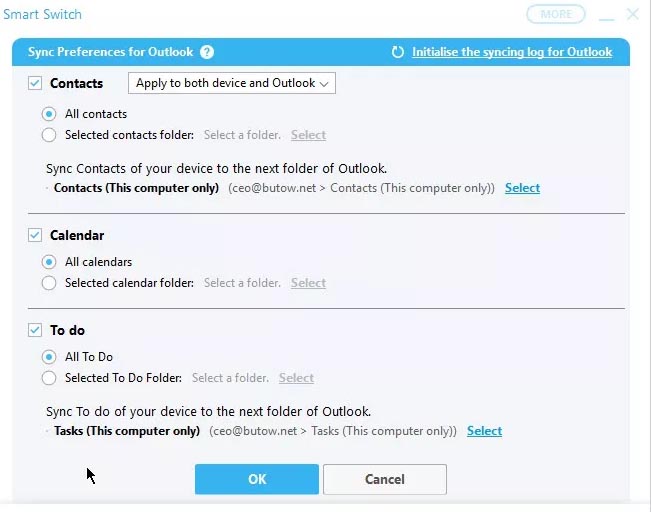 Step-1 Click on Outlook Sync.
Step-2 Now click on Sync Preferences for Outlook to specify the Outlook data you want to sync.
Step-3 Click the Contacts, Calendar, etc checkboxes to select for syncing. By default, you can select all your data.
Step-4 Click on Select to choose the folder. For eg:- contacts.
Step-5 click OK > click Sync Now to begin syncing.
Step-6 Click on Confirm to continue.
How To Get Software Updates With Samsung Smart Switch
Often it happens that the OEM rolls out a software update for any device, but it gets delayed to reach the user. It depends a lot on the geographical location. Also, another factor is the carrier or the provider which has a tie-up with the device. This happens with Samsung devices too. However, with Samsung Smart Switch this can easily be achieved.
Step-1 open Smart Switch on your PC.
Step-2 connect your phone to PC via USB cable.
Step-3 As you connect and your device is recognized, a software check will occur. Smart Switch displays the current software details.
Step-4 You will get the notification of a new update if there is a software update available for your device.
Step-5 Now Click Update to install the latest software. The software will first download to your computer. Then the Smart switch will install it to your phone.
Step-6 The phone will reboot after installation.
So, that' it. If you use a Samsung Galaxy device, then make use of Samsung Smart Switch to take back up, restore it. Also, you can download and install the latest software on your device.