Feel like you're safe online? Don't you think anyone is monitoring your online activities? Feel like you can't fall victim to a hacking attack? Well, think again.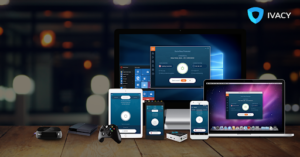 As security concerns on the internet keep growing, experts conclude that it's not just hackers and attackers you should be protecting your data from. Still, almost all advertising and product companies are tracking every move you make online to boost their marketing efforts, using your data!
So, then what is the best solution, one might ask? Is there even a way to dodge this surveillance? Well, yes. If you could find a way to be completely anonymous online and make your browsing private, you would become virtually impossible to track.
This is exactly what a VPN does. If you're on the lookout for a good VPN service that will help not only make your browsing anonymous and private but also adds to the security in the form of many advanced features, try Ivacy. The service offers a host of advanced features to its customers, along with streaming and downloading benefits.
To check if Ivacy VPN fits your needs and requirements, here's a review. Let's take a nosedive.
Affordable Pricing Plans
First and foremost, it is worth noting Ivacy VPN has the most affordable plans. The VPN provider has three plans to offer, which are as follows:
1 Month for

$9.95

1 Year for

$3.50/month

5 Years for

$1.33/month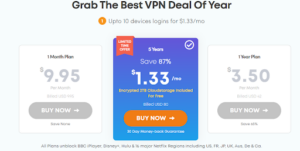 Regardless of what plan a user chooses, they will get the same features across the board, which is quite the rarity. Also, users will fare better if they opt for the longer plans since they are at a discounted rate.
Geo-unblocking
One of the best things about Ivacy VPN is the fact that it lets you get around geo-blocking. This means that you can easily access websites that are blocked in your country using this website. Not only that, it also functions as a Netflix VPN, letting you unblock global Netflix libraries for a larger field of content options.
Not only does this work for Netflix, but also for other streaming platforms like Hulu, Amazon Prime and BBC iPlayer.
ISP throttling
Having trouble with your internet while streaming? Ivacy VPN will also make sure that you can stream easily and smoothly by letting you bypass any ISP throttling issues. This will enable you to enjoy a high-speed internet connection at all times.
Ivacy VPN security features
Here is a list of Ivacy VPN's security features.
Up to 256-bit military-grade encryption
Besides the ability to make a user fully anonymous, one of the most critical security features of a VPN is the level of encryption it offers. Encryption is a protocol that makes sure that the entire communication between a device and the internet is illegible, except with the help of a decryption key.
This means that even if a hacker or a spy manages to get into your data, he will not be able to make out what information is being exchanged between the computer and the internet.
Ivacy offers up to 256-bit military-grade encryption, which is a high level of encryption, making your communication more secure and virtually impossible to crack. You won't have to worry about tracking or cybercrime once you connect through a remote and secure server through Ivacy.
2.No data logs
Some VPN companies log your data, which pretty much kills the point of you using a VPN because it means that you're not completely anonymous. Even though several companies advertise following a no-logs policy, not many of them maintain the level of integrity they should.
Some providers sell their logs to advertising agencies, and these actions aren't justified because VPNs are used to secure browsing and online activities.
On the other hand, Ivacy VPN offers its users a strict no-logging policy, which means that the service doesn't keep any data records, and if a company doesn't keep logs, they can't sell it to anyone.
This means that your identity and your data are safe and private as long as you are using Ivacy VPN. All the service stores are your account information, which includes your password and username.
3.Supports up to 10 multi-logins
Sometimes one device is too little. Suppose you're used to working on several different devices at the same time, including your smartphone, laptop, or PC, your Smart TV and even your router. In that case, you can rest assured that Ivacy VPN can provide adequate security for all your needs.
The service supports up to ten multi-logins, which means that you'll be able to log in to ten devices from the same account simultaneously. This makes sure that your cybersecurity setup is well-rounded and you're not risking any security leaks or breaches from any of your devices.
Ivacy is one of the very few VPN providers that offers this feature without an additional cost, making it one of the most secure VPN services out there.
4.

Automatic kill switch
Downtimes happen, and VPN servers get clogged sometimes. But what if your connection drops while you are streaming on a blocked service, or visiting a website that you're not authorized to access?
Not only will your streaming be suspended until you connect to the VPN again, but your original IP address and identity will stay at risk until you detect the issue and reconnect. One feature that lets you avoid falling into a situation like this is a kill switch.
A kill switch severs your connection with the internet as soon as your server crashes. You could avoid getting your IP address leaked and dodge possible hacking attempts by disconnecting from the internet as soon as your server crashes.
5.Split tunneling on Windows
Ivacy VPN is the first VPN service to offer the split tunneling feature that lets users access public and private networks at the same time to reduce the load on the remote server and encourage faster browsing.
This feature is built especially for gamers and streamers where even though security is hugely important, the need for a fast-speed internet connection is paramount.
6.Malware and DDoS protection
Besides offering up to 256-bits military-grade encryption, Ivacy VPN also offers users malware and DDoS protection. This means that not only does Ivacy prevent cyberattacks by letting you browse privately and anonymously, it also keeps your website and machines safe from malware and DDoS attacks.
Malware is malicious software that hackers can often embed in your computer without your knowledge. These programs can collect your data and send it back to the hacker's server, infect your files, steal your identity and passwords, among the worst offenses.
DDoS is a form of man-in-the-middle attack which involves several machines and devices pinging your website or page, causing it to go down temporarily, this is very common with gamers and online streaming fans.
Ivacy VPN offers protection against these kinds of attacks by making your online activities virtually untraceable.
7.Over 3500 servers all across the world
One of the most evident signs of a great streaming and torrenting VPN service is that they have a considerably extensive network of servers spread all across the globe. What sets Ivacy VPN apart from many of its competitors is that it has over 3500 servers in over a hundred different locations of the world.
This makes sure that you have a wider variety of global libraries that you can access and gives you the ability to switch between multiple different servers for greater security. If you're a fan of streaming, more servers in more countries mean that you can unblock websites, streaming sites and download torrents from more countries.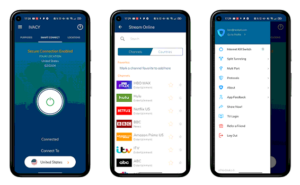 8.30-days money-back guarantee
Ivacy VPN offers its users a 30-day money-back guarantee so that even if a customer changes their mind later, they won't be suffering any monetary losses.
Conclusion
With advanced security features, our verdict positions Ivacy VPNs as one of the best VPN choices for streaming and downloading torrents of all time. The company is also currently offering up to 87% off on its service.