After the successfully updating most of the Meizu device with the first beta build of Android 7.0 Nougat, Today the company has released Second Beta Flyme OS 6 Nougat Firmware which has released for many Meizu devices. This latest Second Beta Flyme OS 6 Nougat firmware for Meizu devices brings many new features and also fixes bugs found in earlier released version. If you already on earlier beta build then you can either wait for the official OTA to hit your device or you can manually update your meizu phone to second beta of FlymeOS 6. If you don't want to try the Second Beta Nougat on Meizu device, then you can wait for the stable build to hit your device soon.
Official Beta Nougat based Flyme OS 6 Firmware for Meizu device
The second beta version of Flyme OS 6 has bumped the version of Flyme OS to Flyme OS v6.7.4.11G. Now you can download the Flyme OS v6.7.4.11G on all the supported Meizu devices. The Flyme OS v6.7.4.11G beta is supported on Meizu M3 Note, Meizu M3s, Meizu M2, Meizu M2 Note, Meizu Pro 6 and many other supported devices. If you didn't find your device, please comment down below to know the ETA process. Check the Second Beta Nougat v6.7.4.11G changelog below from the spoiler. The update brings many improvements and also bug fixes. Start Downloading and enjoy Second Beta of Flyme 6 OS for Meizu Devices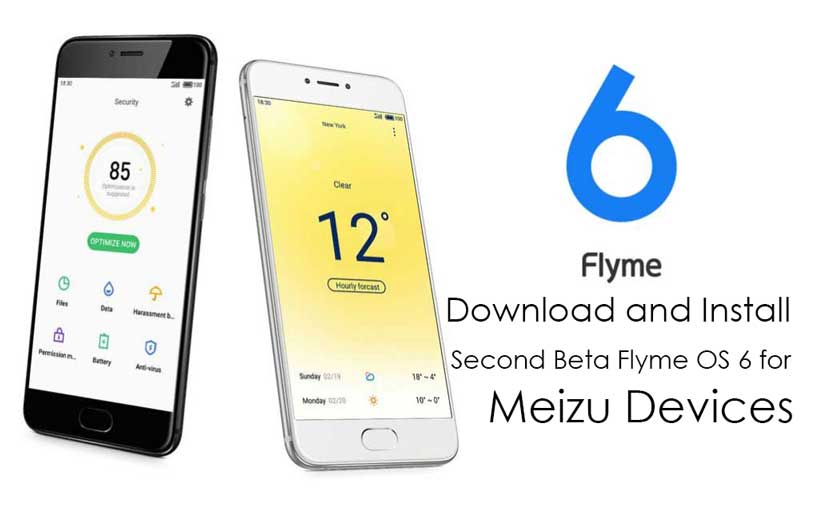 In this guide, you can download the official beta version of Flyme v6.7.4.11G Second beta for Meizu M3 Note, Meizu U20, Meizu M3s, Meizu M2, Meizu M2 Note, Meizu Pro 6 and many other supported devices. If you have any of the Meizu devices from the list below, then you are eligible to Download and enjoy the latest Meizu Android Nougat firmware based Flyme OS 6 firmware. Download and follow the step by step guide on How to manually install the Second Beta Flyme v6.7.4.11G beta on Meizu device.
Make sure to take Full Backup before upgrading your Meizu to Second Beta Nougat based FlymeOS v6.7.4.11G. Sometime update may wipe your SD Card data. Here is the full guide to take backup without root on any Android device. Now Download and Install Second Beta of Flyme 6 OS for Meizu Devices from below.
[su_spoiler title="Read the Full Changelog of Flyme OS 6.7.4.11G " style="fancy" icon="arrow"]
System
Added new app: Themes
Improved Home screen icon layout
Improved notification storage strategy to accurately identify notification priority
Refined system translations
Improved notification shade display when battery power is low
Improved efficiency for Task Manager's setup changes to take immediate effect, so as to fix an issue where a disabled option was still in effect
Optimized text color on lock screen for full legibility even on a white background
Improved accuracy for system time display, and optimized auto-calibration logic
Adjusted trigger method of Developer Options for securer and more effective operation. Moved Palm Rejection, Smart Cover, mCharge, Proximity Sensor Calibration, and Acceleration Sensor and Gyroscope to under Accessibility. (New trigger method of Developer Options: go to Settings > About Phone, then tap the build number 7 consecutive times; disabling method: go to Settings > Apps > All > Settings, then tap Clear Data.)
Refined system translations
Enhanced system stability
Improved system agility
Improve RTL layout for the Hebrew language
Fixed an issue where icons disappeared from Home screen dock but taps still worked.
Fixed untranslated Chinese button displayed when deleting an app from Home screen
Communications
Improved contact merging logic for higher accuracy when merging duplicates
Security
Fixed failure to enter Permissions > App Permissions for controlling app permissions.
Fixed unexpected quit caused by multiple apps' concurrent attempts to modify network access permission when too many apps were being installed
Download
Improved download management efficiency so that file sorting can take immediate effect
Improved relevant logic for downloads, so as to prevent file opening failure when download tasks were complete
Fixed an issue where tapping "Cancel" failed to revoke file deletion
Fixed false download notification displayed when there were no download tasks
[/su_spoiler]
READ THIS CAUTION :
So before jump into the manual upgradation setup, please make sure you have a good amount juice with at least 80% Charge. If not please charge the phone. Backup your phone in case if you need it later. If you brick the device we are not responsible. Do it at your own risk. Remember this guide is to update to Android 7.0 Nougat Official Stock ROM on Meizu Device.
Prerequisite :
Make sure to have 50%-70% charge on your phone, before proceeding with the below steps.
Download the right firmware. Make sure you downloaded the full firmware from above link instead of corrupted file.
Your phone must have a stock firmware and stock recovery to flash this Stock Firmware.
This Firmware is supported only on Meizu device listed below.
Make sure to do full backup before upgrading any Meizu Device.
Steps to Manually Update Second Beta Flyme OS 6 Nougat on any Meizu Device listed below
First of all, Download the Android 7.0 Nougat based Flyme OS 6 Firmware for Meizu device with your model name.
Now move the downloaded update zip file to your phone's memory / internal memory.
Turn your phone off. Once it is fully turned off, hold the Volume UP + Power button simultaneously until the phone vibrates which indicates the phone to enter upgrade mode.
Now in the upgrade window, select the system update. This will look for the update.zip file in your internal memory.
Tap the start button to start the update Nougat based Flyme OS 6 on Meizu device.
Wait patiently, once the installation is done your phone will boot to new Flyme OS with Android Nougat sweet.
That's it ! you have upgraded Android Nougat firmware on Meizu.
If you have enjoyed the latest firmware, please write feedbacks about your experience of Second Beta Flyme OS 6 Nougat Firmware on your Meizu device. Have fun fellas.!!