If you don't know, iMessage is an instant chat messaging application/service developed by Apple itself. The best part of Apple services is that all of them work really well on most of the Apple devices whether you use an iPhone or iPad or Apple Watch or Mac. That's why people love Apple devices and their ecosystem. By using the iMessage app, you can send or receive text messages, media files, etc to another iMessage user. Check the simple guide on How to Send iMessage on iPhone 11, 11 Pro, and 11 Pro Max.
iMessage app works over an internet connection either using Wi-Fi or Mobile Data. The messages are always encrypted and appear in the Blue text bubbles which looks cool & easy to understand too. The best part is that you don't need an SMS pack or account balance to send texts via iMessage. Currently, Google is also trying to implement the RCS Messaging feature to most of the Android devices with the help of mobile carriers. The iMessage can also be synced with your iCloud account.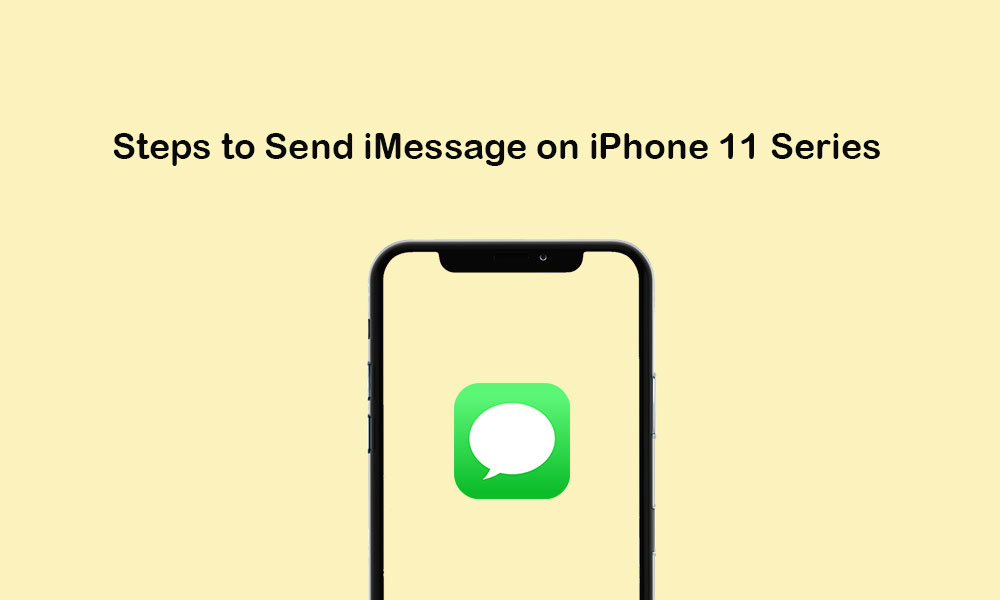 Get Started With iMessage
iMessage doesn't come with pre-enabled on iOS devices. So, users need to enable it manually while setting up the device. If you've skipped the iMessage set-up process at the initial stage, then you need to activate it later via Settings (If you want to use iMessage).
There are some of the information mentioned below:
iMessage fully works on Wi-Fi or Mobile Data connection if sent via iOS device or other Apple devices.
If you sent iMessage to a non-Apple device then it will be billed according to the SMS charges.
A valid Apple ID or a valid mobile number is required to use the iMessage completely.
There are two colors available like for the iMessage, the color will be Blue. While the standard SMS/MMS will be shown as green color.
The Bubble icon will indicate that the recipient is typing.
If in case, iMessage not delivered, a red exclamation icon will appear.
Set Up iMessage on your iPhone 11/11 Pro/11 Pro Max
From the Home screen, go to iPhone Settings.
Tap on Messages >> Turn on the "iMessage" toggle.
Scroll down and turn on/off the "Send as SMS" option. After enabling this option, your iMessage will be sent via text message if the service is available or there will be no internet connection.
You can also select "Low-Quality Image Mode" to reduce mobile data usage. But if you always use Wi-Fi, then this option won't be required.
Now, go to the iMessage app and start using it.
Steps to Send iMessage on iPhone 11, 11 Pro, and 11 Pro Max
SMS/MMS always works automatically depending on the network settings, carrier settings, carrier plans, and more. Generally, an iMessage is considered as a text message when it comes to Apple to Apple devices. But for the non-Apple devices, the iMessage will become SMS/MMS.
Now, let's take a quick look at the steps to send iMessage on your iPhone 11 series devices.
From the Home screen on the iPhone, tap on the Messages app.
Now, in order to compose a message, tap on the New Message () icon located at the top right corner of the screen.
Tap on the (+) icon to choose a contact or manually enter a phone number or email address. You can also send the message to the multiple recipients.
Type in your message content >> Tap on the Send icon to send the message.
That's it.
Note:
You can also send photos or videos or audio messages or any app attachments.
Tap on the Camera icon to attach photos and videos.
Tap on the Microphone icon to send an audio message.
You can tap on the App Store icon to send App attachments as well.
Steps to Send Group iMessage from your iPhone 11 Series
As the name suggests, by using the iMessage, you can send group messages as well. It includes sending or receiving photos, videos, audio messages, location sharing, etc. You can also add or remove people from the group, mute notifications, and even leave the group just like other chat messaging applications. So, let's check out the steps below to send iMessage.
From the Home screen, tap on the Messages app.
Select the New Message () icon.
Next, tap on the (+) icon to add recipients from your contacts or add phone numbers or email addresses manually.
Now, just type in your message and tap on the Send icon.
Note:
When you send an MMS from your iPhone, just check whether the MMS Messaging function is enabled or not. Go to the device Settings >> Messages >> enable the MMS Messaging.
Steps to Delete an iMessage from your iPhone 11/11 Pro/11 Pro Max
If you want to free up some space or just want to remove unnecessary older messages, then you can follow the steps below to delete the messages.
Tap on the Messages app >> select the messages from the list.
Next, tap on More >> tap on Delete to confirm.
If you want to delete all messages, then just select Delete All.
You can also delete a message thread by just dragging the thread to the left side.
The Delete option will appear >> Tap on Delete and tap on Delete again to confirm.
That's it, guys. We hope you've found this guide helpful. For any queries, feel free to ask in the comments below.