Google, Microsoft, and Zoom have done nearly everything to make remote meeting platforms as user-friendly as possible. The determination of these titans to make online meetings feel like real meetings is promising. However, some users describe a different tale. Users report that they can't share a video with sound. That can be a distasteful experience during a meeting and might be a little funny when receiving a video without sound; participants in a meeting might think that their speaker is faulty. So here is a quick guide on how to send or share videos with sound using Microsoft Teams, Zoom, and Google Meet.
I've seen users expressing that they are facing this problem of being unable to send a video with sound on the forums of Google Meet, Microsoft Teams, and Zoom. Probably because of a moderately similar user interface, the difficulty is encountered by users of all three well-known remote meetings apps. Without any further ado, let's look into how you can share videos with sound on Microsoft Teams, Zoom, and Google Meet.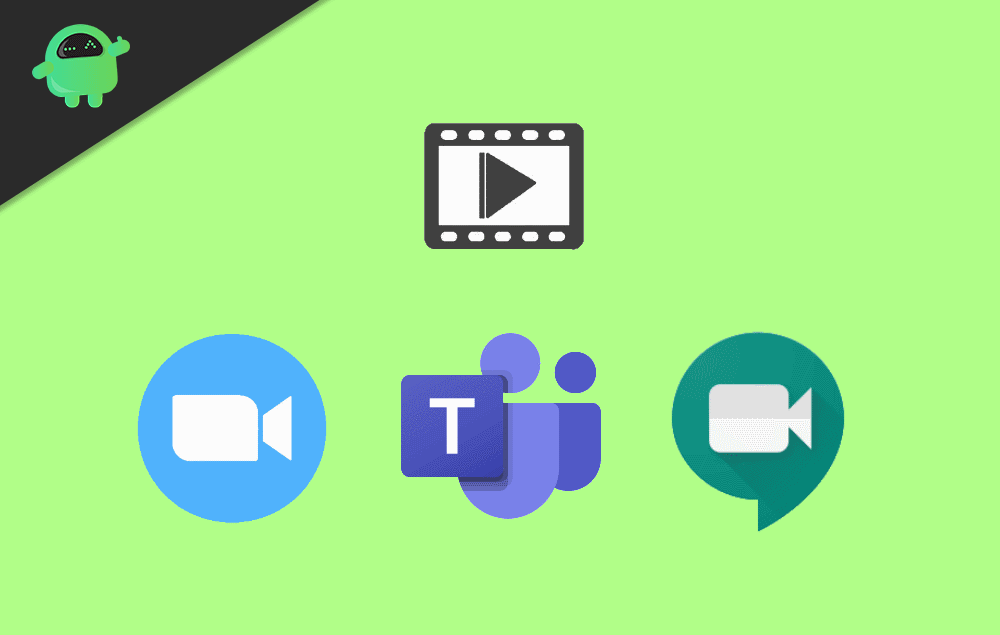 At the moment, the option to share a video file with audio is a privilege presented to Windows users only, and android, iOS, and Mac do not support this feature.
To share a video file with sound on Microsoft Teams, follow these simple steps below:
On the bottom toolbar in Microsoft Teams, you will find a "Share" icon (third icon) click on it.
pop-up at the bottom with several options will show up, at the top right corner check the box "Include System Audio."
Select a sharing mode.
Choose the video you wish to share.
Zoom allows almost every user to share a video file with audio. That means it doesn't matter If you are a PC or phone user, sharing a video file properly is feasible with both. However, the feature is available for desktop and phone apps; there are different methods to share a video file in each. I will explain the steps individually.
Also read: Zoom vs. Microsoft Teams vs. Google Meet: Which Top Videoconferencing App Is Best?
Something worth mentioning here: Enabling this feature will mean that any sound you play on your computer will be heard by participants in the meeting.
Join the meeting.
At the bottom toolbar, you will find an option "Share Screen" click on it.
A pop-up will appear, asking you to choose a window that contains your video file. It can be from your Pc or browser.
After selecting a video to share, at the bottom left corner, check the box "Share Computer Sound" and click the "Share" button.
Although the video-sharing ability is presented in android, it doesn't support sharing videos with sound. Well, luck is on the side for iOS users, they can share the video file with the audio on the Zoom iOS app.
Join the Zoom meeting.
On the bottom toolbar, tap on the "Share Content" button.
Pop-up will rise, select the "Screen" option.
A screen will appear, select "Zoom" and tap on the "Start Broadcast" option.
Play the video file you want to share, others in the meeting will hear and watch the video.
Note: To stop the broadcast after the video ends, just tap at the top edge of the phone screen. A pop-menu will appear and hit on Stop.
Google recently introduced this feature in Google Meet in the latest update. However, this functionality is limited to the Chrome tab only; Meet renders an option to share video files with sound. That means you can include a video in the meeting through the Chrome tab (not directly from your computer). Hence every participant will see and listen to whatever is playing in that particular tab.
Here's how to present a video with sound on Google Meets:
Open Google Chrome and play the video (on youtube or another video-player platform) you want to share in the meeting.
Open Google Meet and Join the meeting.
At the bottom right corner, you will see a "Present Now" button click on it.
A pop-up will appear, select "A Chrome Tab" option.
Another pop-up window will appear displaying the list of tabs.
Select the tab where your video is playing.
Now, At the bottom left corner, check the box "Share Audio" and click "Share."
Conclusion
These are some common tips and trips to send videos with sound on various video conferencing apps such as Microsoft Teams, Zoom, and Google Meet. To get more such amazing tutorials, follow our PC tips and tricks section to know more.