"Should I really make a switch from WhatsApp to Signal"? Well, this is one query that is constantly bugging quite a few users as of late. But why this question has popped out all of a sudden? Furthermore, why an app that was relatively unheard of by a vast majority has suddenly become the best alternative to the social media giant WhatsApp? Here's everything you need to know in this regard.
The New WhatsApp Policy: Is your Data at Risk?
Most of our readers by now must have received a full-page notice on their WhatsApp regarding the app's updating its terms and privacy policy. As an end-user, you will have to accept their new terms and privacy policy, by February 8th, 2021. If you don't agree with their updated policy, then you wouldn't be able to use their service any longer.
So what's the issue in accepting their policy? Well, there are quite a few ones, to be precise. While your chats still remain end to end encrypted, yet the data you share might no longer be secure as before. Right from your device information, IP address to the app's usage, your status updates, group details, profile picture, and even your About Info, are some of the data that will be accessible by WhatsApp.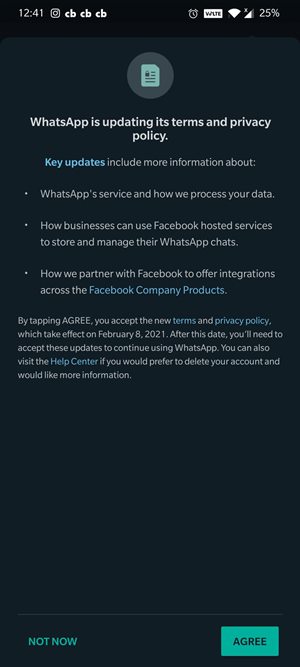 So out of all these, which of these data will be shared with its parent company Facebook? To sum up in three words: All your data. And this reply might be quite scary for a lot of users. The reason for the same is that we all are aware of the reputation of Facebook in handling user data. One shouldn't look any further than the recent Cambridge Analytica data scandal in which the personal data of millions of Facebook users were used for political motives, without taking the user's consent.
further adding fuel to the data privacy issues, WhatsApp allowed the user to control if they wish to share their data or not. As of now, the feature is no longer present in the app. Keeping these points in mind, there is even a greater privacy risk if you interact with a WhatsApp Business account as your data might be accessible by a much wider audience. So things look rather gloomy as of now.
Collecting Data for Curated Ads?
Coming back to WhatsApp's new updated policy, not only Facebook but even the companies that it owns will be able to access this data. This includes the likes of Instagram among others. So don't be surprised if you and your friend stumble on the same ad for a product about which both of you were discussing in WhatsApp. Talking about ads, here's what the updated privacy policy has to say:
No Third-Party Banner Ads. We still do not allow third-party banner ads on our Services. We have no intention to introduce them, but if we ever do, we will update this Privacy Policy.

Notice the point that we have highlighted above? Well, it speaks volumes that sooner than later you might be witnessing Ads in your WhatsApp Status section. And this is where the data that Facebook collects might 'help them' in sending more curated ads to the userbase.
So all this begs for an important question: Should You Switch To Signal From WhatsApp? The answer from the author's perspective is in the affirmative and many users might also echo these thoughts as well. But why vouch for the Signal app? There are quite a few reasons for the same, let's check them out.
Signal: The Best Alternative to WhatsApp?
Signal has maintained a rich balance between the features set and the user's privacy. To begin with, all the normal functionalities of sending messages, media files, making audio and video calls are effectively dealt with. Likewise, you could also create a group but with an added advantage. Users will have to accept the group invite if they wish to join. This is unlike WhatsApp where anyone could randomly add you if they have your contact number.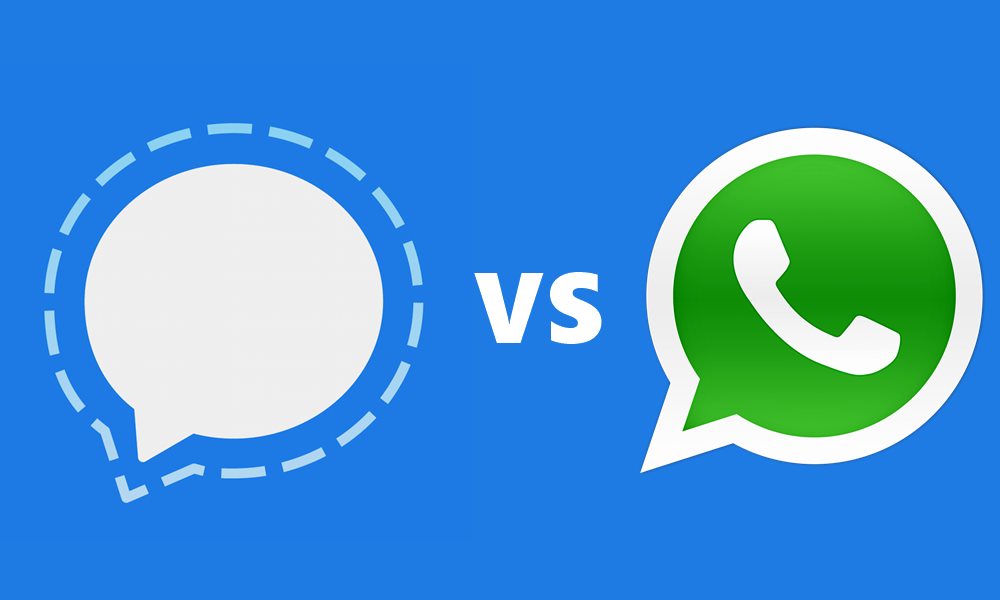 Some other privacy features include the option to turn off Read Receipts, disable the Typing indicator, and hide your Online status. Likewise, there is an option of Relay Calls through which your calls will be routed via the Signal servers thereby hiding your real IP location. For the unaware, the app is developed by the Signal Foundation and Signal Messenger LLC. The former is created by WhatsApp co-founder Brian Acton who left Facebook in 2017, owing to issues with the business model of WhatsApp in terms of monetization.
What the future holds for WhatsApp and Signal?
Well, it was hard to imagine a few years ago that users would lookout for an alternative to the instant messaging giant. What Google is to the World Wide Web, WhatsApp has become the same in the instant messaging domain. However owing to the data and privacy issues, there has been a tectonic increase in the user base of the Signal app. As of now, the app is currently ruling the charts under the Free Apps domain across various countries.
Look at what you've done. 🇮🇳 pic.twitter.com/0YuqyZXtgP

— Signal (@signalapp) January 8, 2021
Plus the following two words from the current world's richest person have added feathers to the app's glory:
Use Signal

— Elon Musk (@elonmusk) January 7, 2021
So rounding off, let's come back to our initial question. Should one really make a switch from WhatsApp to Signal? Well, it depends on the extent up to which a user is ready to share their data with Facebook. And with this statement, there's nothing much left to say. On that note, we would love to hear your opinions and about the same in the comments section. Drop-in your valuable feedbacks and let us know.