With Sky Q, you can watch live satellite channels, hundreds of on-demand TV shows from Sky, Peacock, and HBO Max, exclusive sports matches, and blockbuster movies, and stream Paramount+, Disney+, Prime Video, and Netflix all from one place. There are thousands of shows to choose from, all of which are just a few clicks away (or a voice command if you can't dig the remote out from under the sofa).
So, that's enough about telling you the tale about Sky Q. So, let's start with the main highlight of why we are here. In this guide, you will learn how to fix if Sky Q subtitles are not working or not turning on or off. Therefore, let's check out the fixes.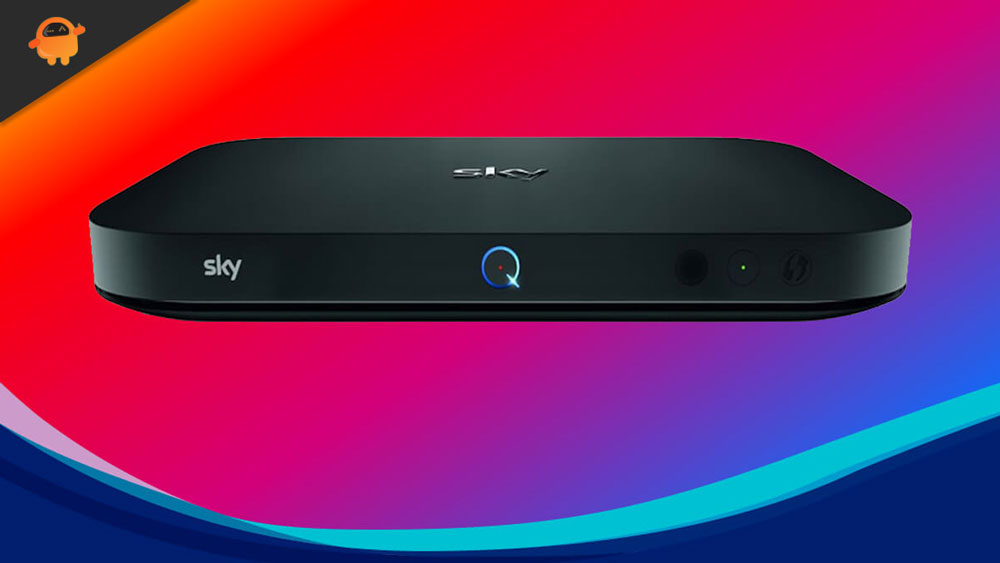 What Are The Reason Behind the Sky Q Subtitle Issue?
Sky Q doesn't offer a setting for changing text size, but that shouldn't be a problem. There is a possibility that you can access your TV or streaming device's subtitle settings. You can change the text size by locating the settings for editing subtitles or CC.
How To Fix Sky Q Subtitles Not Working or Not Turning ON or OFF
So, here are some fixes that will help you resolve the Sky Q subtitles not working or not turning on or off issue. Therefore, if you are facing this problem, make sure to check them out:
Fix 1: Restart The Device
The best streaming content is at your fingertips on all streaming devices and smart TVs with Sky Q. There may not be a big issue with Sky Q subtitles/captions while watching your favorite videos, but it is likely that the issue will be temporary. In most cases, restarting an app will fix a temporary bug.
There is nothing rocket science about it; you just need a little time and effort. If you have trouble viewing the stream, try closing the app, restarting the streaming device, and relaunching the app. By doing this, you can detect whether Sky Q or your streaming device software is causing the subtitle issue.
Fix 2: Check Dish Alignment
Changing the pointing direction of your dish can affect the audio/video quality and subtitles. You may need to adjust your dish's alignment if there is a strong wind. Alternatively, someone might have pointed the dish in another direction by mistake.
Rather than trying to fix this yourself, I recommend contacting a technician. Depending on the signal strength, all directions are checked, and then your dish is aligned accordingly. Your Sky Q device will benefit from this solution if subtitles do not work.
Fix 3: Remove Wireless Devices
Wireless devices continue sending and receiving subtitles every time they transmit or receive a signal. The close proximity between two wireless devices can result in interference between their signals, causing problems. Therefore, mobile devices such as tablets, laptops, and mobile phones shouldn't be kept near your Sky Q box. When you're watching TV, stay out of the room where they are.
Fix 4: Check the Power Light
By looking at the power light on your Sky Q box, you can determine its current status. The box has no power, but it receives power but doesn't turn on. Whenever the box's power indicator is red or orange, it means it is receiving power but not being used.
It can be turned on with the remote control by pressing Sky. In the event that there is no light, you need to connect the power cable to the wall outlet and turn on the switch. The box will turn green as soon as it's turned on, so you can begin watching your favorite content.
Fix 5: Turn Off/On Sky Closed Captions Permanently
Due to this process, closed captions will be automatically turned off for all supported channels.
On the remote control of your Sky Q, press the

setup

button.

Select

Audio & Subtitles

.

Click on the language you prefer.

To select

English or Off

, press the left/right arrows on your remote.

Then, click the green button to save the changes.
If you prefer, you can disable subtitles in the accessibility settings. You can disable subtitles from the right-hand side of Home > Settings > Accessibility. After that, again turn on the subtitles using the same steps.
Note: Sky Go provides subtitles for On Demand and Live TV content on Android, iPhone, iPad, Windows, Mac, and game consoles, as well as the Sky Go app. They are not available for recordings or live TV streams when connected to Sky Go.
With multiple ways to control subtitles on your Sky set-top box, let's talk about an issue where subtitling keeps popping back on or isn't turned off even after you've followed the above steps.
Fix 6: Check Signal Strength
Depending on the strength of the signal your Sky Q box receives, either the video will buffer or it will not play at all. If you want to check the signal strength, press the Services button on your remote control. By pressing 4 and 6 together, you can access the Signal Test Menu.
It is recommended that your Sky Q has a signal strength of at least 50% for the video to play without buffering. If your subtitles are still not working below what is recommended, you may want to try these solutions:
Once the power supply is removed, make sure all the cables are unplugged. Ensure all cables are plugged in, and the box is turned on.

Make sure that no cables are bent.

Moreover, there should be a strong connection between the cables.
So, that's how to fix if the Sky Q subtitles are not working or not turning on or off. We hope that this guide has helped you. Furthermore, comment below and let us know in case you need more help.