In 2019 Qualcomm faced fierce competition from its rivals in chip manufacturing, Hisilicon, and MediaTek. So this year, Qualcomm is trying to turn the tables entirely to their side by making significant changes in their flagship processor over the previous one. The improvement in terms of GPU, CPU, and AI this time around won't be just a marginal on. That is, if actual performance in the real world holds to what's there on paper about the new processor. We already shared the list of supported devices that will come out of the box with Qualcomm Snapdragon 865.
The previous shift was in terms of efficiency, moving from a 10nm(Snapdragon 845) to a 7nm(Snapdragon 855) manufacturing process. This time around, too, Qualcomm went with the 7nm process, with changes in terms of the cores that are used. So how big of an improvement is the 865 over the 855? Let's take a detailed look at it to find out.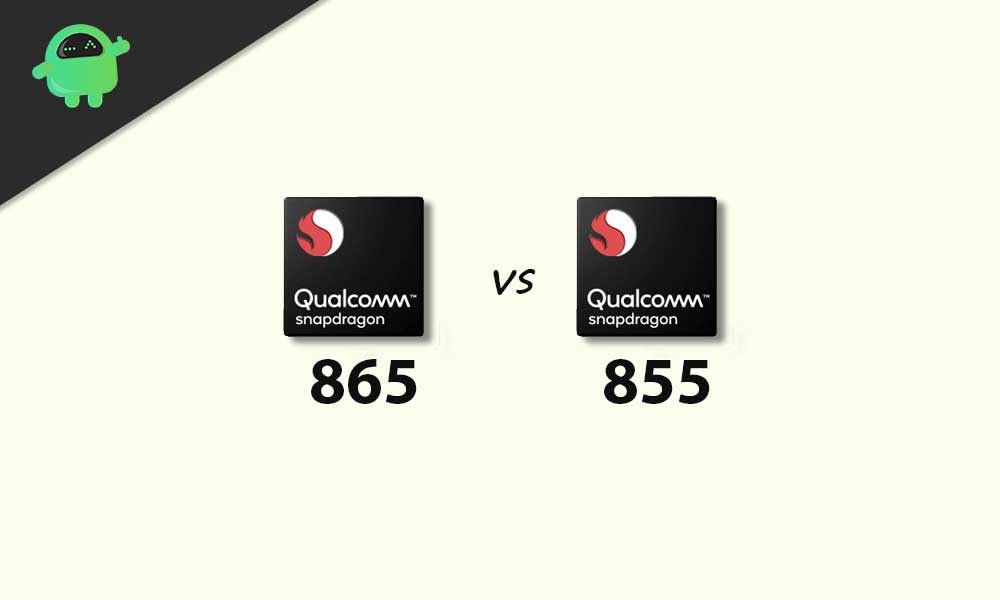 Difference Between Snapdragon 855 vs Snapdragon 865
Well, here you will find the detailed review and difference between Snapdragon 855 vs Snapdragon 865.
CPU and Performance:
With the Snapdragon 885, Qualcomm introduced a tri cluster design to improve the CPU performance. With its successor 865, the same design structure is maintained. There is one prime Kryo 585 core (based on Cortex-A77) clocked @ 2.84 GHz, three high-performance Kryo 585 cores (based on Cortex-A77) clocked @ 2.42 GHz, and four power-efficient Kryo 385 cores (based on Cortex-A55) clocked @ 1.8 GHz.
In contrast, the 855 features one prime Kryo 485 core (based on Cortex-A76) clocked @ 2.84 GHz, three high-performance Kryo 485 cores (based on Cortex-A76) clocked @ 2.4 GHz, and four power-efficient low-performance Kryo 385 cores (based on Cortex-A55) clocked @ 1.8 GHz.
Now Qualcomm claims a 25% performance improvement of the Snapdragon 865 over the 855 due to the change from Cortex-A76 to Cortex-A77. However, these are just claims and how much of a difference it brings to the table, which will be evident once we have retail devices running on the Snapdragon 865. Yes, as of now, there are a couple of devices running on Snapdragon 865, but these are still early days to judge how much of an improvement has been made in the performance department.
RAM and GPU:
The Snapdragon 855 came with Adreno 640 GPU, which claimed a 20 percent performance boost and a 30 percent reduction in power over its predecessor. However, this time the Snapdragon 865 pulls even more forward with Adreno 650, which offers 20 percent of a performance boost over the Adreno 640. The Adreno 650 also provides support for 10-bit HDR gaming. However, the most significant change this time around is that Qualcomm has mentioned OTA driver updates for the GPU through google play store. Much like how we update our phone's apps, we will be able to update our GPU too, which ensures longevity in high performance.
Both chipsets have support for up to 16 GB of RAM, but the Snapdragon 855 only has support for LPDDR4x RAM, whereas the Snapdragon 865 supports both, LPDDR4x as well as LPDDR5x RAM types.
AI:
AI in smartphones is quite the norm now, and even the one year older Snapdragon 855 had a dedicated unit for AI tasks. These AI tasks include image scene detection, voice assistant functions, object detection, depth detection, and so on. Now Qualcomm is claiming a massive 50% improvement in AI for the Snapdragon 865 over its predecessor. This is quite the number considering this is just a single year improvement for the processor. On paper, Qualcomm claims that the Snapdragon 865 can perform 15 TOPS (15 trillion operations per second), which means a significant improvement in terms of real-time AI processing.
Camera And Imaging:
The Snapdragon 855 features the Spectra 380 ISP. It is capable of bokeh video recording at 60 fps along with a new HEIF codec, which allows saving photos with higher quality while maintaining a low size overall. It supports a still image capturing of up to 192 MP if the sensor can capture it. On the contrary, the 865 comes with Spectra 480 ISP, which can process 200 MP still photos. It also brings support for 8K recording, Dolby Vision Video capture, 4K HDR with 64 MP photos(simultaneously). Besides 8K, it supports 4K recording at 120 fps, and super slow-motion video 720p @ 960 fps.
Connectivity:
With the Snapdragon 865, everyone was expecting an integrated 5G chip, but Qualcomm skipped on it and instead introduced the X55 modem, which supports 5G along with 4G LTE. This means there won't be any 865 powered smartphones that support only 4G connectivity. On the other hand, with the 855, we get an X50 modem for 5G connectivity and a separate X24 LTE modem for 4G connectivity. That is, we need two separate modems. The X55 on the 865 provides a download speed of 7Gbps and upload speed of 3Gbps, while the X50 modem on the 855 provides a download speed of 5 Gbps. The X24 4G modem provides a download speed of 2 Gbps and an upload speed of 316 Mbps. So getting a Snapdragon 865 powered phone will ensure future-proofing of the device, if the user plans to use that device for a longer duration.
Benchmark scores and Conclusion:
By recording Antutu scores on both the processors, it is found that the Snapdragon 865 performs 32% better than its predecessor. Well, in Geekbench, it is found that the Snapdragon 865 has 26% better single-core performance and 24% better multi-core performance over its one-year-old sibling, the Snapdragon 855.
So yes, the new Snapdragon 865 is better than the Snapdragon 855 in every way, and the improvements it has made in AI and GPU front is quite noteworthy. However, we will have to wait a couple of months to see how this new processor holds up in a longer-term against its rivals.