In the modern days, the rise in gadgets and technology go hand in hand with the inevitable presence of spam. Let it be a handheld smartphone or a high-end PC, we feel insecure for any incoming spam. Although in recent years we have been seeing a strict implication of anti-spam mechanisms in various platforms. Google is one step ahead when it comes to dealing with spammers in both its mobile and desktop modes. It always provides the best ways to weed out spam. Speaking of which, Google is now rolling out Spam Protection for Android Messages. As the name suggests it will make sure no unnecessary spam gets to clutter in your inbox.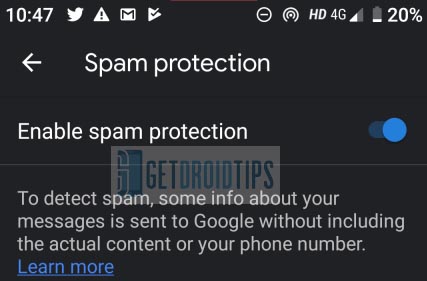 If you're on Messages v3.9.03 you should see this new feature. To access the Spam protection for Android messages, you have to open your Messages App.Then Click on the top right drop down button(with 3 vertical dots) > Settings > Advanced > Spam Protection. It's a gradual rollout of the feature. So, everyone may not see this feature at one time. It's a server-initiated update and it comes with a toggle button. This means you can turn it off in case you prefer a more manual way of reporting spammers on your own. However, manual reporting will send your message content to Google which is not the case with the new Spam Protection feature.
We already know how a user's numbers get spread if it's in a public forum. Then telemarketers get access to it and keep sending those spam sales offers. Spam protection for Android messages will definitely bring some respite to this. You may think whether this will compromise your personal data to Google. However, Google assures that it will only store the sender's info including their contact numbers. Also, how many times such suspicious messages are coming from certain sources will be on the record. Apart from that, it will not store any of your details or the exact message content. The server will store the details of the possible spammer for a temporary period of time.
Last year we saw a lot of improvements to Messages app was done. There was the integration of new features to the App following a revamp. Thankfully, the streak of improvement begins afresh in 2019 again with Spam Protection for Android Messages. It is one of the most important features which will save the users from the ever-recurring spam texts.