Spotify is a go-to song streaming service for many people. If you also use Spotify, then you must like the feature of song recommendation based on mood and aura. But what if you're listening to moody songs and Spotify keeps using your song? You will obviously feel weird and angry about why Spotify is pausing songs. You see, Spotify is optimized to run on billions of Android as well as iOS devices. So sometimes it gets a little buggy over time. However, the issue of Spotify Music app stopping or pausing songs is not a developer issue. In most cases, it is software issues of the smartphone.
Most people use in-system or third party battery saver services on their smartphones. Sometimes these services can hinder the background process. And most music apps close automatically because of battery saver algorithms. In most recent versions of Android and iOS, battery saver algorithms are smart and know which apps to let run and which to block in order to save battery. However, if you're on an older version of the software, then you will see Spotify pausing your songs mid-track or during your jogging or workout routine. However, there are ways to fix the issues which we are going to discuss down below.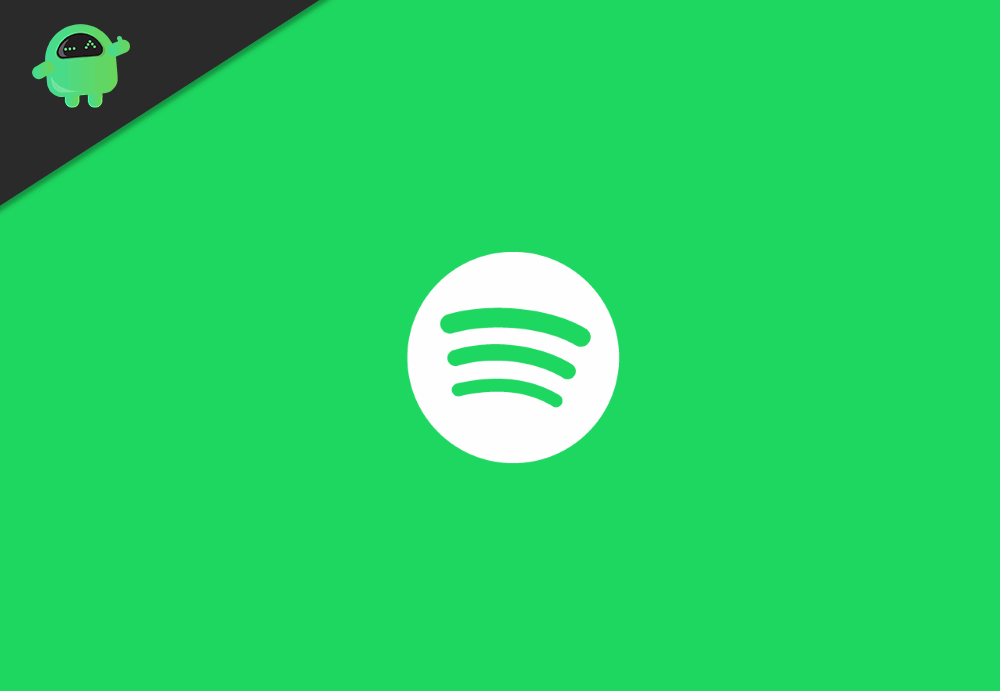 Spotify Music app keeps pausing my song: How to Fix?
Spotify is one of the largest music platforms that are out there, and you can stream free music, or also you can buy your favorite artist's songs. Moreover, if you are an artist, then you can publish songs in Spotify by joining it. The Spotify application is available for all major platforms like Windows, Linux, macOS, iOS, and Android. You can also access Spotify from the web browser.
However, there are a few issues users often face with Spotify while listening to songs. The songs will pause suddenly, and even if you start the song again, the song will pause. Spotify has no such bugs like that. Therefore it must be the issue of your phone. Here, we have talked about Android smartphones because the issue is mostly faced by users in Android devices. But all these methods are also applicable for iPhone or iPad users.
Reason 1: Slow internet connection
Check your internet connection. For instance, you might have a slower internet connection. Slow connection leads to slow loading of songs. As a result, it may seem like pausing the song and might fail to load the song. So, check your bandwidth speed by using any apps like Internet Speed meter lite. If you find it slow, contact your network provider and try network correction methods like restarting router (for Wifi users), or refreshing network by using Airplane Mode (for mobile Data users).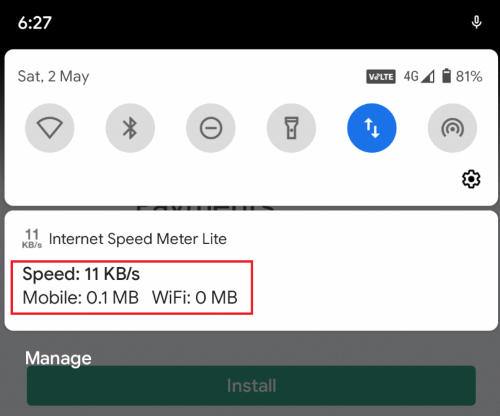 Even if the network is fast, some other apps like download manager or Play store (Update) might be using most of your bandwidth speed. Hence check on that too. Stop the download and check.
Reason 2: Phone Low on RAM or full of cache
If your phone does not have enough resources to run Spotify, this might happen. Hence if you have too many apps opened at once, close them and use Spotify.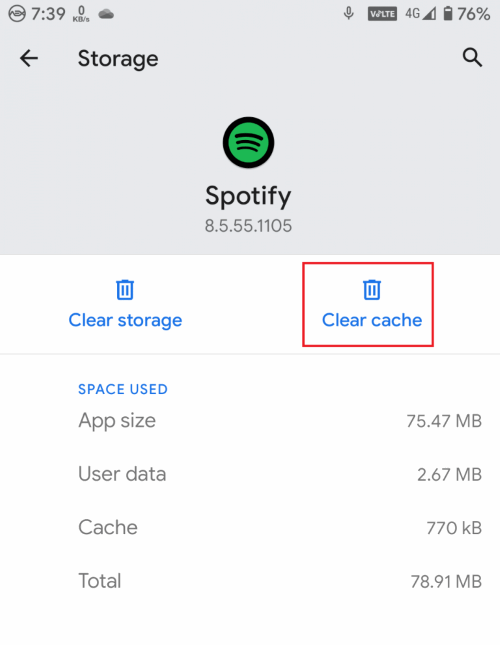 Also, try Clearing the cache of your app by going into Apps > Spotify > Storage > Clear cache.
Reason 3: Outdated or Corrupt app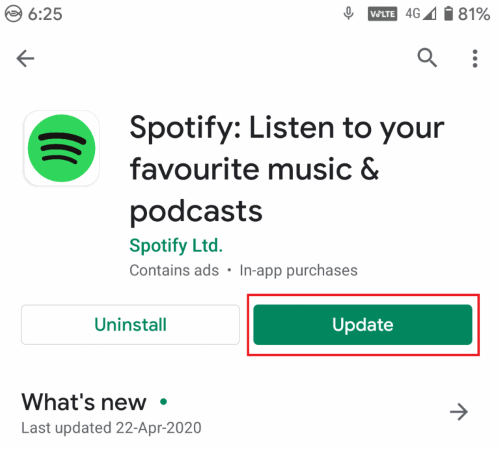 Chances, you might be running an older version of the app. Check on the play store for an update. If an update is available, install it.
This issue might also occur if you're running an app obtained from untrusted third-party sources or running a modded version of the app. In such cases, it is recommended to use the play store version.
Reason 4: Multiple logins using the same account
If you've used the same account on multiple devices, the issue might occur when another device is playing at the same time. Hence logging out of all other devices might solve the issue.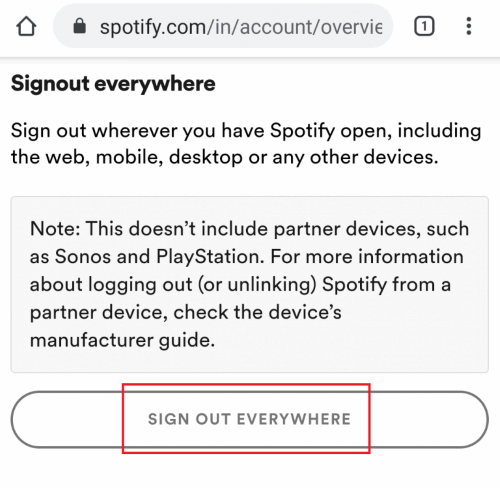 To do so, head to your account page on Spotify, and log in by entering account details. Finally, scroll down and click on Sign out Everywhere.
Reason 5: Check Power Saving Mode
It is possible that the power-saving feature is on, thus causing the song to pause. So, in theory, if you turn off the power-saving feature of the phone & the issue will fix. To know how to turn off the power saving feature of your phone, follow the steps mentioned below.
Note: The process may be varied to different smartphones, but the general steps are the same.
Step 1) Open up your phone Settings by clicking on the Gear icon.
Step 2) Go to the Battery Option.
Step 3) Click on the three dots located at the right-most corner of the screen and select the Optimize Battery Usage option.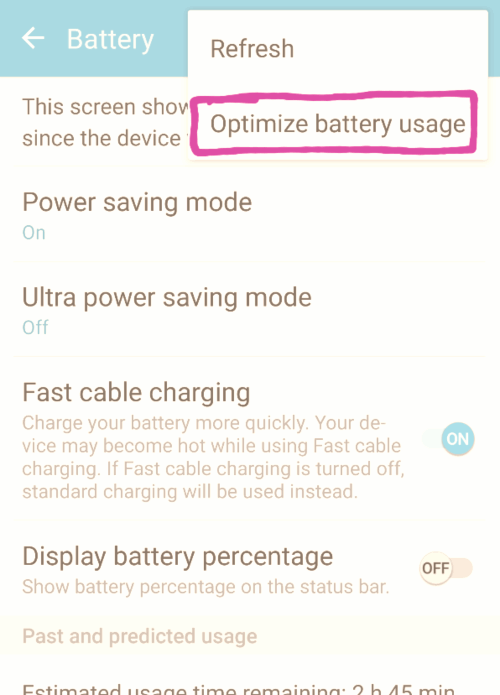 Step 4) Tap on the Apps not Optimized and select All apps option from the drop-down menu. Now, scroll down and find the Spotify app, turn off toggle option if it is on.
Your issue will be fixed after you allow Spotify to run on the background without any restrictions.
Conclusion
There are multiple reasons why Spotify will show such weird behavior and pause all your favorite songs in the background. Sure its a troublesome situation for any music lovers, but it can be easily fixed by following the above troubleshooting methods. In most scenarios, the reason is the battery saver on your device. So turn it off while you are listening to music.