Motorola is coming up with the Android 9 Pie updates for its smartphone very late. Another smartphone to join the bandwagon for receiving the official Android 9 Pie update is the Moto G6 Play. The users report that they are receiving the Android 9 Pie update in the USA with Sprint Carrier. The update for the Sprint carrier is labeled with PCP29.118-41.
Before, this the Motorola company rolled out the Android 9 Pie update for the unlocked users in the mid of April 2019. Then, later it was released around May for the U.S. cellular variants. Moreover, the unlocked users again received the second version of the Android 9 Pie in the latter half of May.
However, this new update for the Moto G6 Play brings new security patch update for the users. The security patch will be of the month June 2019, which is quite surprising considering the fact that other devices are moving forward with the latest security updates. As said earlier, Motorola being late in rolling out updates for their smartphones and you can see the negligence by the company as they roll out the April Security patch for its device when, we are on the verge of altogether a new Android OS, the Android Q.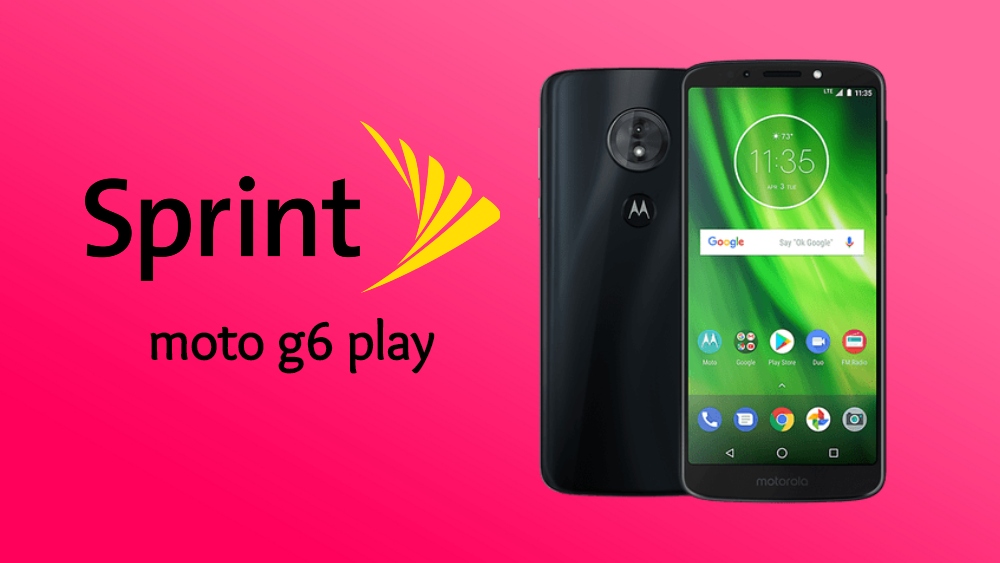 Moto G6 Play Android 9.0 Pie Official Release Notes
Release Notes
moto g6 play – Android™ 9.0 Pie Release Notes
INTRODUCTION
Motorola is excited to announce a new software update for moto g6 play. This update brings important improvements to your phone.
NOTE: All information on your phone will be saved. You cannot downgrade to a previous software version after installing this update.
ENHANCEMENTS
This update introduces changes including the following:
Android security: Includes the updates of Android security patches through April 1, 2019.
Android™ 9.0 Pie
Android™ 9.0 Pie improves your mobile experience from the new Intuitive Navigation and Recent App, an improved Do Not Disturb mode and a colorful settings menu, to anticipated longer battery life and revamped split screen. Android Pie also brings a redesigned Quick Settings, simplified volume controls, an easier way to manage notifications and more. After installing the software update you may notice changes that include*:
Usability
Adaptive battery: no longer with a single charge. It prioritizes battery power on the apps you use the most and applies restrictions on the ones you use the least. Battery saver can now be activated from 70% or below.
Adaptive brightness: fewer manual adjustments to perform better. Machine learning takes notes of your habits and automatically adjusts to your activities.
Quick settings improvements: no shortcuts anymore (toggles are no longer expandable, but the press and hold a toggle goes to the setting detail). The icons have been redesigned with a rounded concept and circular background.
Rotation key: Android Pie presents a temporary rotation even with the auto-rotate disabled. A rotation button is displayed whenever it detects that your phone has changed orientation.
Dual SIM settings: by pressing the SIM Card toggle in the Quick settings, a full-screen activity is shown to select preferred SIM and manage data usage.
Redesigned Settings app: colorful icons for each selection with a circular background. It also warns if the phone is muted or in Do not disturb mode. Order, name, and placement of the settings options have not changed.
Better screenshots: another handy Android 9.0 feature is the addition of the virtual screenshot button/shortcut to the power menu (the old power and volume down method (still works). You can also edit your screenshots immediately after taking them and a delete option is also available.
Improved audio controls: the volume slider is now vertical and close to the volume buttons. Users can switch between ring, mute and vibrate-only mode. Plus, media controls are now the default volume adjusted, and Do not disturb cannot be turned on/off via the volume keys anymore. Bluetooth device volumes are also accessed whenever connected. As usual, 'Volume Up + Power' change the ring mode to vibrate.
Zoom in text: you can finally manage the annoying mistakes of selecting incorrect text. Now, when you press and hold a phrase or text, it will automatically magnify at the pointer. It also helps you read small text and select words precisely.
New and updated emoji: 157 new emojis, as well as a gender-neutral concept. Settings icon while on PIP mode: tapping the new settings icon brings you to the app's PiP settings, where you can enable or disable the feature.
Other UI changes: time is now on the left side and the search bar is now rounded. There is a new task manager/recent list that now shows a horizontal list instead of a vertical one and includes the split screen capabilities by pressing the app icon above the thumbnail. Dragging the split screen border will select the app you want in full-screen.
Notifications
Notification UI changes: notifications now have rounded corners. It also supports inline images/stickers and distinguishes single/group conversations.
Dismissing notifications: Android Pie will now suggest a couple of actions to you for the type of notifications you usually dismiss. It will offer to turn off frequently dismissed notifications by asking you if you would like to stop seeing these notifications or keep showing them.
Notification bar: maximum of 4 visible notifications in the status bar before the list is truncated with a dot to indicate more unseen icons.
Manage notifications: a shortcut at the bottom of the cards in the notification shade that allows you to see a user-facing list of recent notification activity. If it's something annoying, you can flip the toggle right there to disable unwanted notifications in the future.
Performance
Performance improvements: applications will launch faster and use less memory, gaining performance and efficiency improvements.
Power efficiency: refinements to Doze, App Standby, and Background Limits to improve battery life. Background App privacy: the system restricts access to the phone's microphone, camera and other sensors (other than GPS). A persistent notification is shown if an app needs access while in the background.
Bluetooth enhancements: simultaneous connection of up to 5 Bluetooth audio devices. However, there is no option for simultaneous playback: users need to choose the device to be used. Android 9.0 also remembers the last volume level for paired devices.
Wi-Fi optimization: Wi-Fi hotspot goes OFF in case of no connection. It disables automatically, preventing others nearby from connecting to your network.
Stability improvements: includes changes that fix bugs and improve the stability of your phone.
Security
Security enhancements: an alert tone will be heard when a call is being recorded to all parties. The pattern unlocks also hides the swipe trail, instead of simply leaving the trail visible until the phone has fully unlocked. Better for security.
Data encryption: Android Pie will now perform client-side data encryption and/or decryption on the user's phone: authentication is required (password, PIN, pattern), plus Google backs up all information to the cloud and hacker attacks become much more difficult.
DNS over TLS support: it creates a secure connection to the DNS server before DNS queries and responses happen. For example, someone monitoring the connection will have a harder time seeing what you're doing.
HTTPs by default: all applications built for Android Pie onwards will send and receive data via HTTPS by default, ensuring your data is better protected as you communicate with the app's servers, especially public Wi-Fi.
Steps to Check For the Latest Update
For a successful installation, we recommend installing this update when your phone's battery is at least 50% charged and you are connected to a Wi-Fi network.
If you have received a notification message for this update
Select "Download and install".
After the software has been installed, "Restart now"
Your phone has been updated.
If you have not received a notification message for this update.
Follow the steps below to manually update your phone
Select the Settings icon in the apps menu.
Now, select "System".
Select "System updates".
Select "Download and install".
After the software has been installed, "Restart now"
Your phone has been updated.
Before proceeding, please make sure your phone has enough charge of at least 50%. Take a full backup before upgrading or downgrading your phone. To download the OTA file, you should be on a stable WiFi connection to enjoy uninterrupted software download.
Firmware Details:
Release date:

January 20, 2019

Android version:

9.0 Pie

Security patch level (SPL):

April 2019

Build number:

PCP29.118-41

File size:

256MB
Download Firmware Here:
Steps to Install Update on Sprint Moto G6 Play (jeter)
Still not received the OTA update? then, don't panic. Here we have the full firmware package and method to install the firmware on your Sprint Moto G6 Play manually.
Pre-requisite:
This Update is only for Sprint Moto G6 Play (jeter) users.
Take a complete backup of your phone and then proceed.
Download and Install Motorola USB Drivers
Download ADB and Fastboot tools
Disclaimer: We are at GetDroidTips will not be responsible for any bricking/damage to your phone while/after installing this ROM.
Instructions to Install
Guide to Install Motorola Stock Firmware
So, that's it. There you are. Now you have successfully flashed the latest update on Sprint Moto G6 Play (jeter).
Follow GetDroidTips to get all the latest updates on monthly firmware updates for Motorola smartphones.
Source: Motorola Support